An HOA President Has Keys to This Woman's Condo and Tried to Let Himself in Without Permission
When this woman caught her homeowner's association president casually letting himself into her condo without permission, things only got worse.
One Michael Keaton movie I believe has fallen under the radar is a 1990 thriller by the name of Pacific Heights. It centers around a couple, played by Matthew Modine and Melanie Griffith, who have purchased a rental property in San Francisco. They live on the top floor and are trying to rent out an available unit. Michael Keaton's character ends up taking that unit and from that moment on, becomes the worst tenant imaginable.
Article continues below advertisement
Things shift quickly from his not paying rent to destroying the property and then finally having Matthew Modine arrested after engaging him in a physical altercation. Although this is not quite what's happening to Sarah, who goes by @sarahtatty on TikTok, the energy feels similar. In her case, she is a tenant who claims she is being harassed by not only her HOA president, but other homeowners. It's as if she is trapped in her own home, but Sarah is absolutely fighting back.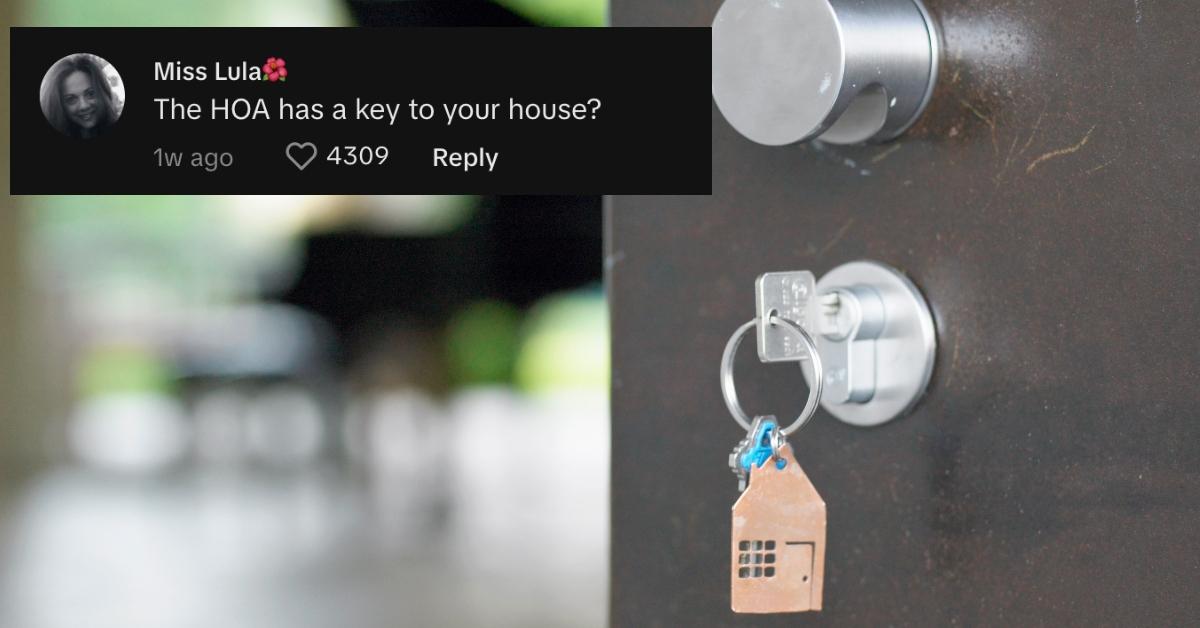 Article continues below advertisement
This woman says she caught her HOA president entering her condo without permission.
This story is terrifying. In a series of upsetting TikToks, Sarah details what she has been going through after catching her HOA president attempting to enter her condo without permission. She lives in the Gulf Harbor, which is a community in South Fort Myers, Fla. After living there only a year and a half, Sarah had a very unpleasant encounter on April 11, 2023.
While working from home in her guest room, Sarah heard a knock on her door. She was on a call and chose to ignore it because no one was scheduled to drop by. Soon the storm door was opened which was followed by more knocking so she checked the peephole and saw it was her HOA president. As she was getting dressed, Sarah heard keys in her door. "He was attempting to enter my home," she said.
Article continues below advertisement
After she contacted the homeowner's association, two board members came to her home and wholeheartedly agreed that what this man did was wrong. When they asked her what she needed, Sarah's answers were simple. "He needs to step down as president," she informed them. "You need to add a rule that no board member or president can enter a home without express permission." That meeting happened in May 2023 and as of the time of her TikTok in August, nothing has been done.
Article continues below advertisement
She went to the Florida Homeowners' Association and was told by a man there that "this was bad. This was a felony. What you should do, because we can't, is file a police report." Sarah considered this, but went to the association meeting first in an attempt to deal with this directly. Prior to the meeting, Sarah was told by other homeowners that the HOA president, Ray, has done the same to them. They didn't catch him, but somehow they knew.
Sarah was verbally attacked by other homeowners.
In a subsequent TikTok Sarah explained that while at the meeting, one person she knows "stood up and left in a huff." Another suggested she move. Everyone was on the "Ray Train," as Sarah put it. Ray himself claimed he apologized and, by the way, "remembers the situation differently" than Sarah did.
Article continues below advertisement
Immediately Sarah corrected Ray's recollection of evens and was immediately attacked by other homeowners because she was "calling out criminal behavior." People she had know for six months who were previously on her side did a 180 at the meeting. "It was so bad. These people ... vilified me," she said. Because she doesn't trust the board of directors and no longer feels safe in her own home, Sarah is considering filing a police report.
Article continues below advertisement
By the way, Sarah popped into a third TikTtok to share one more important detail about the day she caught Ray. Upon opening her door and asking what he was doing, Sarah saw him exiting another condo. Those people were not home and she knows this was done without their permission. HIs response? "It won't happen again."
Should an HOA president have keys to the homeowners' condos?
Once again Sarah took to TikTok to address a couple of questions. The first was about whether or not Ray could legally have keys. The answer is yes. He has them in the event of an emergency. Things like a "fire, flood, or hurricane," she explained. "I get that. I understand it. That's OK," said Sarah. You can't, however, just let yourself in whenever the mood should strike.
Article continues below advertisement
The comments section was also dominated by people urging Sarah to file a police report. "Believe me I would like to," she said. "However these people [homeowners] are very in my face and I fear retaliation." Apparently this is already happening as Sarah submitted a request for a window repair in May and has yet to hear a single thing about it. Guess what, her request goes straight to Ray.
Article continues below advertisement
Sarah is taking steps to feel more safe.
In a follow-up TikTok, Sarah revealed that she installed a new deadbolt. She also "ordered an internal camera" and on the advice of her daughter "purchased a hidden camera detector device." She also "installed a video doorbell almost immediately after this president, Ray, attempted to enter my condo criminally."
Article continues below advertisement
"Two nights ago I went through my condo with the hidden camera detective device," Sarah said in another TikTok. With the help of her daughter on FaceTime, Sarah thankfully didn't find any cameras. "I did contact a sheriff's department and talked to a sheriff," she said. Evidently it was too late to file a report as it really should have happened within the first hour of the incident.
"She also redefined his activity from trespassing to attempted burglary," Sarah explained. "No one is permitted in another person's residence unless there's a 24-hour notice." The sheriff suggested Sarah "lawyer up" and try to get video of Ray admitting to his illegal activity. This is an ongoing saga so stay tuned.