'Tis the Season! 7 Easy TikTok Holiday Baking Ideas That Will Impress Your Guests
With the holiday season officially here, check out these seven TikTok Christmas baking ideas that will impress your family, friends, and coworkers.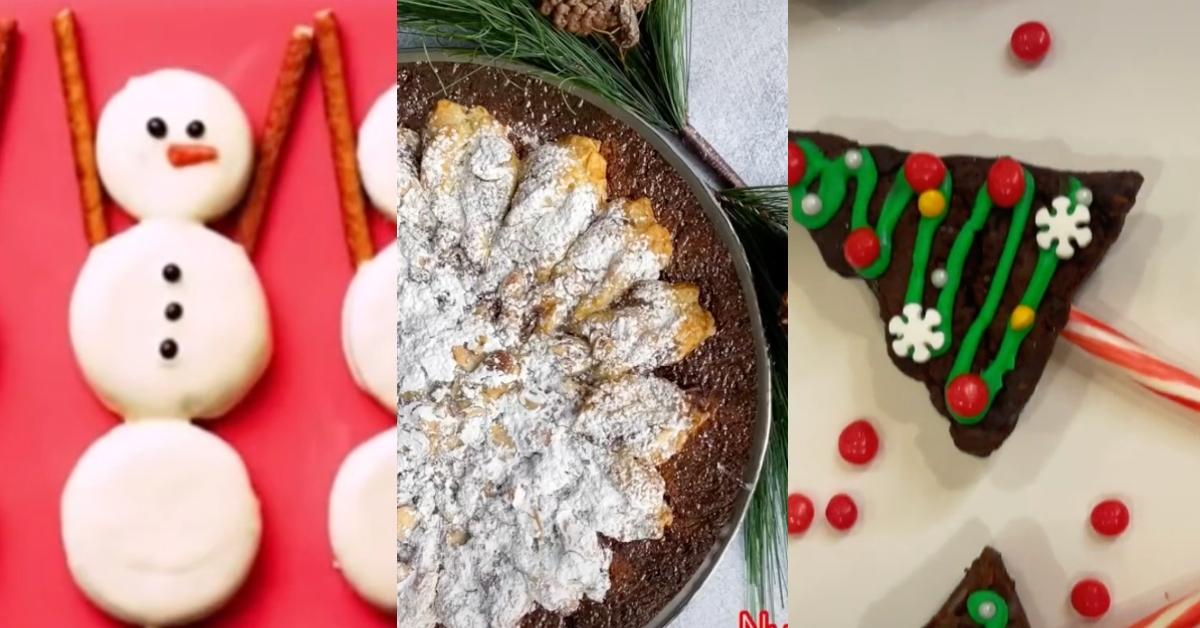 Deck your countertops with flour, chocolate, and lots of sugary treats this holiday season!
During the month of December, you may be doing some last-minute shopping, prepping for your Christmas feast, and perusing through TikTok for fun and festive holiday baking ideas.
Article continues below advertisement
Check out these easy TikTok holiday baking ideas.
Tired of baking the same old chocolate chip cookies? Do you not have time to prep and bake a three-hour dessert? Are you wanting to impress your family, guests, or even your coworkers in the office?
If you're looking for new delicious recipes to sample this Christmas, Distractify has rounded up our favorite TikTok desserts that are super easy to make. Yes, you won't have to put your culinary skills to the test. Check out our simple dessert roundup below!
1. Holiday Cake Balls
These bite-sized cake balls will spread Christmas cheer to your tastebuds. This TikToker used boxed cake mix batter and icing to craft these decadent dessert balls.
After combining the cake and icing, roll into quarter-sized balls and place them back in the oven. Once cooled, dip the cake in white chocolate and decorate with sprinkles, crushed peppermint, and/or fun designs.
2. Snowman Cookies
If you're looking for an easy, no-bake dessert, these snowman cookies are perfect! Simply add three sandwich cookies (Oreos or your favorite brand) to a skewer and dip in white chocolate. Then, add black icing as eyes and buttons and orange icing to create the carrot nose. Finally, add pretzel sticks as arms and serve!
Yum!
Article continues below advertisement
3. Marshmallow Peppermint Bark
A delicious combination of white chocolate, peppermint candy canes, and chocolate peppermint bark by Stuffed Puffs, this marshmallow bark is a great (and pretty) dessert to set out during a holiday party.
Article continues below advertisement
4. Brownie Christmas Trees
Whether you choose to make your brownies from scratch or grab a box of Betty Crocker brownie mix, this TikToker turned fudgy brownies into a festive Christmas masterpiece.
After baking your brownies, cut your dessert into small triangles. Next, layer on a bit of green icing (store-bought or homemade) and decorate your tree with M&Ms and/or sprinkles. Finally, stick a small piece of candy cane into the bottom of the brownie tree. Yum!
Article continues below advertisement
5. Nutella Snowflake
If you want to impress your friends or coworkers, check out this chocolate dessert that only contains three ingredients! To make, simply roll out thawed pastry dough and cut it into a circle. then, spread a thick layer of Nutella and top with another layer of pastry dough. Next, you'll cut into even strips and twist two pieces together, creating a snowflake pattern. Brush with egg yolk. Finally, top with almonds (optional), bake, serve, and sprinkle with powdered sugar.
Article continues below advertisement
6. Salted Caramel Turtles
What's better than chocolate and caramel? Nothing.
To make these gooey treats, simply spread out pecans on a pan and top with caramel. Next, top with melted chocolate and sprinkle with sea salt. Yum!
Article continues below advertisement
7. Christmas Tree Rice Krispies
This sticky marshmallow treat just got a festive upgrade! This quick and easy treat is easy to make. Just combine melted butter, marshmallows, and holiday edition Rice Krispies.
After spreading onto a pan, use a Christmas tree cookie cutter to complete this holiday dessert.