Alaskan Man Demonstrates How "Beautiful" Mud Flats Can Be Dangerous to Tourists
A TikToker posted a PSA about mud flats in Alaska, and how these natural wonders can kill you pretty darn quickly.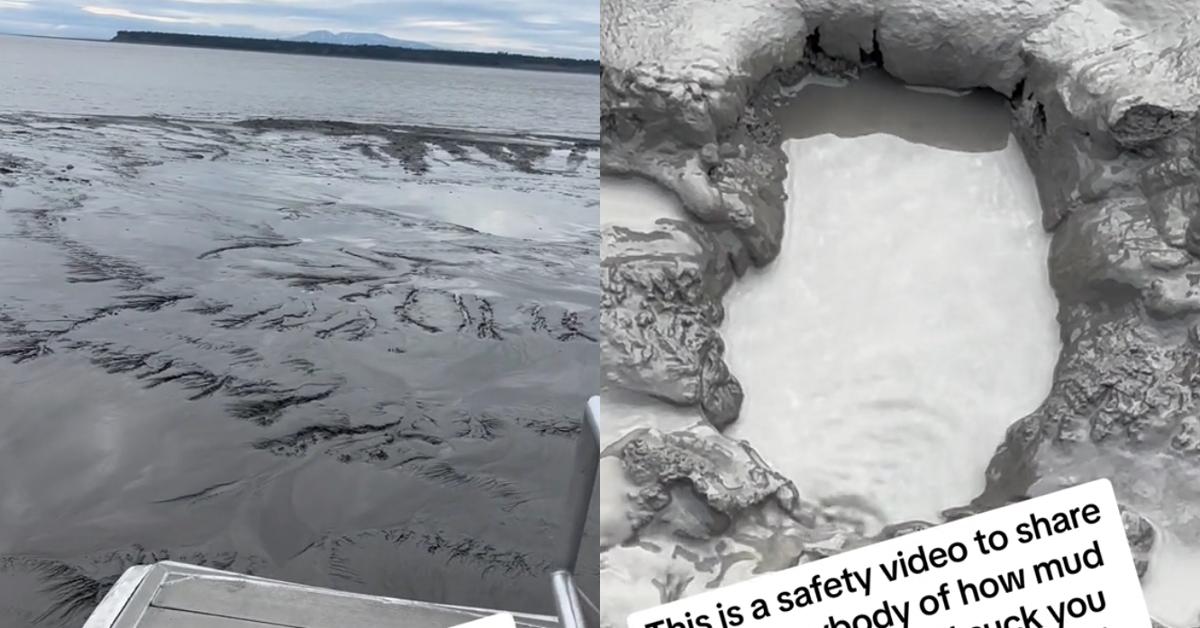 There are a lot of discussions around the ways that human beings are killing the planet, but let's not forget that Mother Nature is pretty effective at wiping out our species in a variety of different ways as well.
Article continues below advertisement
And a TikToker named Darren (@darrenak) posted a viral clip demonstrating yet another little death trap that nature has in store for living, breathing things: mud flats.
Article continues below advertisement
Darren posted horrifying footage of Alaskan mud flats, and how fatal they can be for unsuspecting travelers who happen to walk on top of one. In the clip, he takes a 5-pound rock and tosses it into the flat, which gulps down the object, sending it into a muddy abyss, never to be seen again.
Article continues below advertisement
"Here is a mud flat," he says in the video. "This is where people, tourists, they die of mud flats cause they suck you up. So I have a rock right here," he holds the rock up to the camera.
"See, I'mma show you how...so I'm gonna throw this rock...and watch this. Look at that, see that? Look at all that water, you see that?"
The hole that the rock created in the flat begins to pool up with water. It doesn't take long for it to become completely engulfed.
Article continues below advertisement

"Yup, so that's what happens...people come to Alaska on the mud flats like this and then...where there rock was...." Darren pans the camera again to the space that was created by the rock, "sucks them up...and drowns them."
Article continues below advertisement
He capped off his warning to nature enthusiasts, "So if you're in Alaska, go to Alaska, never go on mud flats, because they will suck you up."
In May of 2023, a 20-year-old Illinois man, Zachary Porter, traveled to Alaska with his friends and visited the "tidal mud flats of Turnagain Arm," Explorers Web writes.
Article continues below advertisement

The outlet said that Porter and his pals were traversing the mud flats, when he fell into one of the flats up to his waist. Although his friends attempted to rescue him, the water quickly rushed in around him and he drowned.
Article continues below advertisement
The young man's body was recovered after the tide had subsided. The Hope-Sunrise Volunteer Fire Department's lead EMT, Kristy Peterson said in an interview with The Associated Press that "Mother Nature...has no mercy for humanity."
A spokesman for Alaska's State Troopers, Austin McDaniel said of the tragedy: "What looks like solid ground can turn into quicksand with little to no notice."
Article continues below advertisement

AP also reported that there were reports of "at least" three other individuals who perished in the same mud flats in a fashion similar to Porter.
Article continues below advertisement
"At low tide, the estuary is known for its dangerous mud flats made of silt created by glacier-pulverized rocks. At least three other people have gotten stuck and drowned there over the years."
One commenter who responded to Darren's video shared a personal anecdote that delineated just how scary it can be to get stuck in a mud flat: "Mud flats are the quicksand we were warned about. I got stuck in some in NC and it took 3 people to help me get out of ANKLE DEEP mud."
Article continues below advertisement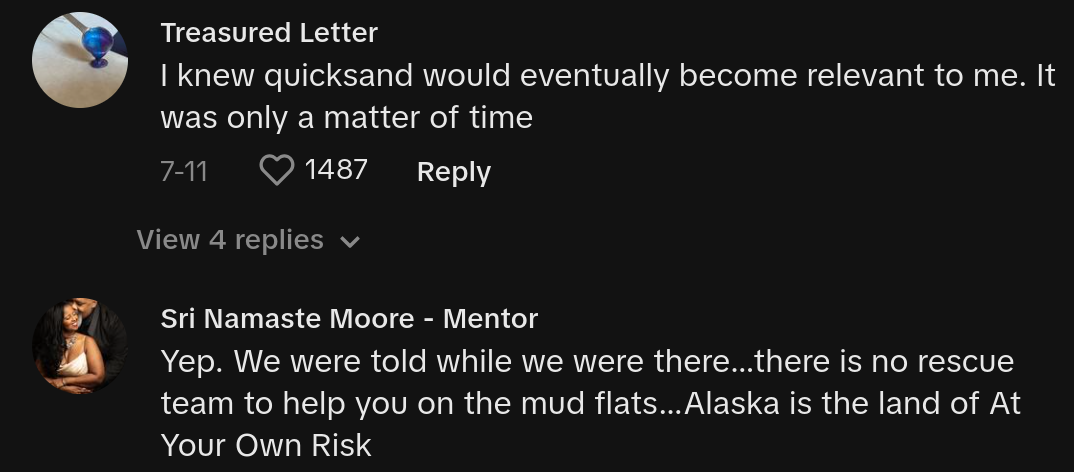 There were others, like this TikToker, who never even heard of mud flats and thanked them for spreading awareness about this seemingly innocuous, but ultimately deadly, natural threat: "This is the first time I hear of mud flats..damn thanks for telling me"
One person just couldn't believe that anyone would think stepping on these flats would be a good idea: "Why would they go on that? Did they not get the quick sand lesson as a child?!?"