Folks Are Terrified of a Tsunami After Someone Posts the Ocean Disappearing
A TikTok user posts about the ocean disappearing in the wake of a tsunami alert. Their ongoing saga has folks worried about their safety.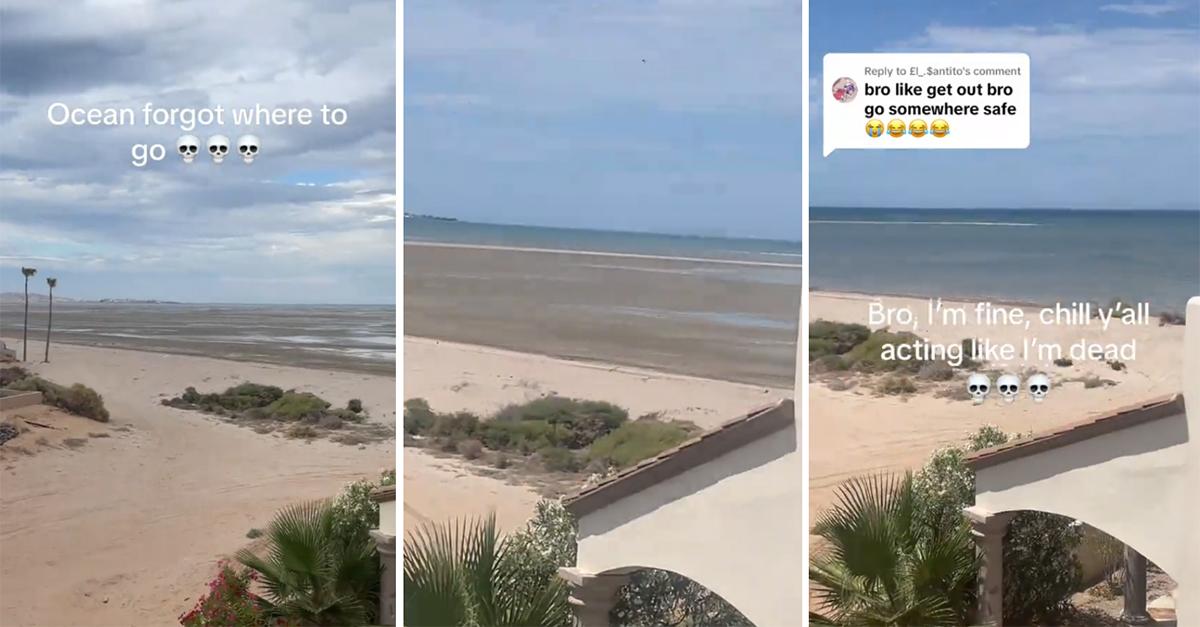 If you've been in New York for the past couple of months, then you know that the summer of 2023 has been a wet one. But not in the fun, poolside, beach visit sort of way. It's more in the "major events getting rained out and impending thunderstorms" sort of way. The wet and stormy weather has given people plenty of pause over their summer plans as people have become laser-focused on their weather apps to tell them how the day is gonna go. But while many of us look out for thunderstorms, some are bracing for tsunamis.
Article continues below advertisement
Folks in the United States who live near Pacific and Caribbean coastlines often have to look out for enormous tsunamis that can completely decimate beach-side locales with giant waves of ocean water. According to the National Oceanic and Atmospheric Administration, these highly dangerous natural disasters can strike at practically any time during any season, which tends to put residents on edge.
In fact, folks immediately recognized a tsunami when someone posted a TikTok of the ocean up and disappearing.
Article continues below advertisement
The ocean practically disappears in one person's TikTok in the wake of a tsunami.
On July 15, 2023, iloveyouu (@iloveyou19997) posted a quick but ominous TikTok. In their caption, they claimed to have gotten a tsunami alert.
As if to punctuate said alert, they shared video footage of the ocean having receded to a considerable degree. A vast portion of the ocean floor was left exposed, portending the immense waves yet to come.
Article continues below advertisement
The comments section is filled with people fearing the worst with the impending tsunami. With many people warning them to stay away, however, just as many decided to make jokes about it.
Article continues below advertisement
"Don't worry blud. It's gonna come back stronger than ever," one person commented.
Another simply replied, "Run."
OP even posted some rather foreboding follow-ups. After a couple of days, the ocean still hadn't come back. In one of their most recent posts, they even heard the emergency alert and went into crisis mode right before the video cuts off.
"Yeah, maybe I should run," they wrote in the caption.
Article continues below advertisement
As of this writing, they haven't actually posted for a while. In fact, they supposedly even started up new accounts since their videos blew up, though their status hasn't been verified yet.
Article continues below advertisement
What does it mean when the tide goes out?
With a fear of tsunamis officially etched into our minds, it's important for folks to know the telltale signs of one in order to stay prepared. A major sign of an incoming tsunami is the ocean draining away incredibly quickly. If you see low tide going out far and fast, it's probably time to start moving away from the water.
However, low tide in and of itself is a relatively common natural phenomenon. At times, an outgoing tide that results in low water levels can be caused by an ebb current in which the water naturally rises and recedes along the coast. It's only when the water drains away from the beach at an abnormal rate that folks should steer clear.
Article continues below advertisement
Otherwise, you may not want to stick around to make TikToks for too long after getting a tsunami warning, even if you do get millions of views.