"It's Disrespectful" — Woman Politely Shuts Down Man Who Called Her Out for Wearing Hat Indoors
An older gentleman scolded a woman for wearing a hat in the library because it was "disrespectful" and she politely told him why he was wrong.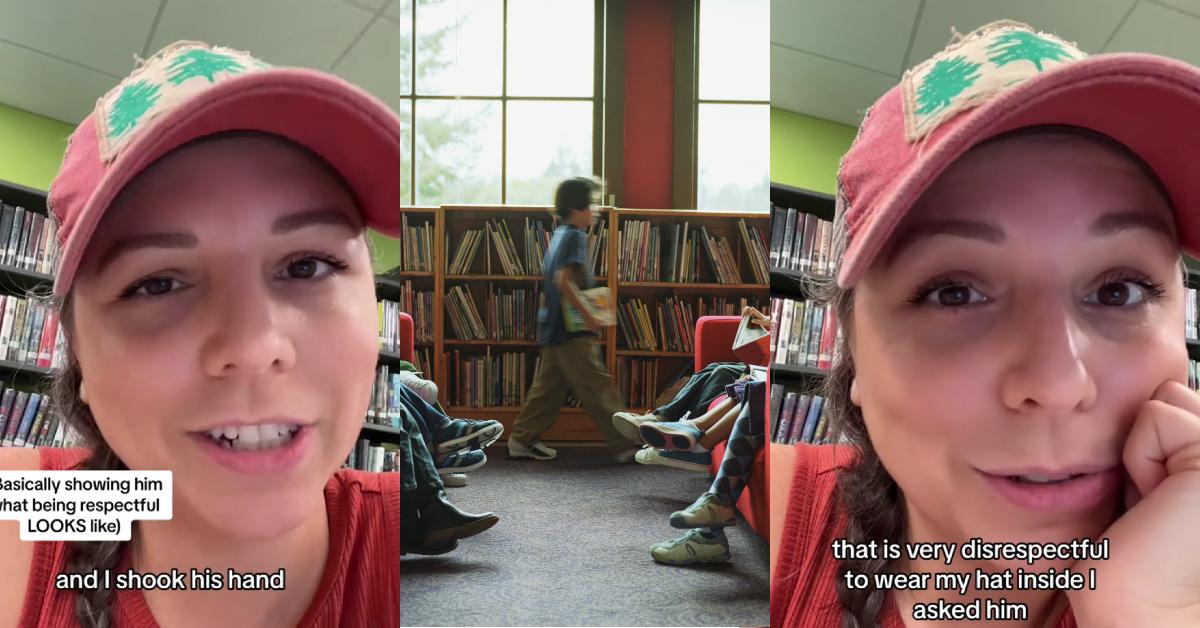 While one of the most memorable parts of the film No Country for Old Men was the imagery of Javier Barden walking around with a cattle gun and murking folks, the "thesis" of the film really centers around the generational conflict of Tommy Lee Jones's character as he tries to understand this completely different class of criminal.
Article continues below advertisement
Hence, the film's title. Oftentimes, it can be difficult when trying to interact with a group of folks who may adhere to different cultural cues and more than your own, as they are from an entirely different generation.
But there are some morals and values that are timeless, and stress coach and TikToker Sandy Woznicki (@happywoz) said that she was able to demonstrate how some of these "values" can be conflated with other types of behavior when dealing with someone who was older than she was.
She discussed her interaction with the individual in a viral TikTok clip that accrued over 2.9 million views on the popular social media platform.
Article continues below advertisement
Sandy says in the video: "I just got scolded by an older gentleman at the public library for wearing my hat and I really wish I had got this on camera."
Article continues below advertisement
The TikToker then delineates the series of events that culminated in the incident: "So he walked by me and he told me that it's very disrespectful to wear my hat inside. I asked him what does being respectful mean to you?"
It seems that the elderly man was taken aback by the question. According to Sandy: "He looked very puzzled so I said I have my 3-year-old over there like how would I explain to him what it means to be respectful."
Article continues below advertisement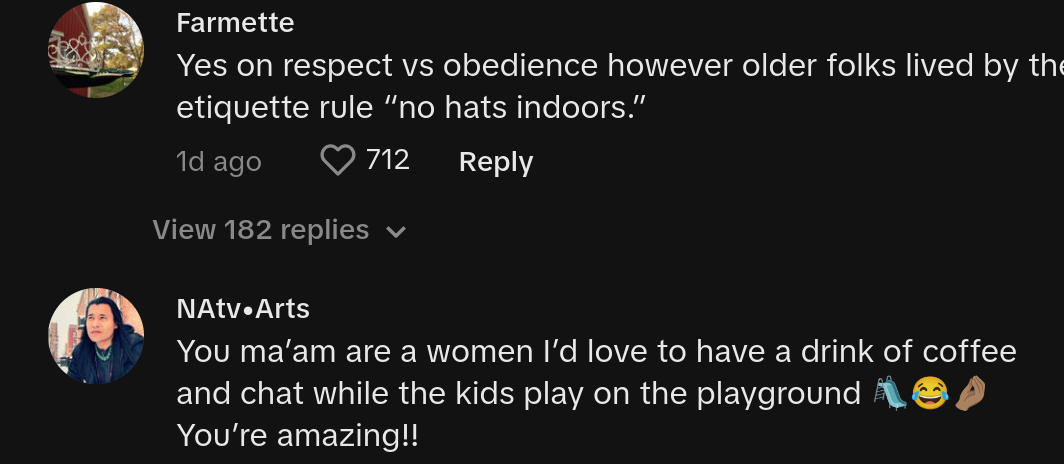 The man then attempted to give her an answer: "And then he said well following the rules. And, obviously, there's no rule about wearing a hat in the library, I said well following the rules that would be obedience, not respect, right?"
Article continues below advertisement
According to Sandy, the elderly gentleman didn't seem to think that there was a difference between the two: "He goes, same thing. You have to respect your elders. I said well what do you mean by that? Again he looked very puzzled, he said, well, if they tell you it's disrespectful and to take your hat off, you take your hat off."
The woman continued questioning the man's line of thinking: "I go again it sounds like you're describing obedience not respect. I said respect to me is to be kind and understanding of other people. After that I just introduced myself and I shook his hand and I said I really hope you have a nice day and he left and it was fine."
Article continues below advertisement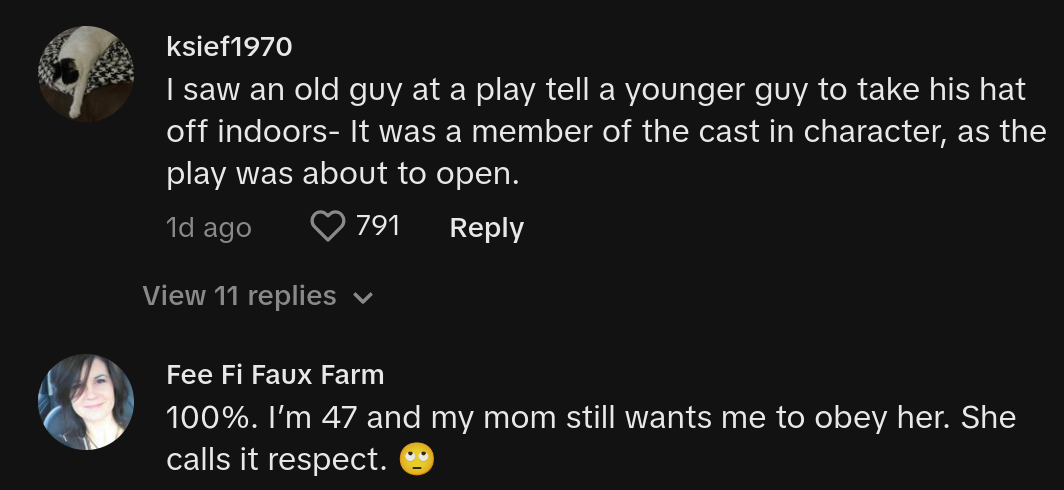 She added in a text overlay as she talked that she went out of her way to be kind to effectively communicate to the elderly gentleman what an example of respect looks like.
Article continues below advertisement
Sandy said that the nature of her conversation with the gentleman-who-hates-indoor-hats embodies the fundamental difference in parenting approaches that results in someone ultimately equating obedience with respect.
"This is the perfect example of the difference between authoritarian parenting and conscious parenting. Authoritarian parenting confuses respect and obedience and to follow rules for the sake of following rules and often those rules are based off of preferences and, not logic."
Article continues below advertisement

She went on to explain how she's attempting to steer clear away from the obedience = respect mentality when it comes to raising her child: "So I'm trying to teach my son, question and challenge, that's okay."
Article continues below advertisement
One commenter thought that Sandy's story time is a good example of why her son will more than likely excel when it comes to personal development: "Your child's emotional intelligence is going to be off the charts. We need a whole generation of parents like you."
Another said that they still can't wrap their heads around some of the rules that their parents raised them with: "my parents tried raising me with all of these kind of rules but they never made sense. How does having a hat on make any difference to anyone but you?"
Article continues below advertisement

Someone who said that they were "an older guy and dad" remarked that watching the video and the subsequent lesson that came with it was "helpful."
And another TikToker remarked that they thought the man in question may've gotten the rule in question mixed up: "What's interesting too is I think he got the rule wrong… I was always told as a kid it was only ever rude for men to wear hats indoors but not women"