Dad Claims Son and His Fiancée Are "Spoiled" for Spending Over $10K on Their Wedding
Dad says son and his fiancee are "spoiled" for wanting to spend more than $10K on their wedding, internet calls him "out of touch."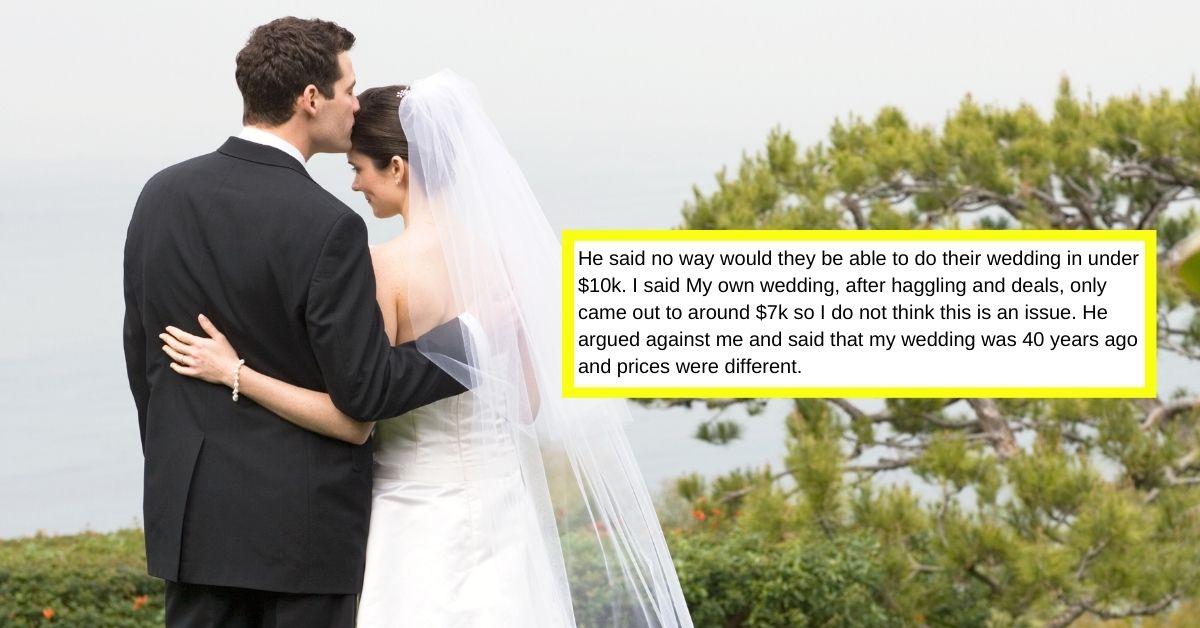 In this day and age, there's no denying that weddings can be incredibly expensive. If you want to go all out on the fun and festivities, you're likely looking at paying tens of thousands for a venue for both the ceremony and reception, catering, flowers, decor, a DJ or live artist, alcohol, and so much more. Even a low-key wedding can run up a hefty bill.
Article continues below advertisement
However, this dad on Reddit's AITA page, who goes by the username @throwR-7746, seems to think that his son and future daughter-in-law are spending *too* much on their upcoming wedding. And how much is too much? According to him, $10,000.
After pitching in $5,000 (which was also matched by the fiancee's father for a total of $10,000), the OP (original poster) was surprised when his son told him that it "wouldn't be enough" to cover the cost of their wedding. To his son's credit, he told his dad it was totally fine and that he and his bride "figured that [they] would have to pay for some of the wedding."
Article continues below advertisement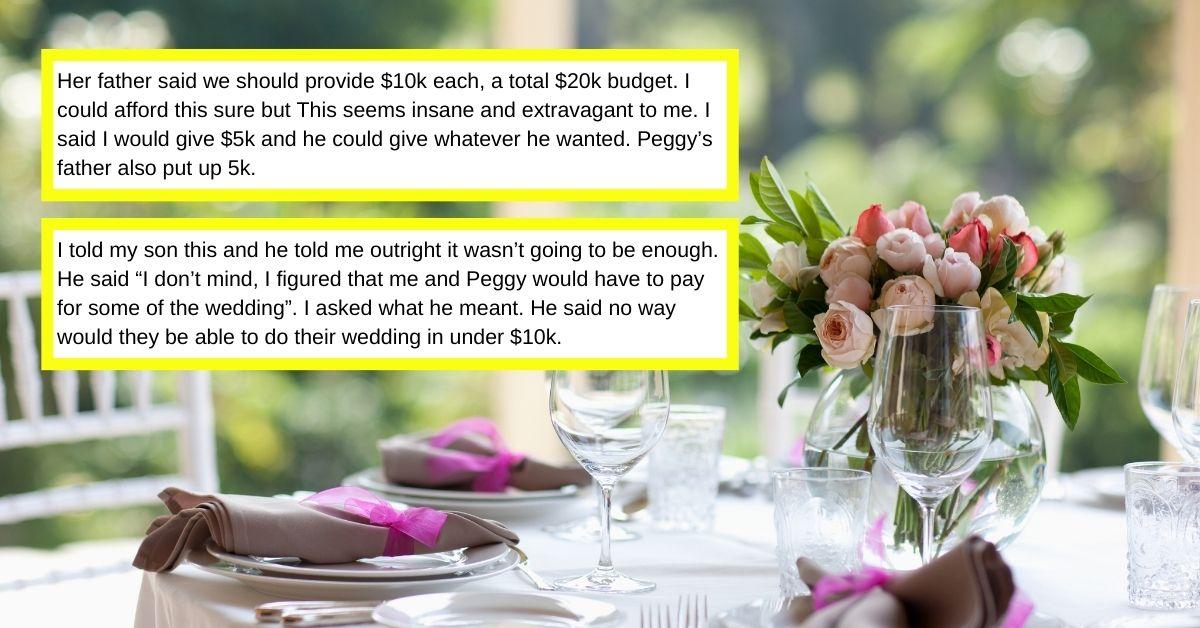 Now, it's my personal opinion that if you're not expecting anyone else to foot the bill, then you should be allowed to spend as much as you want on your wedding, without criticism. And, as mentioned, OP's son was grateful for his dad's contribution while also explaining that the couple would need to cover some of the costs on their own.
Fair enough, right?
Article continues below advertisement
Well, apparently not to OP — especially since, 40 years ago, he was able to pay for his own wedding for the measly price of $7,000.
"[My son] again said he didn't mind and he thanked me for giving them money for the wedding, but I honestly felt hurt that he thought we were not giving enough," OP shared.
"I said, 'My own wedding, after haggling and deals, only came out to around $7K, so I do not think this is an issue,'" he explained. "[My son] argued against me and said that my wedding was 40 years ago and prices were different. He outlined some prices and said the cheapest venue he could find was $5K, and food alone was going to be $2.5K."
Now, according to The Knot's Real Weddings Study, the average cost for a wedding in the U.S. is around $30,000 today, with even the lowest metro-area averages hovering somewhere around $25K. So, it seems true, with the rising costs of vendors, food, etc., that OP's son and his fiancee are spending within an appropriate range.
However, OP doesn't believe that they're doing everything they can to cut costs, which is a problem for him (for some reason).
Article continues below advertisement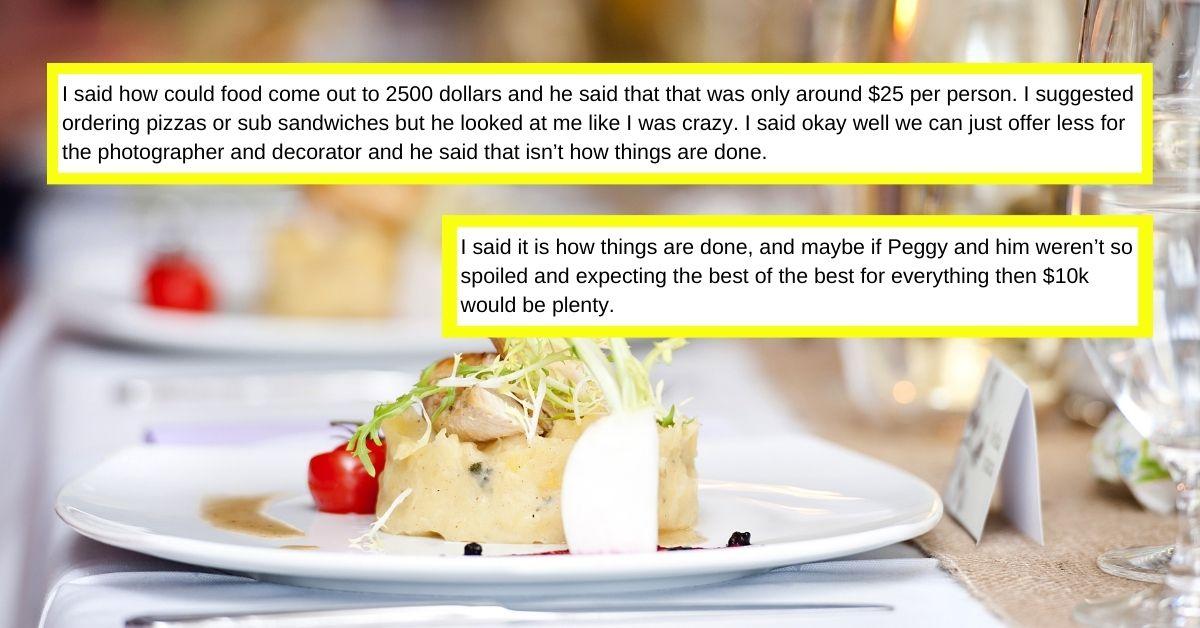 OP suggests that, instead of a fancy dinner, they should just order "pizzas and sub sandwiches" for the wedding reception. Of course, "my son looked at me like I was crazy."
"I said, 'OK, well we can just offer less for the photographer and decorator,'" explained OP. Yikes — so now he wants them to underpay their vendors?
Article continues below advertisement
"[My son] said that isn't how things are done. I said it is how things are done, and maybe if Peggy and him weren't so spoiled and expecting the best of the best for everything then $10K would be plenty," OP said. Not to beat a dead horse, but when the national average cost for a wedding is $30K, one-third of that is hardly "the best of the best."
And again, we're not really sure why there's such an issue when OP's son isn't looking for him to shell out any extra cash — aside from the fact that his feelings are "hurt" by not being able to fund his son's entire wedding for the price of a Rolex.
So, is this dad The A------? Reddit seems to think so.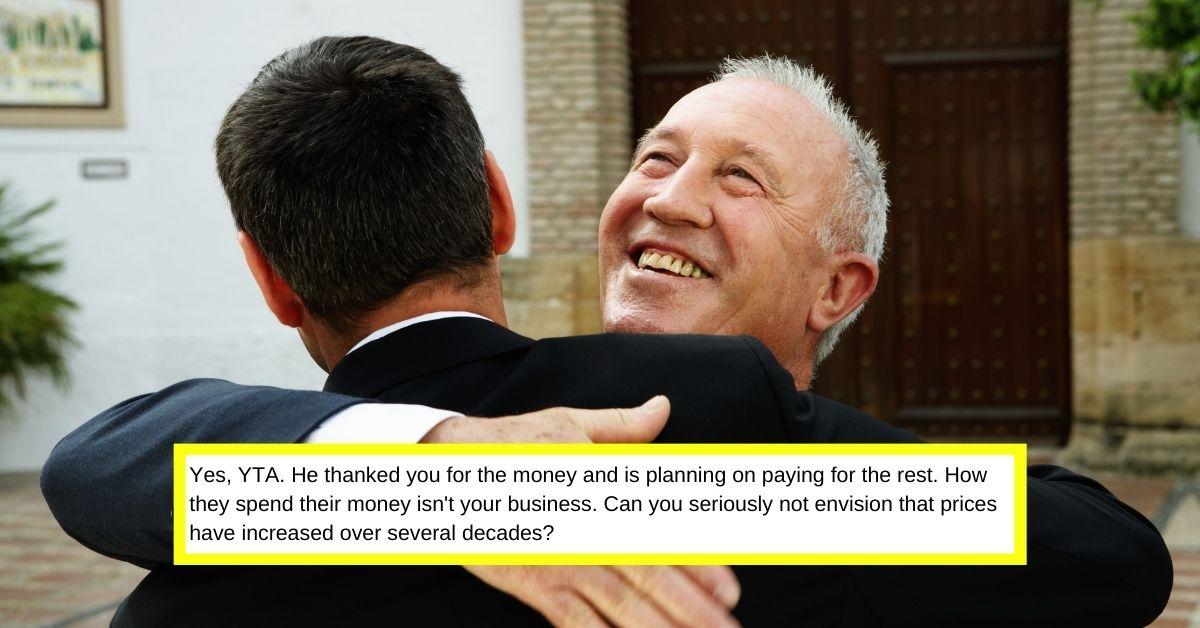 Article continues below advertisement
Even though OP claims his friends all agree with him (although, we have to say that getting your opinions from within an echo chamber likely filled with a bunch of dudes who *also* got married 40 years ago probably isn't helpful), the general consensus on Reddit is that this dad is totally out of touch.
User @allaboutbird said, "Yes, YTA. He thanked you for the money and is planning on paying for the rest. How they spend their money isn't your business. Can you seriously not envision that prices have increased over several decades?"
Another user responded, "Seriously, this is why so many people make fun of Boomers. They just can't imagine that prices have dramatically increased and they expect young people to be able to do what they did decades ago. My parents bought land and built a house for $90K in the 90's. The same house is now worth $1.5M. Things have changed dramatically."
"I looked it up and the average cost of a wedding in 1983 was $3,500, so OP had a fancy wedding, spending double the national average," shared commenter @bros402. Ouch! Maybe he should've served some pizzas and sub sandwiches.
And user @kanna172014 pointed out what I've been saying this whole time: "Yeah, I was expecting OP's son to ask for more money, but the son is planning to pay the rest himself so I don't see what the hang-up is."