"Why I Check Before Sitting" — Woman Discovers 5-Foot Snake in Toilet and Folks Are Freaking Out
One woman was shocked to find a huge rat snake in her toilet bowl after taking a pee. She filmed the experience which has since gone viral on TikTok.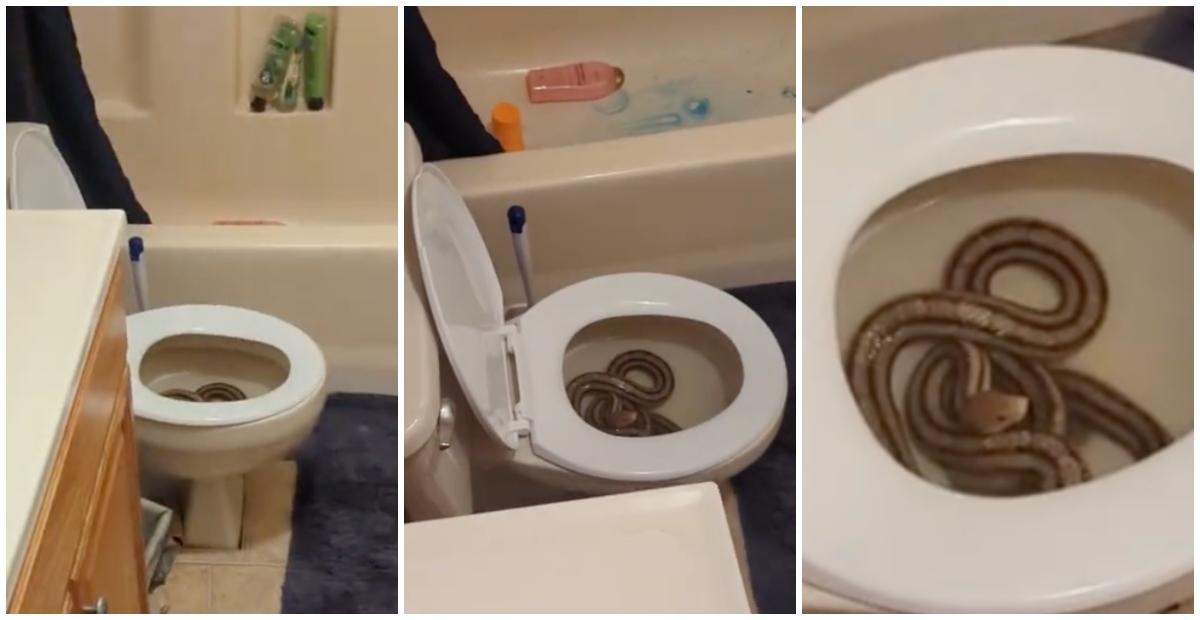 I am never going to the bathroom again.
OK, that's a lie. But after watching this viral TikTok video that has given me the heebie jeebies, I am definitely taking some precautions before using any toilet ever again.
Article continues below advertisement
Previously, I used to think that the craziest thing that could ever happen to me while doing my business was that I would unexpectedly give birth to a baby while on the toilet (which has actually happened to several women on TLC's I Didn't Know I Was Pregnant). However, this TikTok video has really unlocked a new fear for me, and will probably do the same for you.
Let's take a look at what this woman found in her toilet after taking a pee.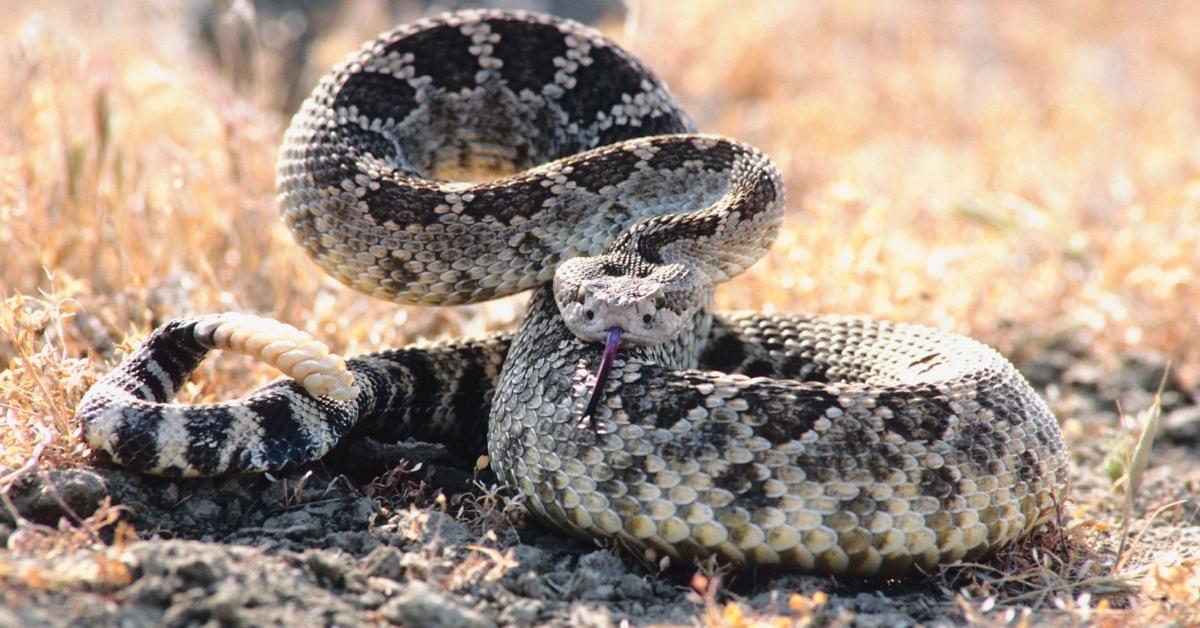 Article continues below advertisement
A woman was aghast after finding a 5-foot rat snake inside her toilet.
A woman named Christina (@missycina) shared a video to TikTok showing what she discovered in her toilet after taking a pee.
In absolute hysterics, she is heard screaming, "Oh my gosh, oh my gosh, I just peed, I just peed," while recording from the corner of her bathroom.
Article continues below advertisement
Christina then gingerly approaches the toilet to show viewers the 5-foot yellow rat snake just chilling like a villain inside her toilet bowl.
Article continues below advertisement
Users couldn't just scroll by this video, which has over 17 million views as of writing, without leaving a comment.
"I'm laughing but this is a legit genuine fear of mine," wrote one person.
Another teased, "That snake probably thought that was the spiciest rain he has ever experienced," referring to Christina's pee.
"This is why I check every time before sitting, 'cause it actually happens, " someone else said.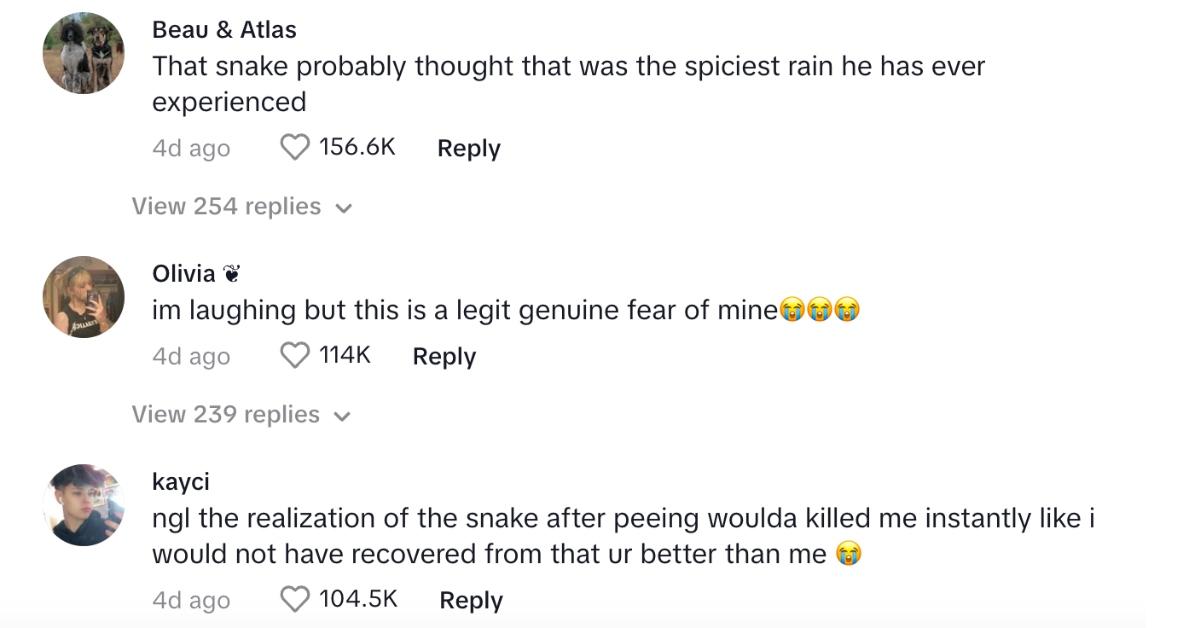 Article continues below advertisement
Meanwhile, others applauded Christina for her braveness. "Ngl the realization of a snake after peeing would have killed me instantly. Like I would not have recovered from that. [You're] better than me," read one comment.
And if everyone wasn't already freaked out, one person commented on Christina's video that they once had a flying squirrel in their toilet.
In a follow-up video, an unidentified arm held the snake up vertically parallel to Christina to compare their heights. While Christina had a few inches on the snake, it was clear that this was one long reptile.
Article continues below advertisement
After watching that video, some users assumed that Christina killed the snake and began scolding her in the comment section. However, it wasn't inherently clear if that's what actually happened.
Per Earth.com, rat snakes — like the one found in Christina's toilet — are typically non-venomous.
Article continues below advertisement
Can a snake actually come through your toilet?
While Christina's video should be enough evidence to conclude that yes, snakes sure can slither up your pipes and appear in your toilet, we understand it's the internet and you might be skeptical to trust every video you see.
That said, Christina's video seems very much real and not staged. Per Aztec Plumbing & Drains, animals can indeed crawl out of toilets, with the most common being snakes, frogs, and rodents. In Christina's situation, it appears the snake entered through her sewer system. Given the time of the year, this tall slimy guy was probably trying to beat the heat and gravitated toward the pipes where it was cooler.
Generally speaking, this is a very rare occurrence.