TikTok's Hot Grinch Didn't Just Steal Christmas — He Stole Our Hearts
We all know the classic holiday story of How The Grinch Stole Christmas. But what about the tale of the Grinch who stole TikTok's heart?
Article continues below advertisement
Ahead of the holidays, the Grinch was spotted conversing with guests at Universal Studios in Orlando, Fla. One woman's encounter with the green furry man really caught the Internet's attention and prompted users to ask themselves a very important question: Is the Grinch hot? Keep scrolling to see her arguably flirty encounter with the Grinch.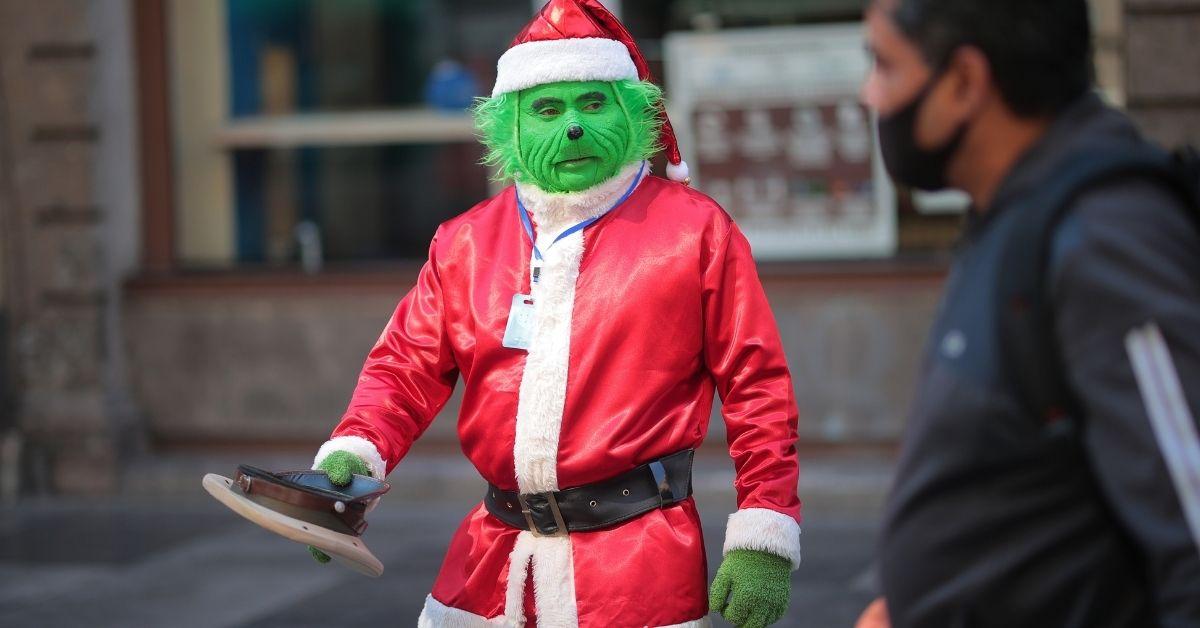 Article continues below advertisement
The Grinch's conversation with this woman went viral on TikTok.
Theme Park YouTuber and blogger Alessa Dufresne, who goes by @thatdisgirl on TikTok, shared a recording of her conversation with the Grinch at Universal Studios. "Your outfit is chic," she is seen telling the Grinch. But unfortunately, he misheard her. "I thought you said cheap," he said, "which would be correct since I made it myself," he quipped.
Article continues below advertisement
Alessa then asked the Christmas villian if he made his red and white ensemble from materials from the trash. He answered that he actually crafted his look (which consists of a Santa hat, shirt, and no pants) out of curtains.
"I just noticed one other thing though," Alessa said. She then pointed out that they were both donning the same lashes.
"Do we? Come here," he said as he leaned in closer and examines her face. "Oh no, yours are fake," he says, shutting down her comparison. However, he added, "But you're doing great work with the contour."
It was the Grinch's contour comment that had folks wondering: Is he flirting with her?
Alessa then thanked him for the compliment and wished him a good Christmas. "Yeah, yeah, whatever," he fired back.
Article continues below advertisement
"The Grinch was crabby but liked my makeup," she wrote in the caption of the TikTok, which has been viewed more than 19 million times. Her cover image for the video also reads, "Grinch complimented my contour."
TikTok users are obsessed with the interaction. "HELP WHY IS HE HOT?" one user asked. Another wrote, "I just know he is FINE under that makeup." A third said, "Y'all are flirting for sure."
Article continues below advertisement
So, is the Grinch hot?
It wasn't just users who watched Alessa's TikTok that had a lust for the green fellow. We did a little digging and discovered that users on social media have previously expressed a thirst for the holiday antagonist.
Article continues below advertisement
One user tweeted, "I am not scared to say it and I feel like this is something I shouldn't be ashamed of any longer! I am proud to say that I think the Grinch is kinda hot." Others questioned their attraction to the fictional villain. "Guyys why is the grinch hot?" another person asked.
Article continues below advertisement
This desire for the Grinch isn't exactly new though. People began questioning their yearning for him in 2018 when the most recent animated title, Dr. Seuss' The Grinch, was released.
In fact, Metro published an article about him at the time dubbed, "Why do people want to have sex with the Grinch?" The piece not only confirmed that people were harboring crushes on him, but it also gave some reasons to why. "He has a raw sexual charisma. He's self-assured. He hates capitalism," it read.
So, is the Grinch hot? TikTok seems to think so. Twitter seems to think so. And let's be real: The Grinch himself definitely thinks so as well. Anyone else down for a reboot of The Grinch where he just steals our hearts instead of Christmas?