An A.I. Bot Is Judging How Bad Your Spotify Is — and the Results Are Hilarious
How bad is your Spotify? The Pudding put together an Artificial Intelligence bot to judge users' music taste. Prepare to feel judged about your playlists.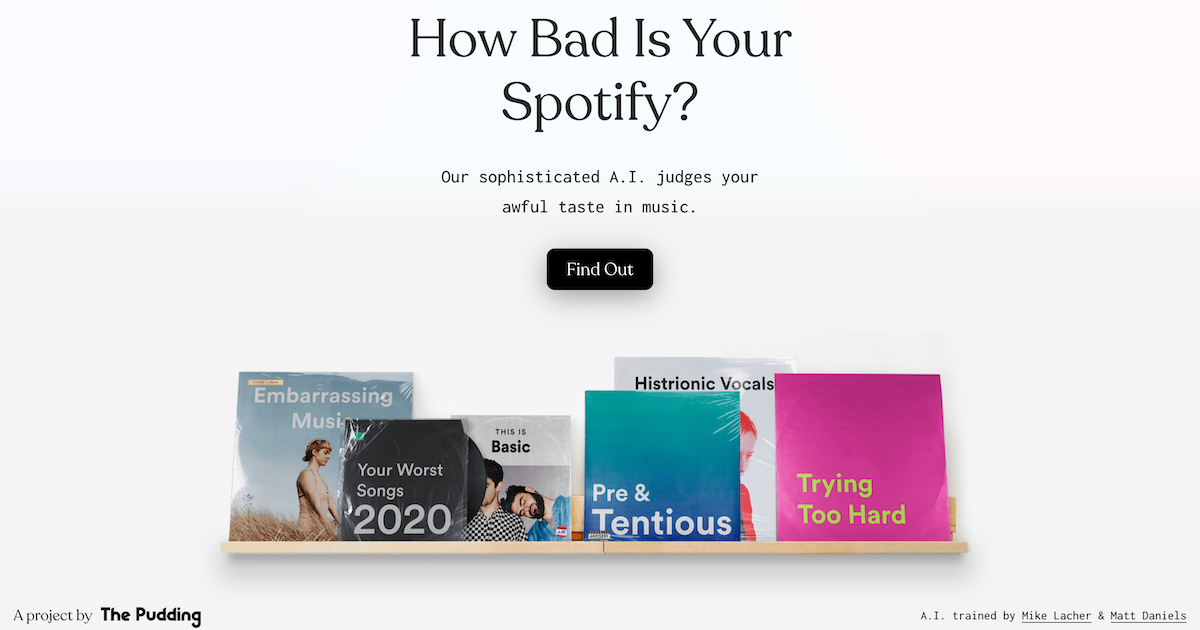 If 2020 hasn't been tough enough for you, there's now an Artificial Intelligence bot that wants to judge your taste in music.
Many added sad ballads to their daily song collections on Spotify to keep up with the mood of 2020. Others queued up throwbacks to remember the good times before masks, quarantines, and COVID pods entered into our daily vernacular.
Article continues below advertisement
Some who pride themselves on their ability to make a playlist have tirelessly continued to curate their Spotify brands in 2020 in order to have a flashy "Spotify Wrapped" to share on Instagram by the year's end.
Even if you tried, according to the bot, you probably failed.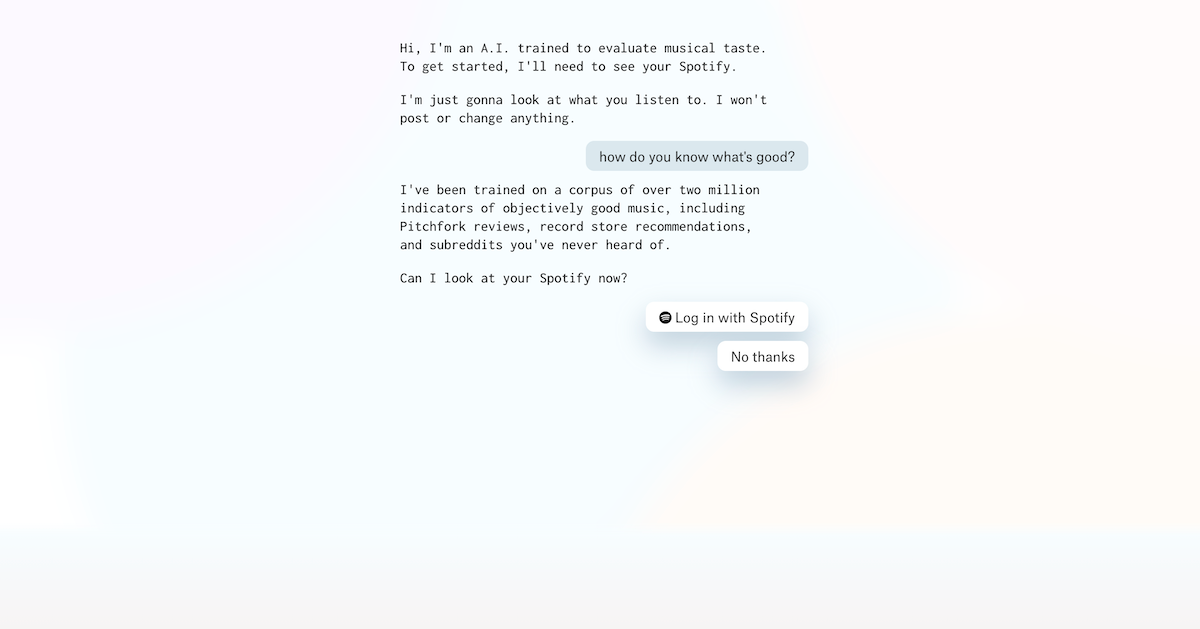 Article continues below advertisement
Whether you think you've put together a collection that Beyoncé would approve of or you know your profile consists of a very niche type of sound, The Pudding has you covered.
They created an A.I. bot to help you answer the age-old question: How bad is your Spotify?
Find out below how to take the test and to see some of the internet's funniest responses.
"How Bad is Your Spotify?" Details on how the A.I. bot test works.
Everyone has a friend or a loved one who thinks his or her Spotify is the pinnacle of good taste. The "How Bad Is Your Spotify" test is for them.
The test was created by Matt Daniels and Mike Lacher for The Pudding, which "is a digital publication that explains ideas debated in culture with visual essays."
Those who click on the quiz will be met with the following message: "Our sophisticated A.I. judges your awful taste in music."
Article continues below advertisement
Those who think that their playlists are immune from criticism may not like what the bot tells them. The purpose of the test is to poke fun at people who take their Spotify brands seriously.
Once you do decide to find out how bad your Spotify is, you'll have to log in to your account. The A.I. bot will then dissect your listening patterns and it will cater an insult based on what kind of music you gravitate towards.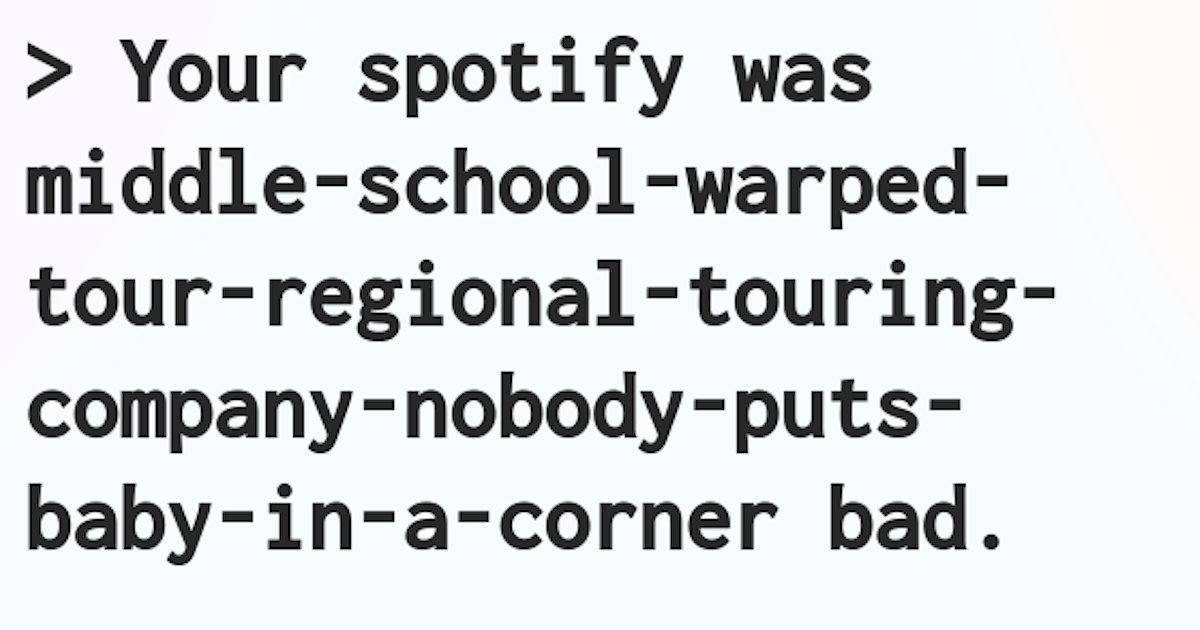 Article continues below advertisement
The results tell users what tracks they "listen to too much" and what creators they stan "to an uncomfortable extent."
Participants will ultimately receive a percentage score for how bad / basic their Spotify account is. To add insult to injury, the bot will also tell you if you're stuck in a particular genre or era.
The "How Bad is Your Spotify" trend has sparked many memes and hilarious tweets.
As expected, Twitter users have gleefully responded to the prospect of sharing their "How Bad Is Your Spotify" results ... both the fake and the real ones.
The content is *chef's kiss* perfection, and it makes taking the test worthwhile.
Because honestly, did you even really take the quiz if you didn't share it online?
Article continues below advertisement
This person was roasted for listening to a lot of rap music, and the A.I. bot even asked him if he was OK. If that wasn't enough, the user was also told that his music taste was stuck in the 2010s.
Unsurprisingly, Swifties were given a lot of heat by the A.I.
Article continues below advertisement
Article continues below advertisement
Those who find themselves a bit hurt by what the A.I. had to say about their music tastes should be comforted by the fact that they're in good company. The bot is shady toward everyone's lists.
'Tis the season, after all.
You can find out how awful your Spotify is here.