How Did Darth Maul Survive Being Cut in Half? The Answer Is Very On-Brand for Him
How did Darth Maul survive? His 'The Phantom Menace' death turned out to be his means of survival long after the Star Wars movie ended.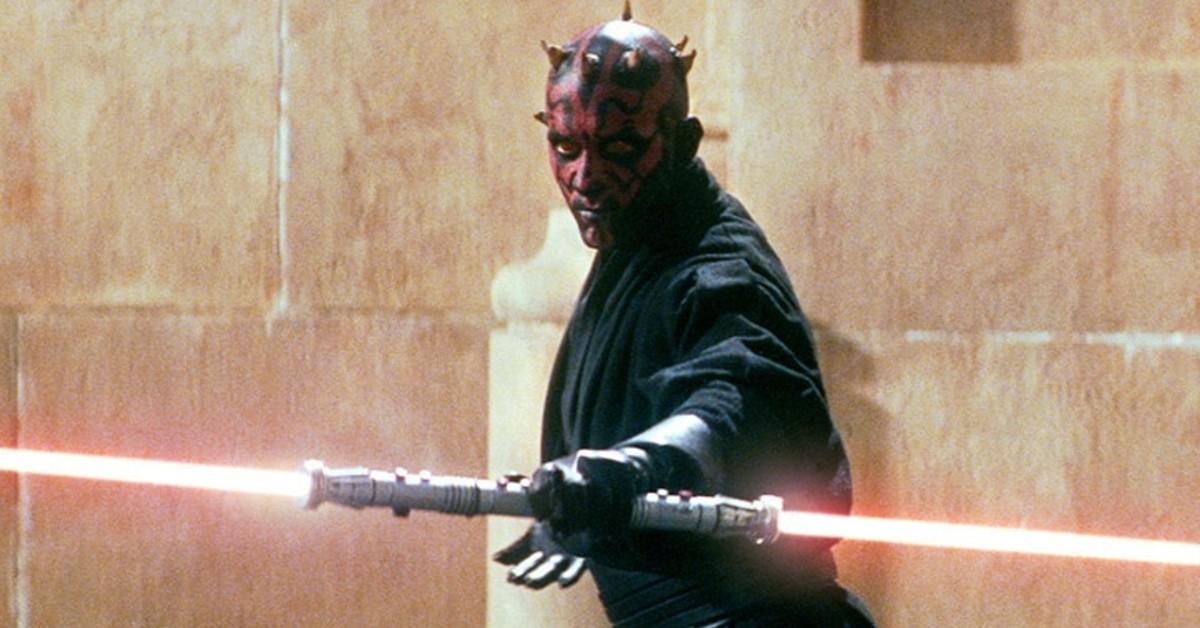 Even if you don't know Darth Maul by name, you've likely seen his face. The menacing Star Wars villain, who seemingly both made his debut and met his end in 1999's The Phantom Menace, stares into viewers' souls with his haunting yellow eyes and red-and-black face. He wields a double-bladed red lightsaber, wears all black, and is, as it turns out, nearly impossible to kill.
Article continues below advertisement
Years after his on-screen "death," it was revealed he'd actually survived his deadly duel with Qui-Gon Jinn and Obi-Wan Kenobi. But how did he live through all that? And why? In true Sith fashion, it was Maul's anger that kept him going. Let us explain.
How did Darth Maul survive 'The Phantom Menace'?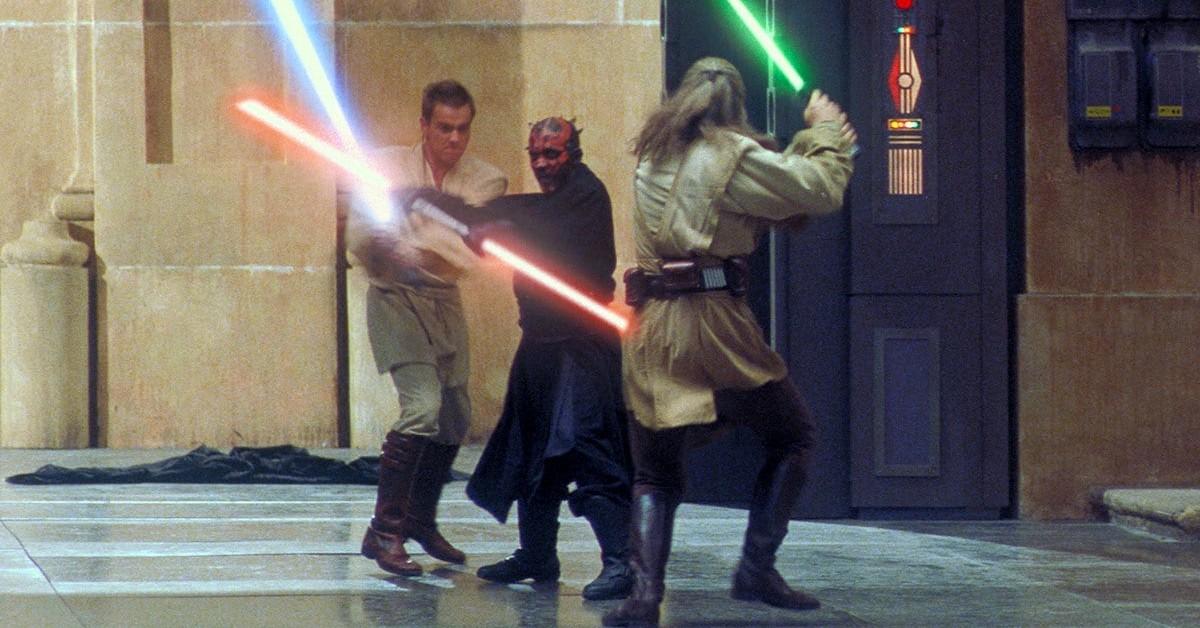 Article continues below advertisement
The answer is ... he was just really, really mad. Yes, really.
It was revealed in Star Wars: The Clone Wars that after being split in two, falling down a giant hole, and being dumped in a landfill, Darth Maul survived "by focusing on his hatred of Obi-Wan Kenobi." According to StarWars.com, the Sith apprentice was so traumatized by the experience that for a long time, he forgot who he was.
Before his brother found him years later, he spent over a decade building himself a new pair of legs and losing his sanity. He would spend the rest of his life hyper-focused on making sure Obi-Wan Kenobi met the very painful end the Jedi assumed he'd endured. Even after all that effort, he never actually got what he wanted.
Article continues below advertisement
How did Darth Maul die in 'Star Wars'?
Though Maul didn't die in The Phantom Menace, his actual death did eventually occur on-screen — but many Star Wars fans still haven't seen it.
Spoilers ahead for Star Wars Rebels Season 3!
Article continues below advertisement
After years of hunting down Jedi Master Obi-Wan Kenobi, the two ultimately faced off one more time on Tatooine. By this time, both men had aged significantly and had fought countless battles nearly to the death. Their duel was short but powerful.
After sustaining one fatal lightsaber hit, Maul died in Obi-Wan's arms finally at peace. It was never Obi-Wan he wanted to see destroyed, but instead the entire Sith Order. Once he realized the Chosen One would do just that, he could finally rest.
Darth Maul only appeared in live-action 'Star Wars' twice.
Article continues below advertisement
While he made many appearances across Star Wars animation, Maul only appeared in live-action in two movies: The Phantom Menace and, nearly 20 years later, Solo: A Star Wars Story.
His appearance in Solo confused every audience member who hadn't seen the animated shows. They rightfully assumed he'd died in the first prequel film and began to question when Solo took place in the larger Star Wars timeline.
Maul's appearance in Solo takes place between The Clone Wars and when he first reappears in Rebels. But due to the lack of a sequel to the film, it's still largely unclear how Maul went from running the Crimson Dawn crime syndicate to being exiled near a Sith temple.
There are many more Star Wars stories to be told. Just because Maul is dead doesn't mean he won't show up again somewhere else. You never know with this guy.