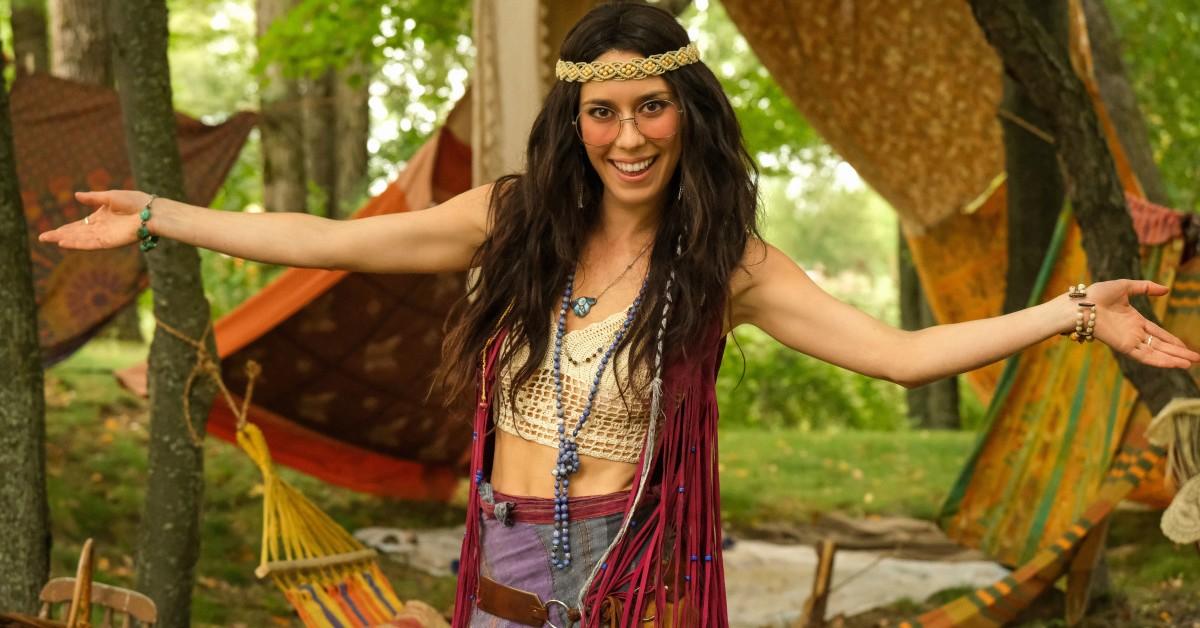 How Did Flower, the Peace-Loving Hippie, Die? Her 'Ghosts' Death, Explained
Samantha (Rose McIver) and Jay Arondekar (Utkarsh Ambudkar) have had their work cut out for them rehabbing an inherited estate into a working bed and breakfast. Why? The Woodstone estate already has residents with an indefinite checkout time: ghosts! The hit CBS sitcom Ghosts centers around the hilarious ghosts at the Woodstone and all the antics they get into with Sam and Jay.
Article continues below advertisement
One of the kindest ghosts residing at the Woodstone estate is Flower (Sheila Carrasco). Her real name is Susan Montero, but Susan prefers to go by Flower. After all, she was a hippie when she was alive. Sadly, Flower's hippie nature ultimately cost her residence among the living.
Article continues below advertisement
How did Flower die?
In true hippie fashion, Flower died from getting too high. On Flower's last night alive, she took some hallucinogenic mushrooms with her boyfriend after attending a music festival (hey, it was the 1960s, after all!) Flower and her boyfriend found themselves on the grounds of the Woodstone estate, and they ended up encountering a bear.
Still high on mushrooms, Flower misunderstood the bear's intentions. She thought that when the bear raised its big, furry bear arms (or forelegs if you will), it wanted a literal bear hug.
Flower's misunderstanding cost her dearly. She tried to hug the bear and the bear killed her in return.
Article continues below advertisement
It turns out the reason Flower ended up at the Woodstone estate in the first place is that she was running off with money from her commune. The money was actually stolen from a bank. Flower only participated in the commune's bank robbery because she thought they'd pull a Robin Hood and give the money to the poor.
Tired of the commune's inability to do what they promised with the money, Flower ran off with it herself, with her boyfriend Ira (Adam Bernett) by her side.
Article continues below advertisement
In Season 1, Episode 7, Flower is hesitant to let Sam write about her experience. (Sam is attempting to wow an editor with story pitches.) She says she swore a blood oath with her commune that she'd never talk about what happened.
After Flower finally comes clean about what happened, Sam reveals to her that she found out that Ira opened up a chain of fair-trade coffee shops in honor of Flower. Not only that, but Ira's coffee chain also promotes tips on bear safety.
Article continues below advertisement
Flower's actress thinks Flower is an empath.
Flower was embarrassed by the whole bank robbing aspect of her life, but talking to Sam about it was spiritually healing for Woodstone's resident hippie.
Sheila spoke to TV Insider about what she loved about playing Flower, saying that she believed that Flower was an empath. She noted, "I think that she can feel people's feelings and see what they're going through sometimes before she really hears what they're saying."
Sheila also said in the same interview that she'd love for Flower to reunite with Ira via Sam. Could that happen in a future episode of Ghosts? We'll just have to wait and see!
Ghosts airs on Thursdays at 9 p.m. EST on CBS.