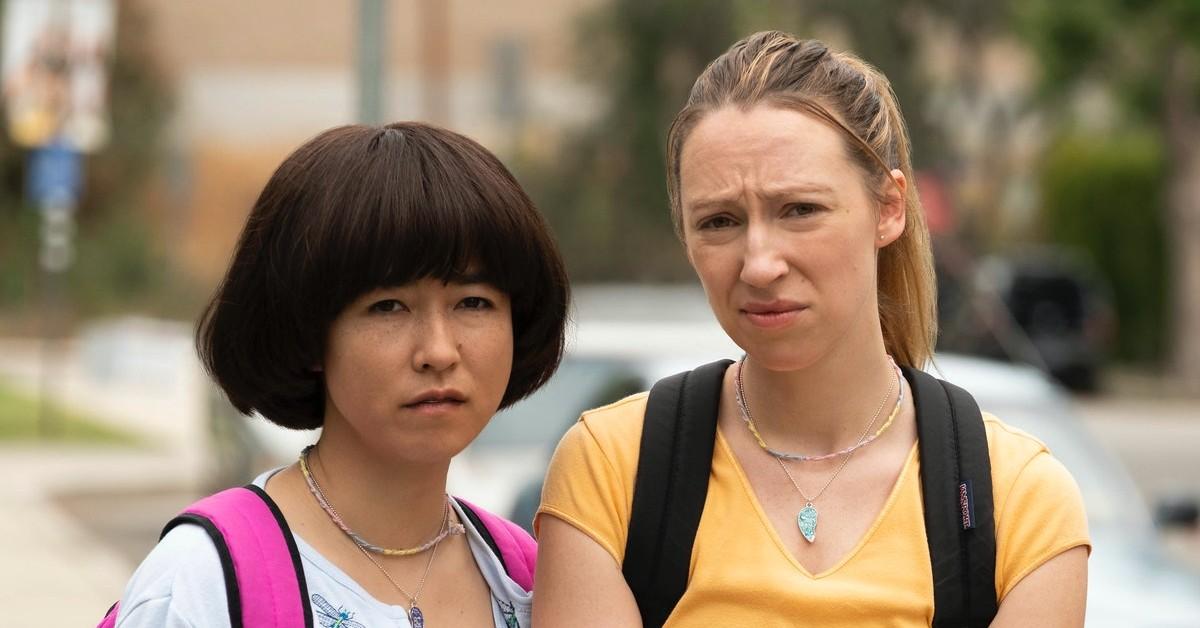 Here's How 'Pen15' Creators Maya Erskine and Anna Konkle Became Best Friends on God's Green Frickin' Earth
"You are my actual rainbow gel pen in a sea of blue and black writing utensils," seventh-grader Anna Kone (Anna Konkle) warmly tells her bowl-cut-donning BFF, Maya Ishii-Peters (Maya Erskine). If you're unfamiliar with Pen15's bonkers premise, then boy, are you in for a treat. Set in the year 2000, the series follows misfits Maya and Anna as they face the drama and complexities of middle school. The gag of the show is that 30-somethings Maya Erskine and Anna Konkle play whiny middle schoolers, while the rest of the cast are actual middle schoolers.
Article continues below advertisement
The contrast of adult Maya and Anna acting alongside the talented 13-year-olds (who are actually experiencing puberty and the pains of growing up) is obviously hysterical, but the mastery of the series's writing and performances makes the audience forget the premise's quirks almost instantly. It's easy to believe that Maya and Anna are these naive adolescent teenagers.
Adjacent to its laugh-out-loud jokes and cringe-inducing dialogue, Pen15 handles heavy social issues like female masturbation (and the shame that often accompanies it), racism, and divorce with grace.
The nostalgic, heartwarming friendship between the two awkward seventh graders is the main focus of Hulu's Emmy-nominated cringe comedy series. It's equally heartwarming to know that Maya Erskine and Anna Konkle — aka the show's creators, writers, and lead actresses — are BFFs in real life.
Article continues below advertisement
How did Maya Erskine and Anna Konkle meet?
Butterfly clips, AOL chatrooms, and frosted lipgloss aside, Pen15 is about friendship. While Maya Erskine and Anna Konkle play tween versions of themselves, they didn't meet in middle school. They may have been adults by law when they met in college, but the two certainly had a lot of growing up to do. Meeting during those transformative years surely aided in Maya and Anna's now-famous chemistry.
Article continues below advertisement
More specifically, the funny gals met in Amsterdam in the midst of a study-abroad workshop for their junior year at NYU's Tisch School of the Arts, as reported by Vulture. Both Maya and Anna were studying experimental theater. "We had mutual friends," Maya told Vulture.
Anna made sure to follow Maya's informative statement, saying, "We had diarrhea." We just love learning more and more about these comedic geniuses.
While in the program, Maya and Anna struggled to create and deliver a performance in the style of German playwright Bertolt Brecht. Due to their shared anxiety, the project didn't go smoothly. "We were hiding in the bathroom, freaking out," Maya said. It was in that very bathroom that the IBS-plagued college students formed a special bond, discovering that they had a shared love of dark comedy and New York City.
Article continues below advertisement
Their ambitious plans to embark on fruitful theater careers in Manhattan obviously didn't take off. "We would send out our headshots, but people don't even want to see you if you haven't gone to grad school," Maya said. Refusing to give up on their artistic dreams, the two college grads created a comedy web series, Project Reality, in LA many years later. This was the much-needed jumpstart to their now-successful careers in comedy. The rest is, like, total history.
"You're a mini-adult but also a complete kid. It feels almost operatic," Maya said of life as a tween. We only get to experience the intense nuances of adolescence once in a lifetime, but Pen15 lets us reminisce and relive middle school vicariously through Maya Erskine and Anna Konkle's creative lens. Though we're deeply saddened over Pen15's upcoming farewell, Maya Ishii-Peters and Anna Kone will always be there when we need them.
The second half of Season 2 of Pen15 premieres on Dec. 3, 2021, on Hulu.