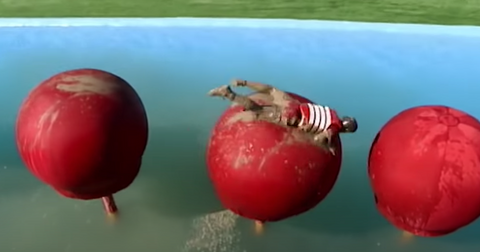 How Did the 'Wipeout' Contestant Die? Here's What We Know About the Tragedy
By Gina Vaynshteyn

Updated
On Friday, Nov. 20, it was reported that a Wipeout contestant had died after competing in an obstacle course while filming. The cast member started to have chest pains sometime after completing the course. Although on-set medics treated him and immediately transported him to a hospital, the male contestant ended up dying.
A TBS spokesperson told CNN, "We are devastated to have learned of his passing, and our deepest sympathy goes out to the family."
Article continues below advertisement
How did the 'Wipeout' contestant die?
Currently we only know that the 30-something-year-old experienced chest pains and was declared dead at the hospital in Santa Clarita, Calif. (where the show is filmed) before 7 p.m. on Wednesday. The cause of death and contestant's name have not been released yet. It seems as though his relatives have yet to be notified.
This isn't the first time a Wipeout contestant has died on set, though. In 2009, cast member Tom Sparks died on the competition series.
Article continues below advertisement
How did 'Wipeout' contestant Tom Sparks die?
Tom Sparks, who was 33, started having knee pain and experiencing shortness of breath while on set for Wipeout in 2009. This was on Oct. 19. He was taken to a hospital, where he had multiple brain surgeries — but he died on Nov. 5 from a stroke.
According to sources, he had antiphospholipid antibody syndrome syndrome, which is a disease that causes extra and unnatural blood clots. It also wasn't known if he disclosed this information to the Wipeout producers (all candidates need to be forthcoming about their medical history and any pre-existing conditions before participating in the show).
Article continues below advertisement
Tom had just graduated from USC's Annenberg School for Communication and Journalism and had also just gotten married to Kate (they'd just gotten back from their honeymoon), who was also on Wipeout.
"We offer our heartfelt condolences to the family. This is a tragic loss and our thoughts are with them at this time," an Endemol production company spokesperson told Access. "He seemed invincible. He was very talented and was always, always on the go," a source said to the Los Angeles Times.
Article continues below advertisement
"Tom truly was one of the most positive people I've worked with in broadcasting. He started working for our show last summer after graduating from USC. He was a true talent and well liked by everyone," said CaliforniaLifeHD producer Heather Dawson, per The Wrap.
In September 2020, it was announced that Wipeout had just been revived by TBS and would be hosted by John Cena and Nicole Byer. The original series was on ABC for seven whole seasons between 2008 and 2014 for a whopping 130 episodes. The show was originally created by Matt Kunitz and Scott Larsen and filmed at Sable Ranch in Santa Clarita, Calif.
It's been reported that production has been halted due to the tragic events this week, and has paused filming for this upcoming week. It's unclear when the revived Wipeout series will be premiering on TBS.