For over four decades, the Osmond family has been one of the most well-known broods in Hollywood. Between their music and acting stints, the group has managed to stay relevant and very popular over the years. The one problem? It's hard to keep up with all of them! That said, after Marie's brothers surprised her with a birthday performance on The Talk (their final one together), fans are asking: How many Osmonds are there? Scroll down to find out!
How many Osmonds are there?
There are nine Osmonds in the family. The clan consists of one girl and eight boys. So yes, Marie Osmond does have eight brothers!
Here's a breakdown of the group in age order:
1. Virl Osmond
Virl is the eldest of the clan and is 73 years old. He was born on Oct. 19, 1945.
He was married to his ex-wife, Chris, from 1968 until 2013 and the former couple has seven children together. He is now remarried to a woman named Debbie.
Virl worked as a producer on The Gift of Love, Jerry Visits, and The Oprah Winfrey Show. He is hearing impaired, so he was not a part of his family's musical group.
2. Tom Osmond
Tom is the second eldest of the Osmond family and is 71 years old. He was born on Oct. 26, 1947.
Like his older brother, Virl, Tom is also hearing impaired. In fact, he was born almost completely deaf, but has regained some hearing from medical treatment. The hearing impairments of the two is what prompted their younger siblings to create their musical group in the first place so they could pay for their hearing aids. Both Virl and Tom were the inspirations for Children's Miracle Network.
Tom and Virl have only made occasional performances with their siblings due to their hearing impairments. 
Tom was previously married to Lyn Heslop from 1972 until 1989 and they have four kids together. He and his second wife Carolyn married in 1989 and have two children together. They currently reside in Utah.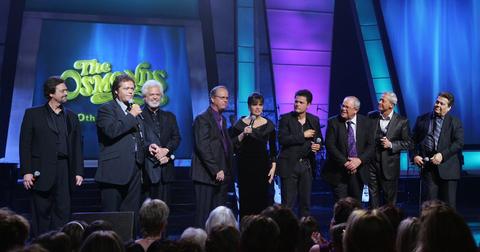 3. Alan Osmond
Alan is the third eldest of the family and is 70 years old. He was born on June 22, 1949.
Alan, who has multiple sclerosis, was a part of The Osmonds musical group. And being that he was the oldest in the group, he played a big part in their organization and success.
He and his wife, Suzanne Pinegar, married in 1974 and are parents to eight sons.
4. Wayne Osmond
Wayne is the fourth eldest of the family and is 68 years old. He was born on Aug. 28, 1951.
He too was an original member of The Osmonds musical group with a focus on vocals and guitar.
Wayne wed his wife, Kathlyn White, in 1974 and they are parents to five children together, three girls and two boys.
He was diagnosed with and successfully treated for a brain tumor in 1997.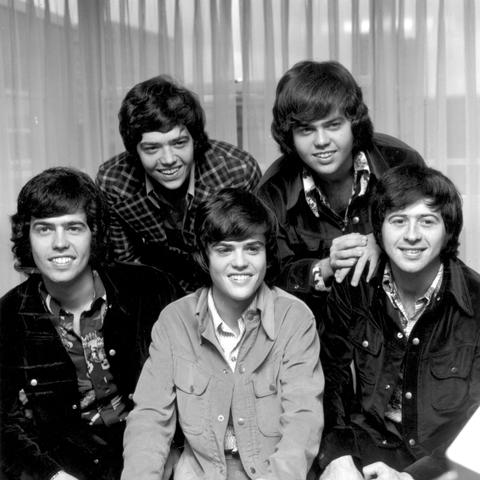 5. Merrill Osmond
Merrill is the fifth oldest of the Osmond family and is 66 years old. He was born on April 30, 1953.
He was the lead singer and bassist of The Osmonds and still does solo performances from time to time.
He was the first of the performing brothers to marry, as he wed his wife, Mary Carlon, in 1973. They have six children together, four sons and two daughters. One of their sons, Troy, sadly died in his sleep at age 33 last year.
6. Jay Osmond
Jay is the sixth-born child of the Osmond family and is 64 years old. He was born on March 2, 1955.
He was the drummer for The Osmonds.
Jay previously married Kandilyn Harris in 1987 but they divorced in 2011. They have three sons together. He married Karen Randall in 2014.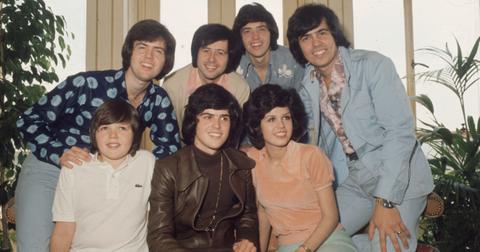 7. Donny Osmond
Arguably one of the most popular members of the family, Donny is the seventh eldest of the family and is 61 years old. He was born on Dec. 9, 1957.
While once a member of The Osmonds, Donny is the epitome of a teen idol. In addition to going solo in the music world, he and his younger sister, Marie, also gained fame on Donny & Marie. He's also appeared on Dancing With the Stars and The Masked Singer.
He married his wife Debra in 1978 and the pair has five sons together.
8. Marie Osmond
Like Donny, Marie is one of the more popular members of her family. She's 60 years old and was born on Oct. 13, 1959.
She's a singer, actress, philanthropist, talk show host, and more. She was never in her family's singing group, but she earned her own fame as a solo artist.
She was also on Donny & Marie with her brother, as well as Dancing With the Stars. She's now a co-host on The Talk.
Marie has been married three times, twice to Steven Craig. She has eight children, one with Steven, two with her second husband, Brian Blosil, and five adopted.
9. Jimmy Osmond
The youngest of the clan, Jimmy is 56 years old. He was born on April 16, 1963.
He was the youngest member of The Osmonds. Jimmy has also seen much success as a solo artist. He's also an actor and a businessman.
He's been married to wife Michele Larson since 1991 and they have four children together.
Jimmy suffered a stroke in late 2018. In mid-2019, he announced that he's now in good health but is taking a break from his career.