Jane Fonda Has Been Arrested Multiple Times for Her Activist Work
Jane Fonda was famously arrested five times in 2019, but with her long history of activism, how many times has the actress actually been arrested?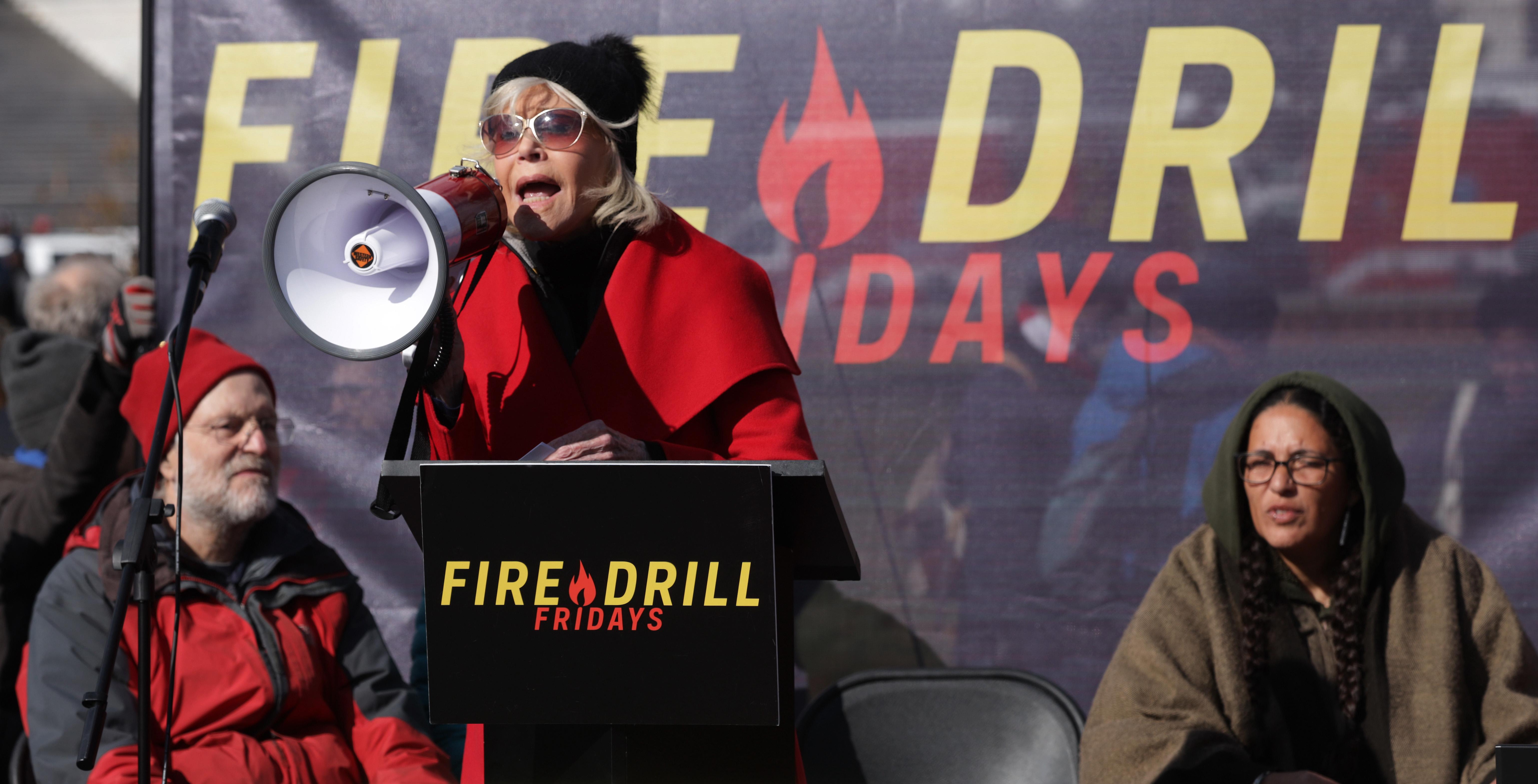 For a lot of people, getting arrested is a negative experience — even more so if you're a celebrity. But for Jane Fonda, that's not the case.
The actress, who has been starring on screen since the 1960s, has been using her platform to protest for just as long. Jane's career has run parallel to her activist work, as she's protested and fought to bring change on a variety of causes, including the Vietnam War, the V-Day Movement, and climate change. But how many times has Jane been arrested?
Article continues below advertisement
Jane Fonda's iconic mugshot is from her first arrest in 1970.
Jane's first arrest took place in 1970 while the actress was on a speaking tour to discuss the Winter Soldier Investigation, donating all of her speaking commissions to WSI and finding troops who were willing to speak about some of their more horrifying experiences in the Vietnam War.
It was upon re-entering the U.S. after giving a speech at a Canadian college that Jane was detained, with airport authorities claiming they found drugs in her luggage.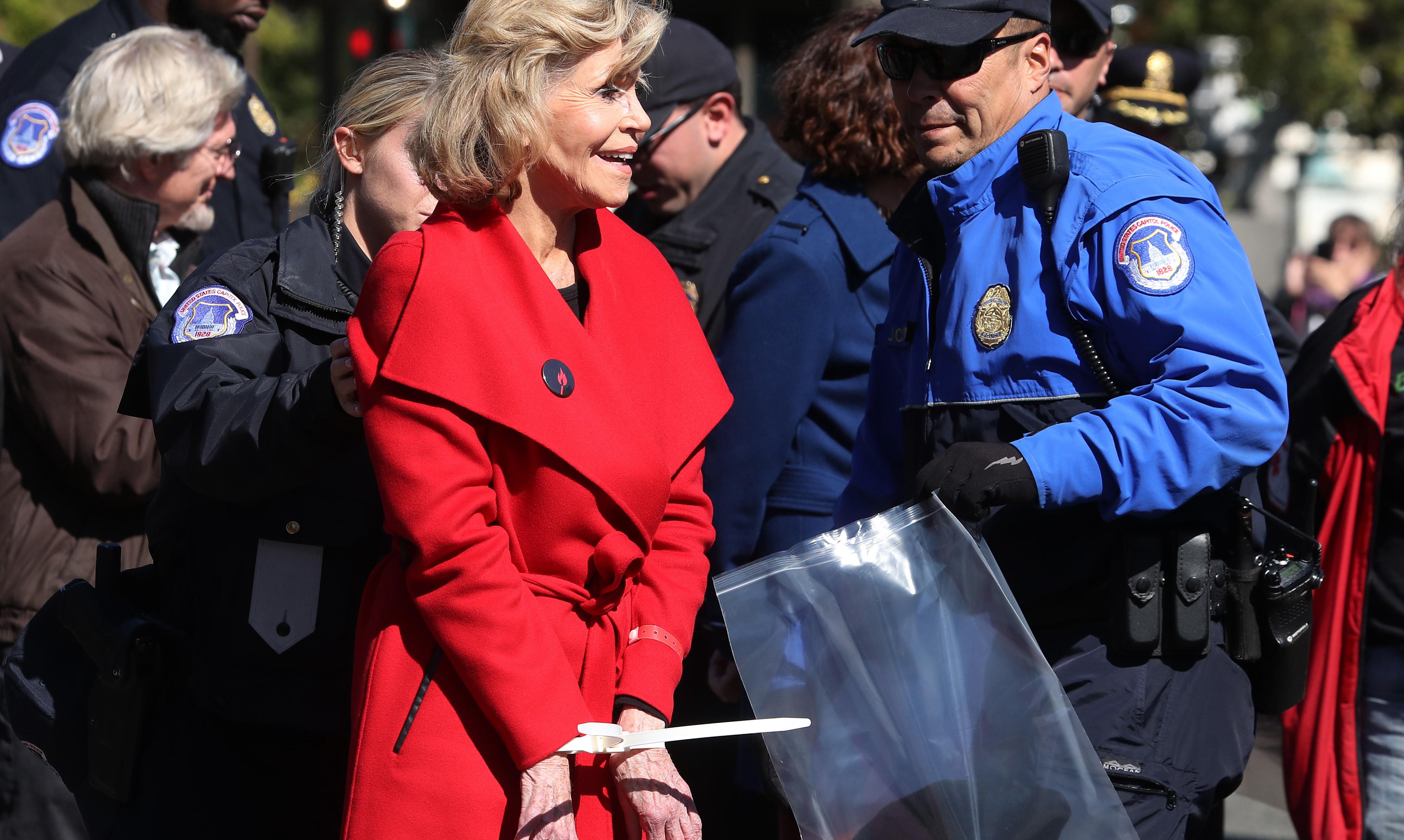 Article continues below advertisement
Jane says the pills found in her luggage ("little plastic envelopes marked (in red nail polish) 'B', 'L', 'D' – signifying breakfast, lunch and dinner," she wrote in an essay about her mugshot) were only vitamins, though she was still arrested on charges of drug smuggling.
"I told them what they were but they said they were getting orders from the White House – that would be the Nixon White House," Jane wrote. "I think they hoped this 'scandal' would cause the college speeches to be canceled and ruin my respectability. I was handcuffed and put in the Cleveland Jail, which is when the mugshot was taken."
Eventually, Jane was cleared of the charges, and while she speculated the arrest was a move to decrease attendance at her talks, she says it had the opposite effect.
Article continues below advertisement
"The irony was that as a result of all the bruhaha over this, the college audiences for my speeches were never less than 2,000 and sometimes as large as 10,000," she concluded. Jane recounts the entire experience in more detail in her memoir, My Life So Far, which she published in 2006.
Article continues below advertisement
In total, Jane Fonda has been arrested six times.
Jane's arrest in 1970 helped to promote the activist work she was doing at the time, and even though she never stopped protesting and advocating for change, the actress managed to avoid arrest until 2019, when she was arrested five times.
During the climate change protests that took place every Friday in Washington D.C. (dubbed "Fire Drill Fridays," according to The Hollywood Reporter), Jane was arrested five separate times for participating in the protests.
Her final arrest, taking place on Dec. 20, 2019, was highly publicized, with videos and photos of Jane smiling as she was cuffed went viral online.
Her first four charges were dropped by law enforcement, though Jane did spend a night in jail for one of her detainments.
"I will be on the Capitol every Friday, rain or shine, inspired and emboldened by the incredible movement our youth have created," she wrote on her blog, according to the outlet.