Feeding Your Chickens Is Essential in 'Stardew Valley' — Here's How to Do It!
If you want to have a consistent supply of eggs to cook and create artisan items with, you'll want to feed your chickens in 'Stardew Valley.' Here's how.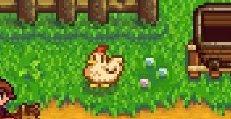 Eggs are an important resource in Stardew Valley; they can either be used to feed yourself while you're out exploring mines, be turned into mayonnaise using a mayonnaise machine, or be hatched to give your farm more pets.
But in order to keep your chickens happy and continuously producing eggs, you'll have to feed them. Here's how to keep them happy and fed.
Article continues below advertisement
Feeding your chickens in 'Stardew Valley' — how to get hay.
To feed your chickens, you'll need to acquire some hay and ensure you have enough to keep the number of chickens you have fed and happy so they'll continue to produce eggs. You can either get hay by using a scythe to cut down the tall grass that grows on your farm, or you can purchase it from Marnie. If you choose to buy your hay instead of grow it, though, be sure to buy plenty all at once, since Marnie doesn't tend to keep consistent hours at her shop.
Article continues below advertisement
If you have tall grass on your farm, you can also just let the chickens out of their coop during the day by opening the little door on their coop. They will then eat the grass on your farm, which will ultimately make them happier than staying inside all day will. It's important to note, though, that this doesn't work during the winter season.
If you want to buy a lot of hay all at once, you can store it in a silo, which you can purchase for your farm from Robin. To build it, she'll need 100 coins, 100 stones, 10 clay, and five copper bars. It'll take her a couple of days to build, but once it's completed, you'll be able to store up to 240 hay in one silo. The hay will then appear inside the coop in the hay hopper, so all you need to do is click on it inside the coop and then distribute the hay it dispenses to you.
Article continues below advertisement
To feed the chickens, grab one piece of hay for each chicken you have and then place it on the feeding bench inside of the coop. The chickens will then eat it themselves, and it will need to be replaced the following day.
Article continues below advertisement
How to automatically feed your chickens.
If you have the basic coop on your farm, you'll have to manually feed your chickens every day — but there are a couple of ways to have your chickens be automatically fed to free up more of your time.
Marrying one of the eligible bachelors or bachelorettes in Stardew Valley will give you some extra help around the farm. Your chosen spouse will automatically feed all of the animals in the morning, meaning you don't have to.
If you choose not to marry someone from the town (or you just haven't proposed quite yet), you can also upgrade your coop to the deluxe coop, which comes with an auto feeder. To purchase this upgrade from Robin, you'll need to first upgrade to a big coop, then the deluxe coop. The deluxe coop costs 20,000 coins, 500 wood, and 200 stone.
So long as there is hay in your silos, the coop will automatically dispense the hay to the feeding bench every morning — and voila! Your chickens are fed!