Your Weekly Challenge in 'Fortnite' Is to Ride a Tornado — Here's How
During Tornado Week, tornados will spawn more often in 'Fortnite.' Here's how to find and ride one to complete the weekly challenge.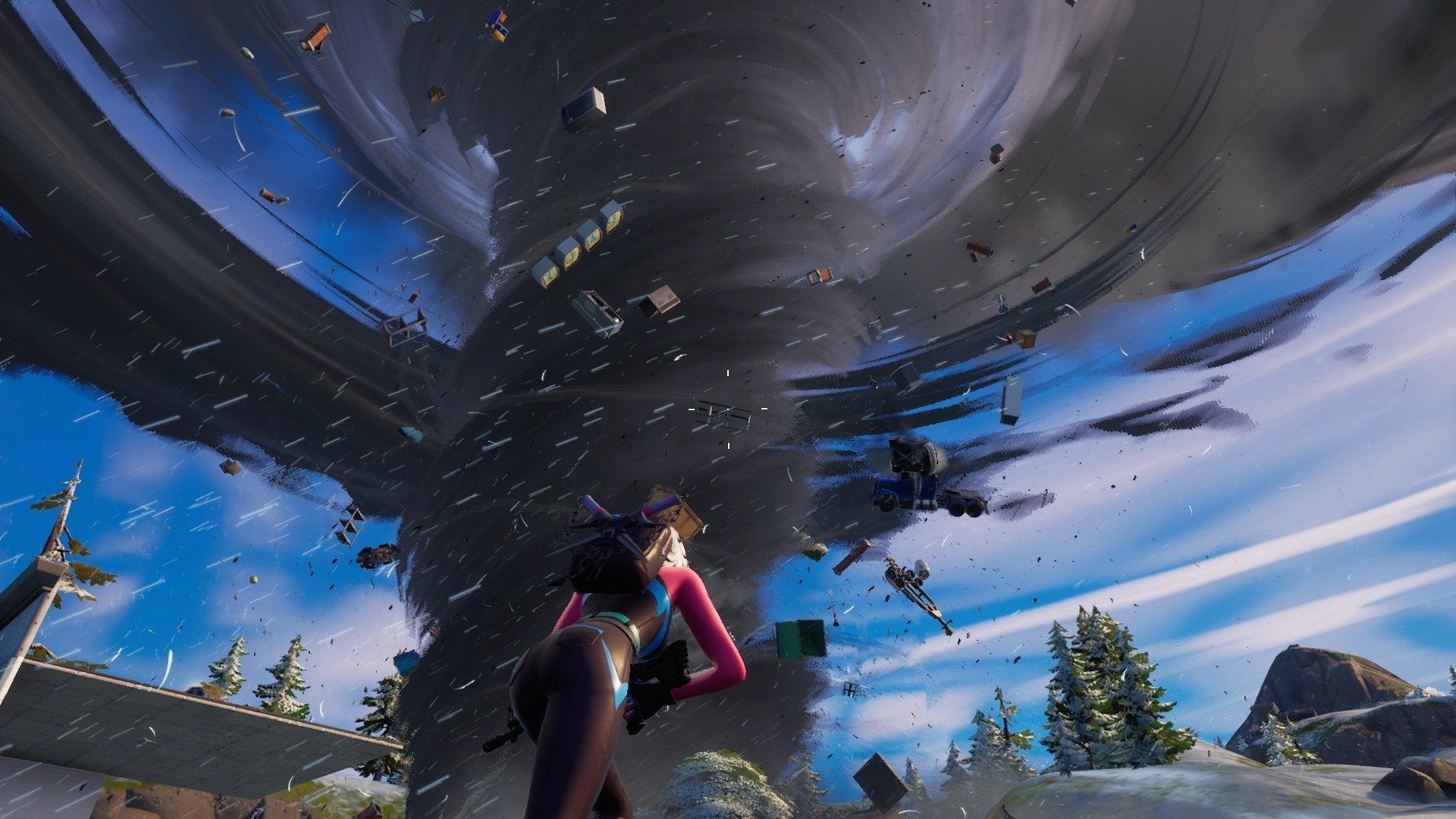 There's another round of new weekly challenges in Fortnite, and you won't want to pass up the opportunity to rake in some XP as the first season of Chapter 3 continues to progress — even if completing them can prove a bit more difficult than you'd like it to.
One of the new challenges is to ride a tornado 100 meters across the map. This is a pretty long distance to ride a tornado (if you can even find one). Here's what you need to know to complete the challenge.
Article continues below advertisement
Here's how to find a tornado in 'Fortnite.'
While you always have a chance of finding a tornado in Fortnite, the developers have increased the likelihood you'll encounter one during a match for the duration of this challenge. Now, you should be able to spot tornado and lightning clouds more frequently across the map as you play.
Unfortunately, though, there isn't a way to locate the tornados on the map while you're playing, and even if you find a patch of storm clouds, there's no guarantee a tornado will spawn.
Article continues below advertisement
The tornados and other storms only last for the duration of a round, meaning once the play circle closes, it'll stop storming and re-form somewhere else on the map. This means if you don't find a storm cloud right away, you'll have another chance to search once the circle closes. The smaller the circle, the easier it'll be to find one.
Traveling as much as you can around the map will also make finding a tornado easier, as will scouting out storm clouds from a high location.
It's important to note, though, that storm clouds don't always indicate a tornado. If you see lightning coming out of the storm cloud, then it will not produce a tornado, and unless you're looking for that speed boost from a lightning strike, you'll want to stay clear of them.
Honestly, the best way to find a tornado is to keep playing the game until you are in the same location as one. It may take many matches, but Tornado Week runs until Jan. 17, giving you plenty of opportunities.
Article continues below advertisement
How to ride a tornado for 100 meters in 'Fortnite.'
Once you've found the tornado, the next part to complete the challenge is actually quite simple. Walk toward the tornado you've located until it sweeps you up in its vortex. Once this happens, you'll be flying through the sky on its winds. Stay like this until the game tells you you've completed the challenge.
It's really that simple. As soon as you've completed the challenge, enable your glider and use the height from the wind to glide wherever you wish to go next.
That's really all there is to completing this challenge. Again, it may take some time to locate a tornado to complete it, but once you do, it's fairly simple.
Be sure to do it before the end of Tornado Week, though, as after 9 a.m. EST on Jan. 17, tornados will spawn less frequently, making this challenge even harder to complete.