Here Is How to Get the Popeyes Cajun Flounder Sandwich
Popeyes is releasing The Cajun Flounder Sandwich on Feb. 11, 2021 along with Sandwich Insurance for those who aren't happy with it on release day.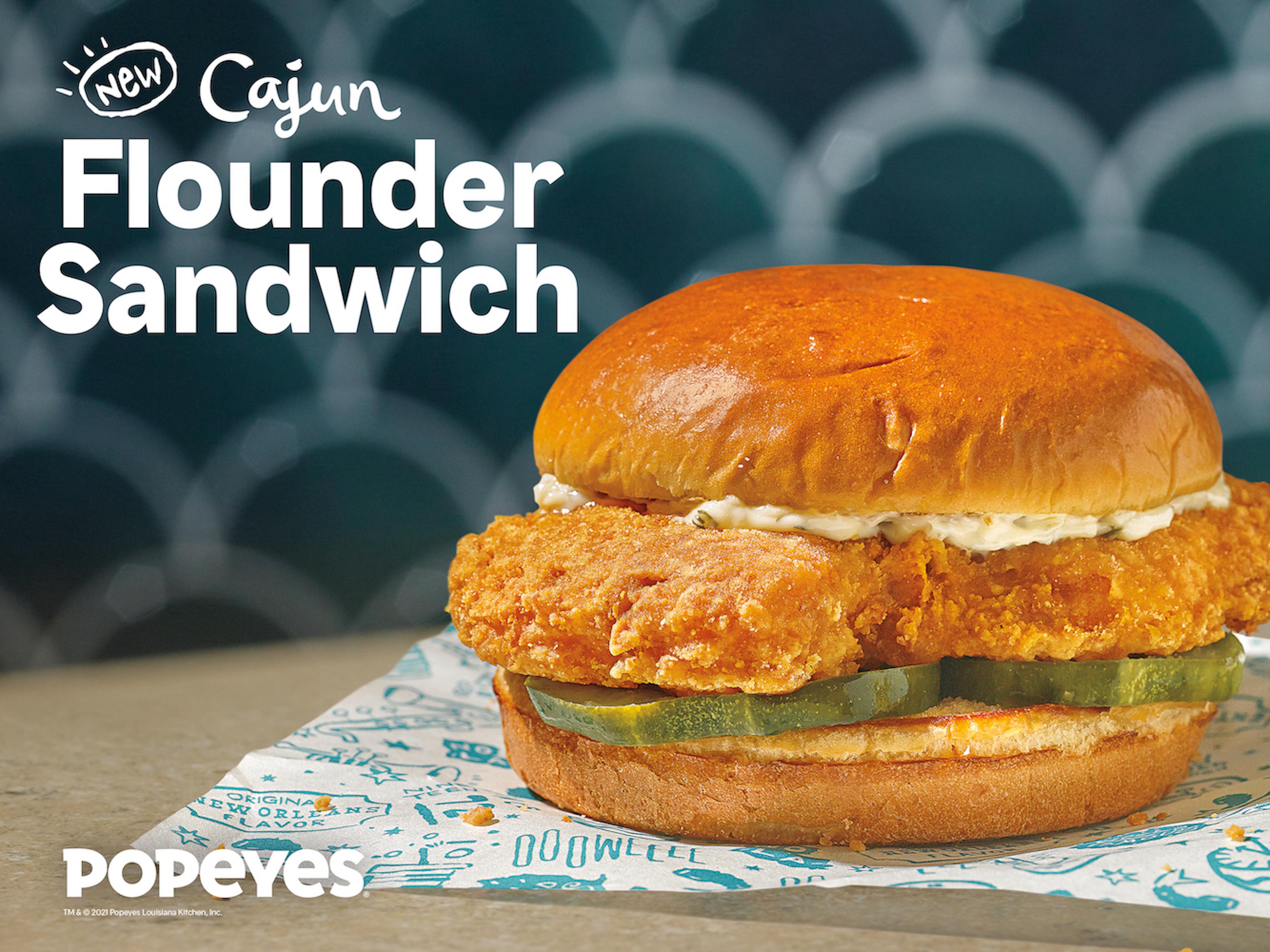 Remember when Popeyes basically broke the internet with its very first chicken sandwich? How could you forget with people forming long lines around literal blocks, all the glorious memes, and angry people who were frustrated that the sandwich was always sold out?
But now it's time for the next phase of Popeyes' takeover. Starting on Feb. 11, the restaurant is unveiling its next sandwich: the Cajun Flounder Sandwich.
Article continues below advertisement
Being released across the country, the Cajun Flounder Sandwich will cost just $4.49 both in restaurants and for delivery.
Popeyes makes it clear that everything about the latest addition is as fresh as possible. The flounder used in the sandwich is caught from the Pacific Ocean and given a flakey crust "dusted in a crispy southern coating," according to a press release.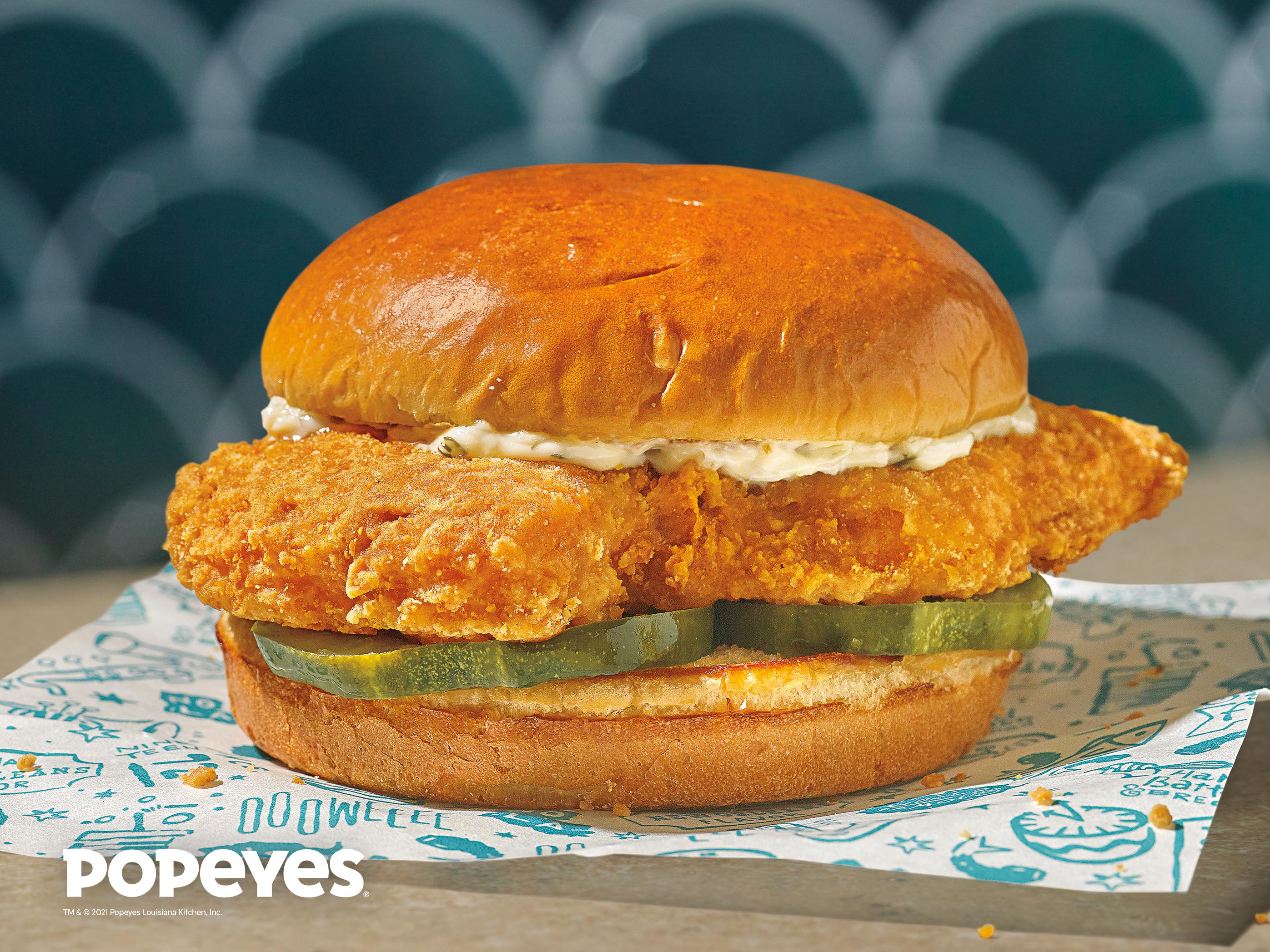 Article continues below advertisement
The sandwich is also cooked with Cajun mild or spicy seasoning. And it is made of only four ingredients: the fried fish, toasted brioche bun, cured pickles, and Popeyes legacy tartar sauce. So, the Cajun Flounder Sandwich is made with the favorite ingredients that fans have come to love and enjoy with a fish-based twist.
Popeyes is also launching Sandwich Insurance.
Popeyes is so sure that we will all love the new Cajun Flounder Sandwich, it's launching Sandwich Insurance alongside it. This means that Popeyes will replace any fish sandwich that customers don't like with its Chicken Sandwich as long as the insurance has been purchased through the Popeyes app.
Available only on Feb. 11, the insurance will only add 15 cents to an order. If customers decide to use it, their sandwich will be replaced for free.
Article continues below advertisement
"After seeing the response to our Chicken Sandwich in 2019, we are excited to deliver yet another delicious sandwich to our fans that is sure to reset industry standards," says Sami Siddiqui, President of the North American branch at Popeyes. "At Popeyes, we don't take shortcuts on quality and strive to ensure our ingredients are the best of the best. That's why we're proud to be serving up the most authentic, Cajun Flounder Sandwich in QSR."
Article continues below advertisement
Popeyes' Chicken Sandwich sold out across the country.
If the Cajun Flounder Sandwich is another like its chicken predecessor, it won't be available for long. The Chicken Sandwich was a big success when it was released back in 2019. It sold out across the country within just a few days and didn't come back until months later.
But Popeyes' Chicken Sandwich also started an online chicken war between it and Chick-fil-A, who claimed their own chicken sandwich was superior. Which sandwich was the best was up to each person's tastes, but this battle only brought more attention to Popeyes and their own sandwich.
Then, every other fast food chain just had to get involved, and a ton of tweets about chicken sandwiches that people probably didn't expect to happen, happened. However, since Popeyes was the one that started it all, it truly won this battle before it even began. Perhaps 2021 will be the year of the flounder sandwich war.