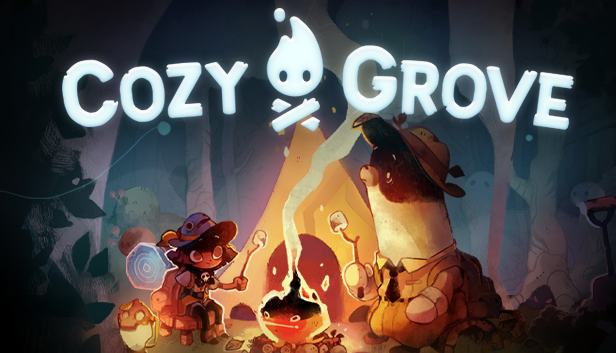 Finding Ore in 'Cozy Grove' Is Easy Once You Know How
Spry Fox's recent indie game, Cozy Grove, has been a hit among players. Available for Steam, Apple Arcade, Nintendo Switch, Xbox One, and PlayStation 4, this cozy life simulator game takes you, a new Spirit Scout, on an adventure to a haunted island. You're tasked with helping to soothe the spirits on the island to earn all of your badges.
Mining for ore is one of the common tasks you'll be given in this game. But how do you mine for ore, and then how does the ore become an ingot?
Article continues below advertisement
How to get a pickaxe in 'Cozy Grove.'
Before you can harvest any ore, you'll have to get a pickaxe. This is one of the tools that you can get early on in your campaign, though you won't be able to unlock the quest until Day 2. Since Cozy Grove operates in real-time, you'll have to wait until your second day with the game to access that quest.
Jeremy Gruffle is the spirit who gives you the ax. On Day 2, go up to him. He should have an exclamation mark or an image of a pickaxe above his head.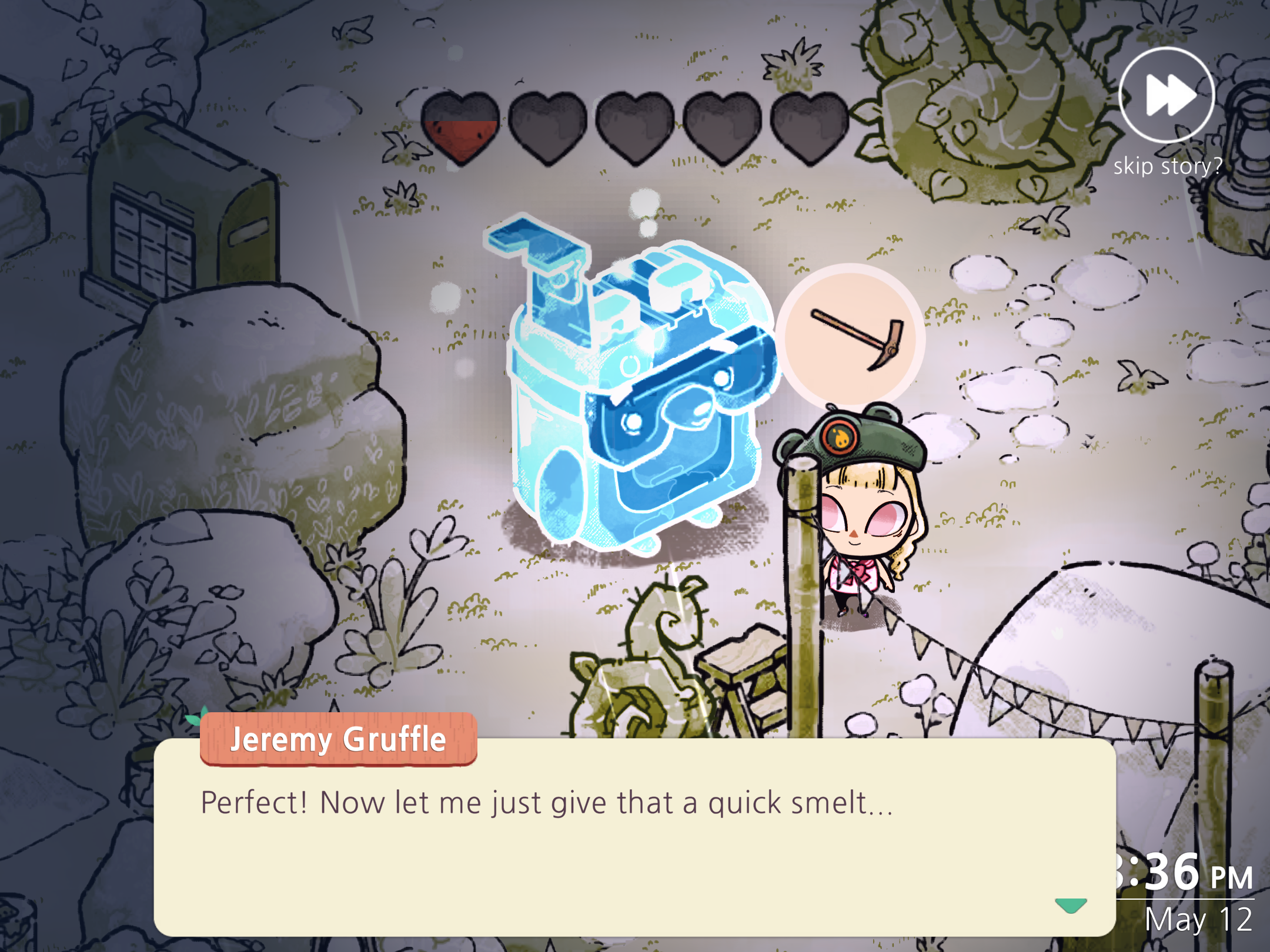 Article continues below advertisement
Interact with Jeremy and select "Could you help me with something?" He'll ask you to find one piece of softwood and five branches as part of the quest. Walk around the island to gather these resources — if you get stuck finding something, you can click on the quest to receive a hint as to where the missing item is
Once you've completed this quest, Jeremy will gift you a bone pickaxe and his area of the island will be colored in.
How to mine iron ore in 'Cozy Grove.'
For another request from Jeremy, you'll have to gather five iron ingots, which can be a bit tricky to find. Once you have your pickaxe, though, this quest won't be too hard to complete.
To mine for ore, make sure you have your pickaxe in your hand. To do this, go to your backpack, click on the pickaxe in your inventory, and select "Hold in Hand."
Article continues below advertisement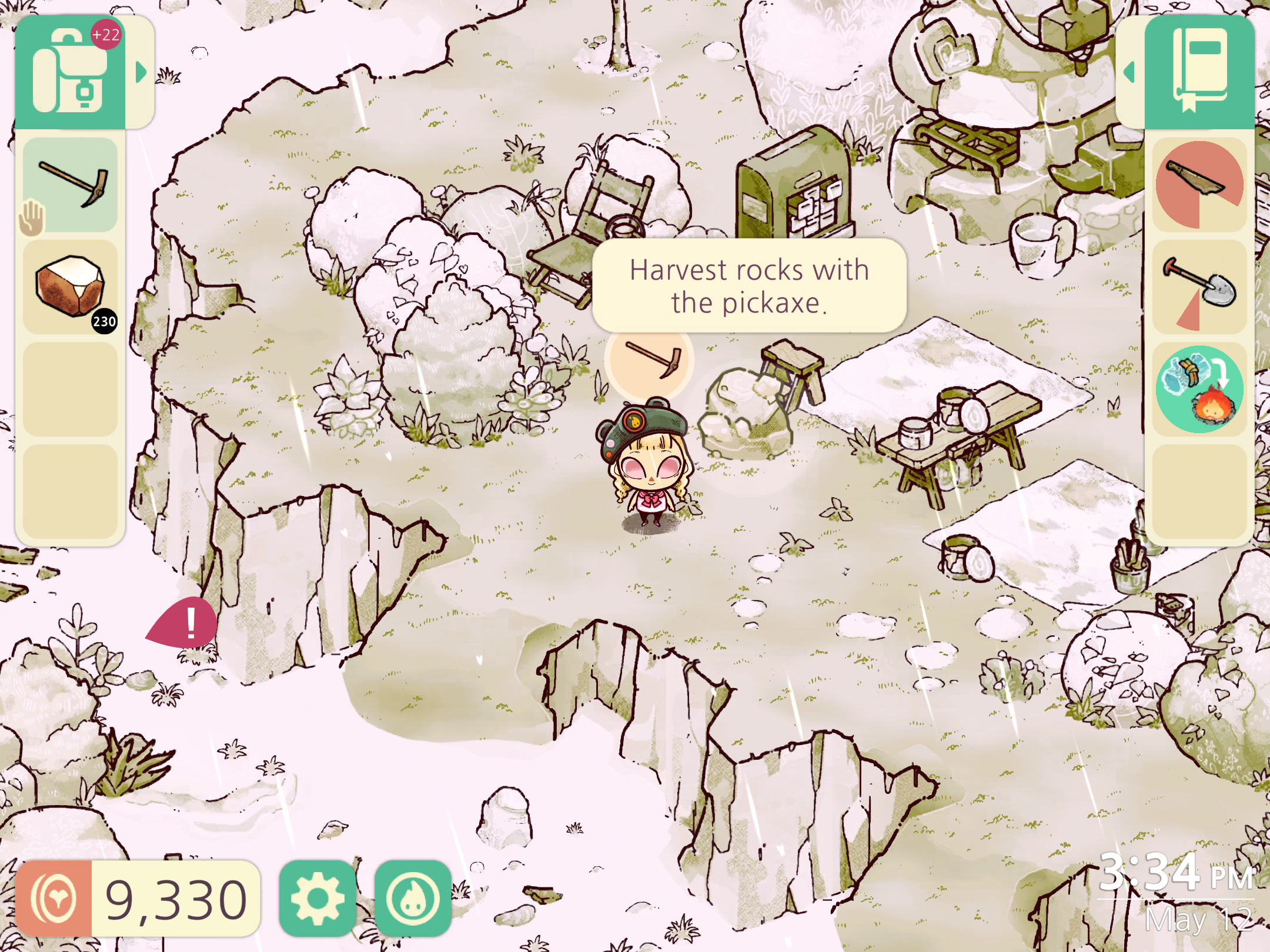 There are various rocks located throughout the island that you'll be able to use your pickaxe on. These rocks look lumpy, and when they're colored in, they'll have gold pieces in them. If you're having trouble locating one of these rocks, utilize the various lanterns and lights you have in your inventory, placing them throughout your island to color it in and make it easier to locate the rocks.
Article continues below advertisement
To mine these rocks, walk up to one and interact with it. For your first rock, there will likely be a text bubble above it reading, "Harvest rocks with the pickaxe." If you cannot locate the rocks, it might be possible that they haven't spawned on your island yet. In Cozy Grove, resources spawn over time, and even if you're in the middle of a quest, it's possible your island won't have the resources to complete the quest that same day. Check again the next day for the rocks.
Once you've mined the ore from the rocks, you can then turn the ore into ingots. To do this, go over to Flamey and interact with him. Select "I want to burn something," and then choose the ore from your inventory. Once the ore has been burned into ingots, you can use it to complete quests.