You Can Now Pin Friends and Convos to the Top of Your Snapchat Chat Screen
Thanks to this feature from Snapchat, you no longer have to scroll through your Chats to find important messages. Pin them at the top! Here's how.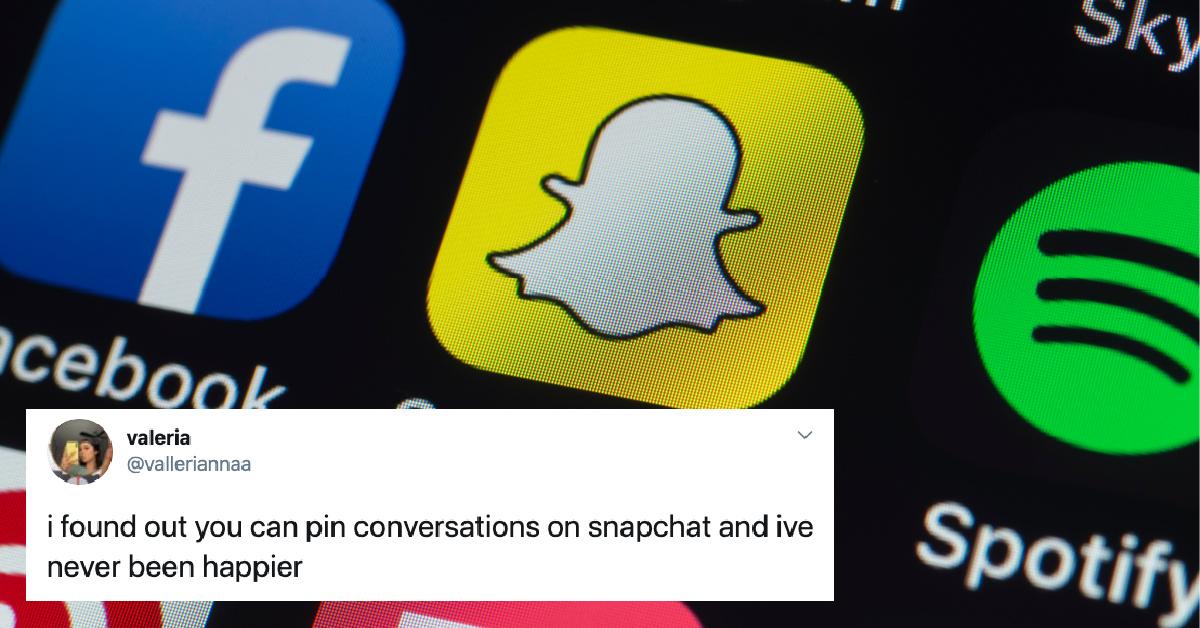 As great as Snapchat is as a method for communicating with your friends, there is definitely some room for improvement when it comes to making your experience with the app as smooth and seamless as possible.
Luckily, Snapchat is always looking for ways to make people like their time spent on the app better, and while they sometimes miss the mark (as anyone who hates the latest update will tell you), it's good to know that they're making an effort, right?
Article continues below advertisement
One neat feature that's available on Snapchat these days is the ability to pin people (or conversations with people) at the top of your feed. That way, you don't have to scroll through a ton of notifications from other, less important people to get to the good stuff (no offense to those lower priority convos!).
It's also super easy to do — here's how.

Article continues below advertisement
Here's how to pin people on Snapchat.
You may want to pin certain convos for any number of reasons. Maybe you're waiting for a very important message and want to be sure not to miss it, or maybe you're just a very busy person who doesn't have unlimited time to spend scrolling through your contacts and convos just to get the messages that matter the most to you. Whatever your reason, pinning convos to the top of your Friends screen is super convenient and only takes about two seconds to do.
First of all, the bad news (if you're an Android user, anyway): At this time, the pinning feature is only available on iOS. Our apologies to anyone sending and receiving Snaps not on an iPhone, although we assume that at this point, you've probably gotten used to not having the latest updates (not saying that makes it OK, though!).
Article continues below advertisement
On iOS, simply swipe right to go from the Camera screen to the Chat screen, then tap and hold your finger on the friend's name or the conversation that you want to pin. Tap "Chat Settings," then select "Pin Conversation," and voila! Typically, Snapchat automatically keeps friends and convos that you interact with regularly near the top of your feed, but pinning a friend or conversation keeps it at the top regardless of when the latest activity occurred.
Article continues below advertisement
No one is notified when you pin a conversation, so you can pin with abandon and not have to worry what anyone will think about the convos you deem most important — although we assume most people probably wouldn't care. If you decide you want to unpin a conversation for whatever, that's also very easily done! Just tap and hold the friend or conversation, tap "Chat Settings," and select "Unpin Conversation."
By default, Snapchat will use a red pushpin emoji next to your pinned conversations, but you can customize your pinned emoji to be anything you want it to be. To do this, open your Settings from the "My Profile" page, scroll down to select "Manage" under "Additional Settings," then tap "Friend Emojis" and change the pushpin to whatever you want … within reason. Only some emojis are available to use as custom emojis at this time.
Pinning conversations at the top of your feed may seem like a small and simple detail, but it makes navigating through the app faster and much more convenient. We're definitely fans of this small way to upgrade the Snapchat experience!