Here's How to Temporarily Disable Your Instagram Account
If you want to kiss Instagram goodbye, you can temporarily disable your account. The option gives you the ability to come back. Here's how to do it.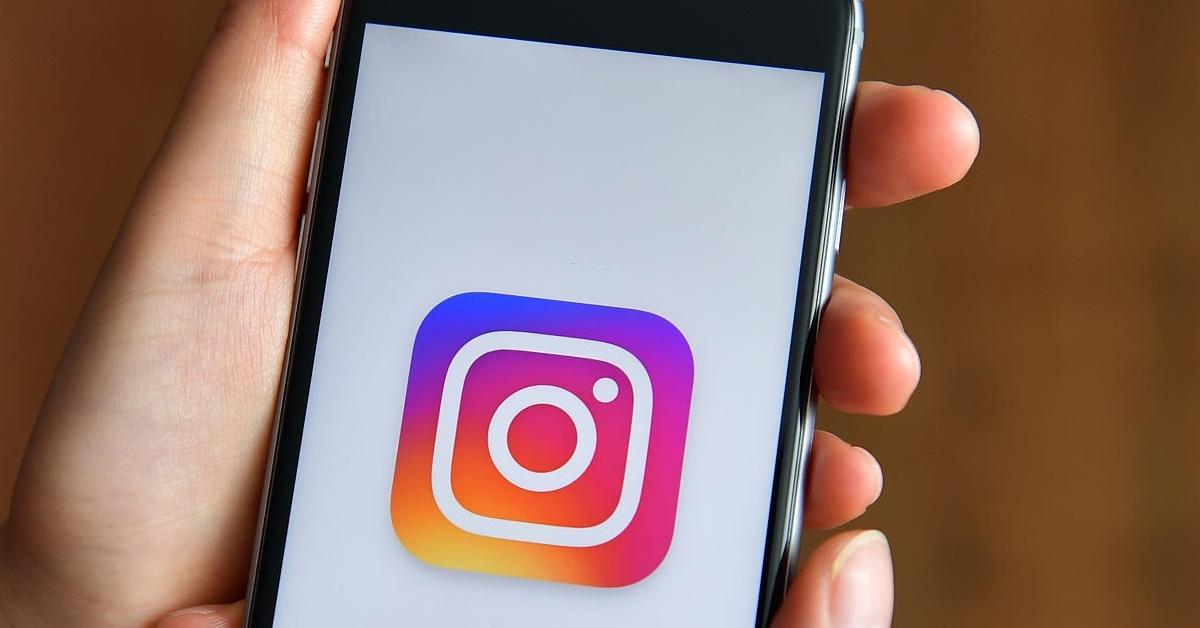 We all know how toxic Instagram can be at times. The harmful impacts of social media affect just about the entire population, but more often than not, it appears to affect the platform's younger user base.
Article continues below advertisement
According to a Wall Street Journal report, 32 percent of teenage girls said that when they were feeling bad about their bodies, Instagram made them feel even worse. The report said that they tended to feel addicted to the platform despite knowing it's not good for their mental health. In addition, about 14 percent of teenage boys in the United States said that Instagram destroyed their self-image.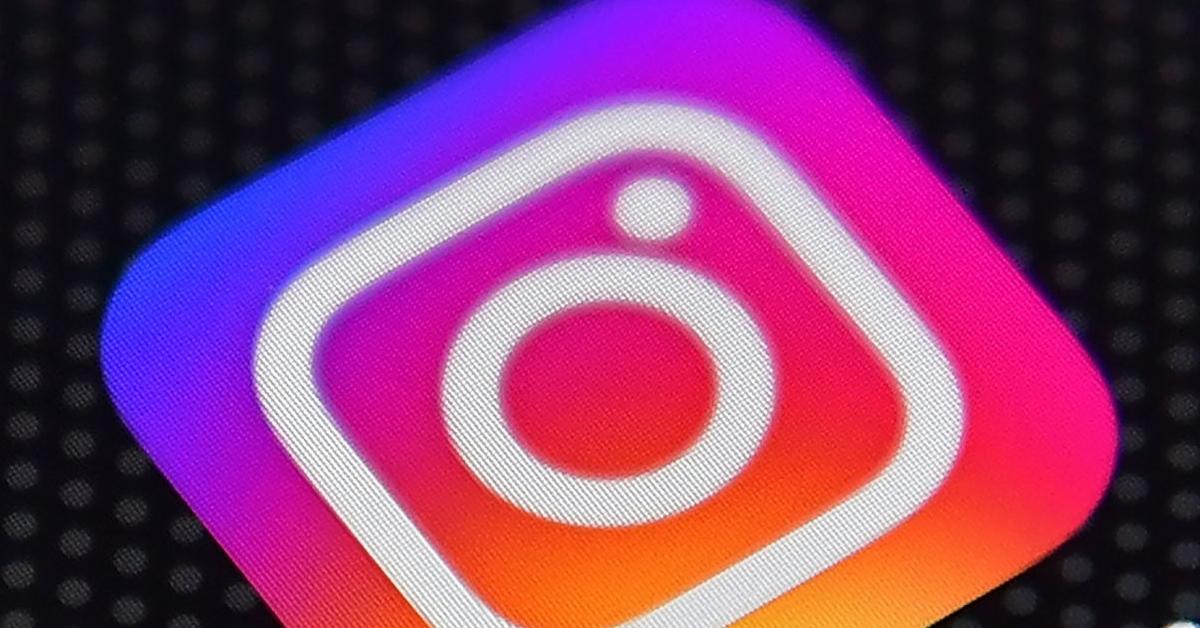 Article continues below advertisement
These statistics do not reveal any new information — for years, Facebook, which owns Instagram, has studied the social media app in relation to mental health.
For those who are struggling, they may find it in their best interest to leave the platform. However, for those who would like to return sometime in the future, there is an option to temporarily disable one's account.
But wait, how do you do that? You're in luck, because we have a step-by-step guide below.
Here's how to temporarily disable your Instagram account.
If you wish to temporarily disable Instagram, you can do it either on a computer or a mobile browser, such as on a phone or tablet. Before doing this, know that your entire account — profile, photos, likes, and comments — will be removed until you reactivate.
Now for the actual process:
1. Open a browser and log onto Instagram.com.
2. Click on your profile picture in the top right corner.
Article continues below advertisement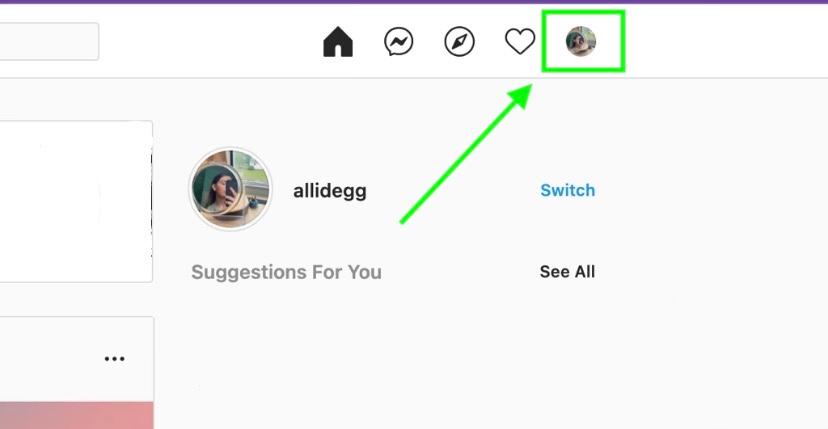 3. Tap on "Profile," and then "Edit Profile."
4. Scroll to the bottom of the page, and click on "Temporarily disable my account."
Article continues below advertisement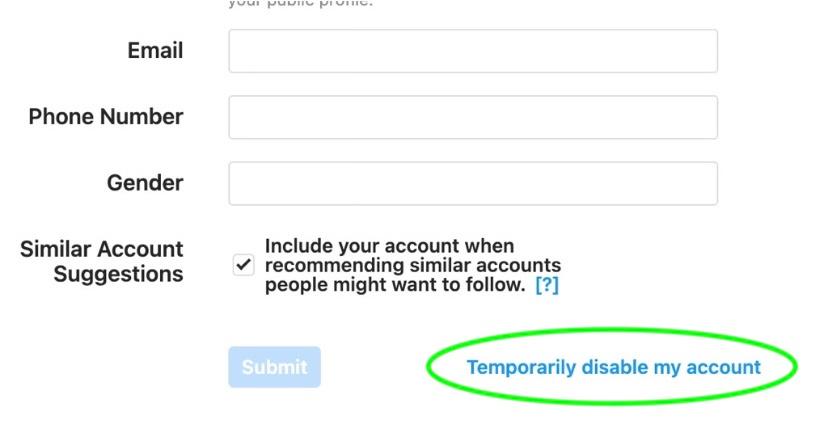 5. Read through the text, and then select a reason from the dropbox labeled "Why are you disabling your account?"
6. Once you've selected your reason from the menu, re-enter your password in to the box titled "To continue, please re-enter your password."
7. After completing the two previous steps, click "Temporarily Disable Account."
Article continues below advertisement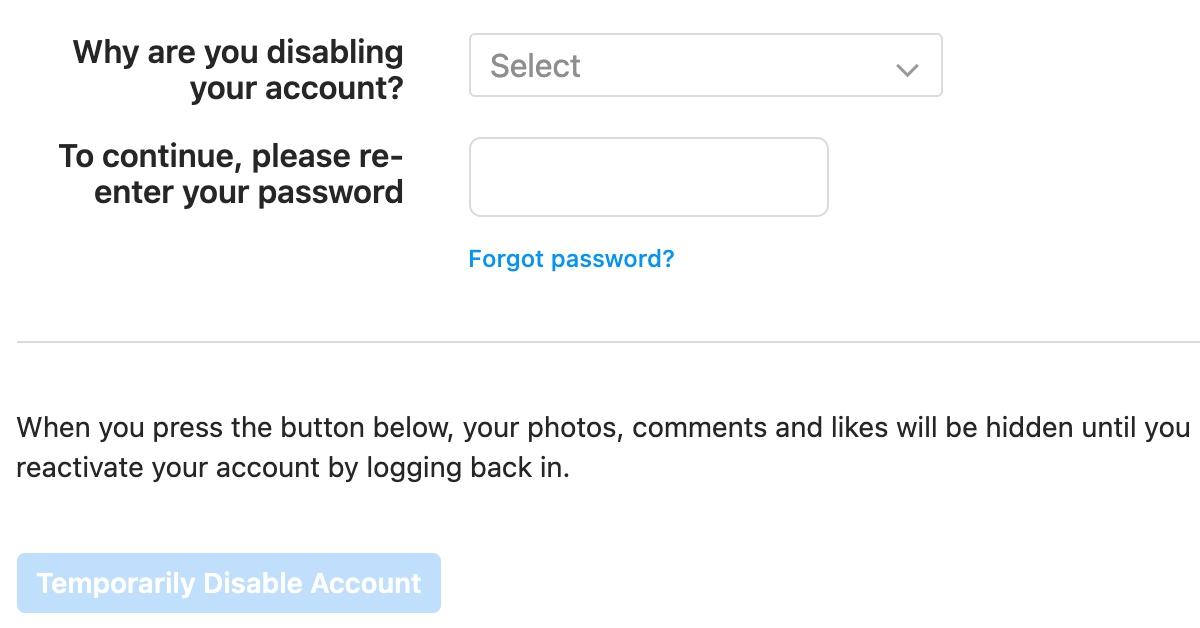 And now you are officially off Instagram and free to do whatever you please! Go outside, hang out with your friends or family, read a book — do anything besides mindlessly scroll through a toxic environment!
Article continues below advertisement
How long can you temporarily disable your Instagram?
There is no time limit, per se. We know that with Twitter, you can deactivate your account for 30 days, and then you must reactivate it, or else your account will be permanently deleted.
For Instagram, you can keep your account disabled for as long as you like, whether that be 10 months or 10 days.
The only restriction Instagram has regarding disabling your account is that you can't do it more than once a week. If you disabled your account, reactivated it, then wish to deactivate it four days later, you will not be allowed. Be mindful of the request, and do not do anything to jeopardize your existence on the application.