A Husband Texts Back "Ugh" After Asking His Wife What's for Dinner so She Got Petty
When a husband texted his wife to ask her what was for dinner, he texted back a simple "ugh." Obviously she needed to exact a bit of revenge.
Nothing boils my pasta faster than a person who isn't appreciative of a kind act. To be clear, being nice with the expectation of receiving something in return is not great. As my mother likes to relentlessly say, an expectation is a premeditated resentment. Of course this doesn't mean you can't take note of someone's abhorrent behavior. Accountability is mental health currency.
Article continues below advertisement
This is why I really appreciate what Ashley did when her husband was alarmingly ungrateful regarding a meal she was preparing for dinner. Instead of getting mad, Ashley got even. Some call it petty but I say he got his just desserts, but not literally.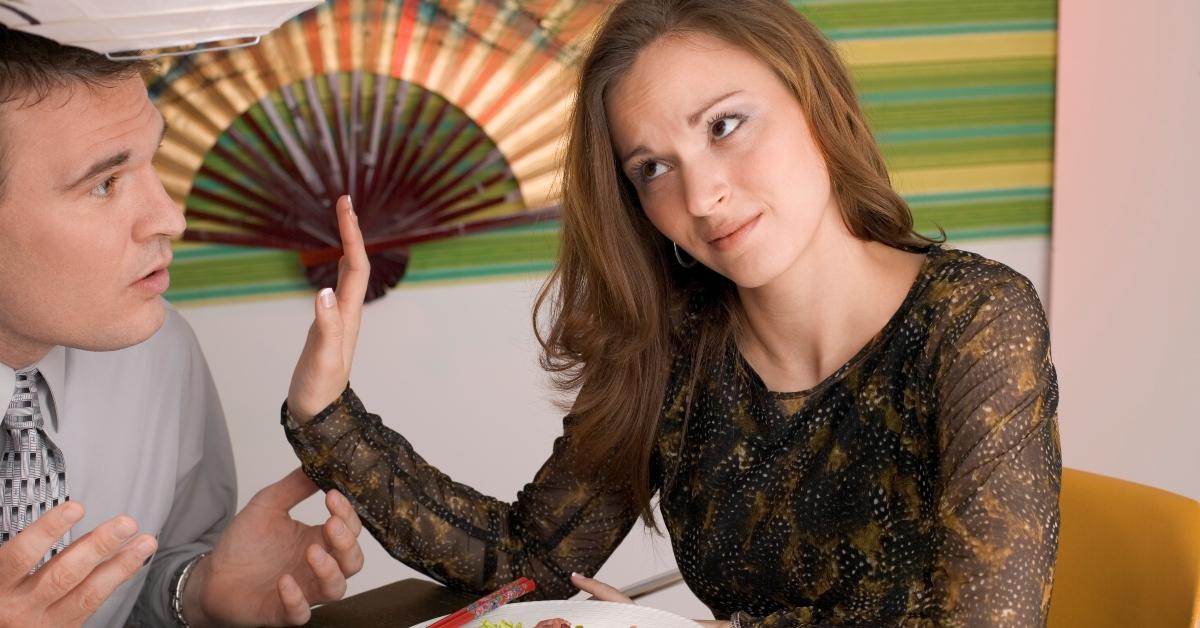 Article continues below advertisement
And what will he be eating for dinner?
With the sound of children playing in the background, an exhausted Ashley — who goes by @ashleym4296 on TikTok — popped into the popular social media app to air out her husband's bad behavior. Someone needs to grab this dude a copy of the Emily Post book Etiquette because he needs a lesson, STAT.
He sent her a text asking what's for dinner. As someone who will immediately pull up a menu hours, or sometimes days, before I head to restaurant I get it.
Article continues below advertisement
Food can be a source of pleasure or comfort. If family dinners are a regular event for you, then sharing a meal also becomes the time of day where everyone reconnects and strengthens those familial bonds.
Article continues below advertisement
In all likelihood when Ashley's husband interrupted her day to ask what was for dinner that evening, he was in the market for something to look forward to. I'm a planner, so I feel this in my bones.

Article continues below advertisement
One weekend, my boyfriend and I decided to go to dinner before demolishing an escape room. We chose the Cheesecake Factory for laughs but also, it's delicious. Imagine my devastation when I was told the wait would be an hour. Alas, we had to find somewhere else to eat. All this to say, preparing your mouth for a dish can be satisfying!
What one shouldn't do when asking their wife what's on the food agenda is, respond with a simple "ugh." That's what Ashley's husband did because he was laboring under the misconception that Ashley was a piece of dried dog feces baking under the hot sun. In other words, that's how you treat someone you don't respect.
Article continues below advertisement
Without knowing anything about their relationship, I will assume Ashley's husband was just having a little temper tantrum. I'm an only child which means temper tantrums are part of my DNA, so I am sympathetic. When I was six years-old, I threw one in front of a drug store. It involved me tossing my little body onto the ground which resulted in the loss of a tooth. My mouth was bloody and a lesson was learned. That's not how you get what you want.
Article continues below advertisement
Instead of responding with a similar amount of disdain, Ashley decided to exact some non-invasive revenge. She did up changing that evening's dinner, but not for everyone. You see, Ashley ordered herself some delicious Mexican food then served her husband his ugh-filled supper (meaning he had to fend for himself that night).
They say actions speak louder than words, and in this case Ashley's actions probably came with a bonus. First there was the clear message she sent via her yummy takeout. Second if she's anything like me and a plate of beans, there was the flatulence encore that would definitely serve her husband right.