Wife Shares How Her Husband Stored Leftovers and His Method Benefits Literally No One
In a viral video, a woman shared how her husband put leftovers away after dinner using a garbage bag instead of food wrap. Details ahead.
Couples may joke about purposely doing a household task wrong in order for the other partner to take over in future situations. But one husband on TikTok took it to a whole other level, according to his wife, Mia (@Gigglesandgrumps). She shared a TikTok in which she explains how her husband stored food when she asked him to put leftover ravioli in the refrigerator. And, spoiler alert, he used a scented garbage bag.
Article continues below advertisement
When he could have used literally anything else, like oh I don't know, some foil or plastic wrap, or even an empty container, Mia's husband opted for a trash bag in the video. One of the hashtags she used under the TikTok is "weaponized incompetence," and it's the perfect phrase to explain his seemingly purposeful error in wrapping up leftovers to store for later.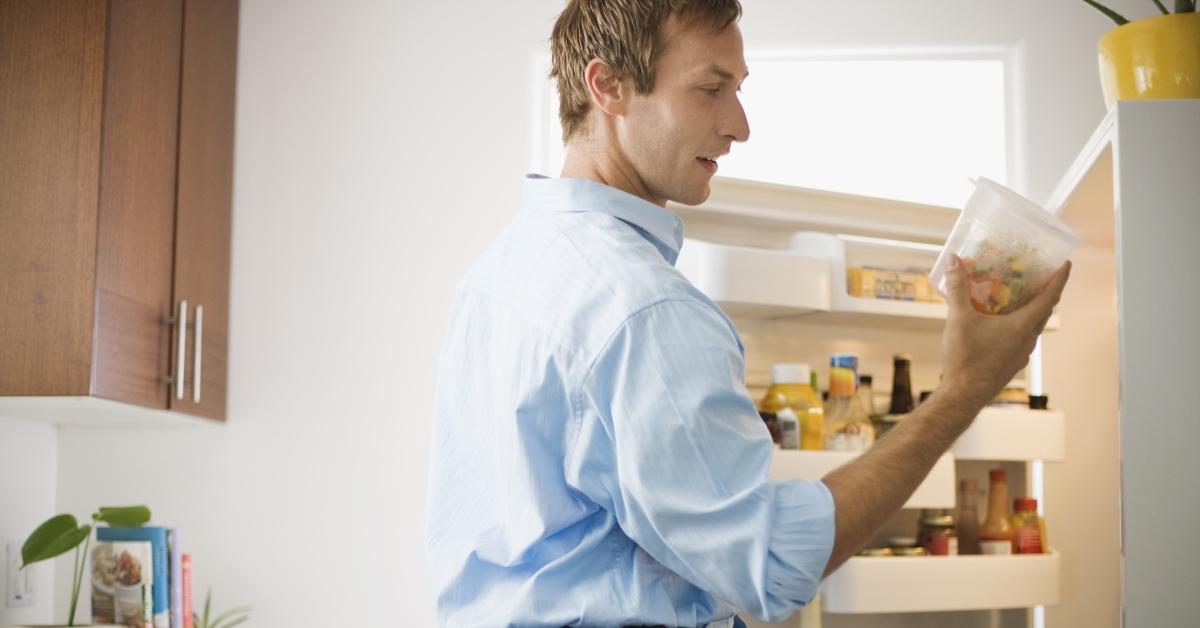 Article continues below advertisement
This probably isn't the first husband to use a garbage bag or something similar for leftovers.
Let's make one thing clear. Mia's husband isn't the first man to think his method of storing leftovers is logical and he won't be the last. But it doesn't make the situation any less annoying for her. She explains in the video that she asked her husband to put the leftovers away, though she could have no inkling of just how he would do it.
"I asked my husband to put the leftovers away yesterday," Mia says in the TikTok video. "It was ravioli. This is a trash bag."
I think I speak for everyone when I say there had to be another option for him before he resorted to a large bag meant for heaps of garbage.
Article continues below advertisement
She pulls out the bowl of leftovers concealed in a white plastic garbage bag in the refrigerator. And in case you're wondering if the scented bag (yes, I said scented, because could this get any worse?) affected the flavor of the leftovers, the answer is yes.
Article continues below advertisement
Mia shared in the comments under the video and the TikTok she posted afterward that her husband ate the leftovers and that they were pretty unfortunate tasting.
"For everyone who would like to know what he thinks of flower scented ravioli," Mia commented under her other video. "He tried it last night. It was as bad as you think." Hey, at least karma got him, right?
Article continues below advertisement
Comments under the video urge the woman to rethink her marriage.
One of the hashtags Mia used under the original TikTok was "weaponized incompetence." It's a phrase to describe an instance when a spouse purposely completes a task or chore in a poor manner in an effort to have their partner take over said chore from that point forward. While it's hard to say if Mia's husband makes a habit out of this sort of thing, the garbage bag leftovers is sure to leave a lasting impact on them both.
Article continues below advertisement
And some of the users who commented on the TikTok even went as far as to urge Mia to divorce her husband. I mean, OK, I wouldn't go that far. It is something that deserves a conversation or two, however.
Article continues below advertisement
One user commented, "Divorce. He will only continue to not care about you or your family." Again, I don't know if I or anyone on the platform has the authority to suggest such a thing, but here we are. Because another comment read: "Just file the papers already."
In a way, the garbage bag leftover fiasco is just that — a ridiculous fiasco that could very well be a one-off thing. But I also know how infuriated I would be if my husband was tasked with something so simple and made it into something that could later be a chore for me.