You've Been Using Your Trash Bags Wrong Your Entire Life, According to This Viral TikTok
Ever wonder why the "seam" on trash bags always seem to be on the bag's exterior? That's because we've apparently been using them wrong all along...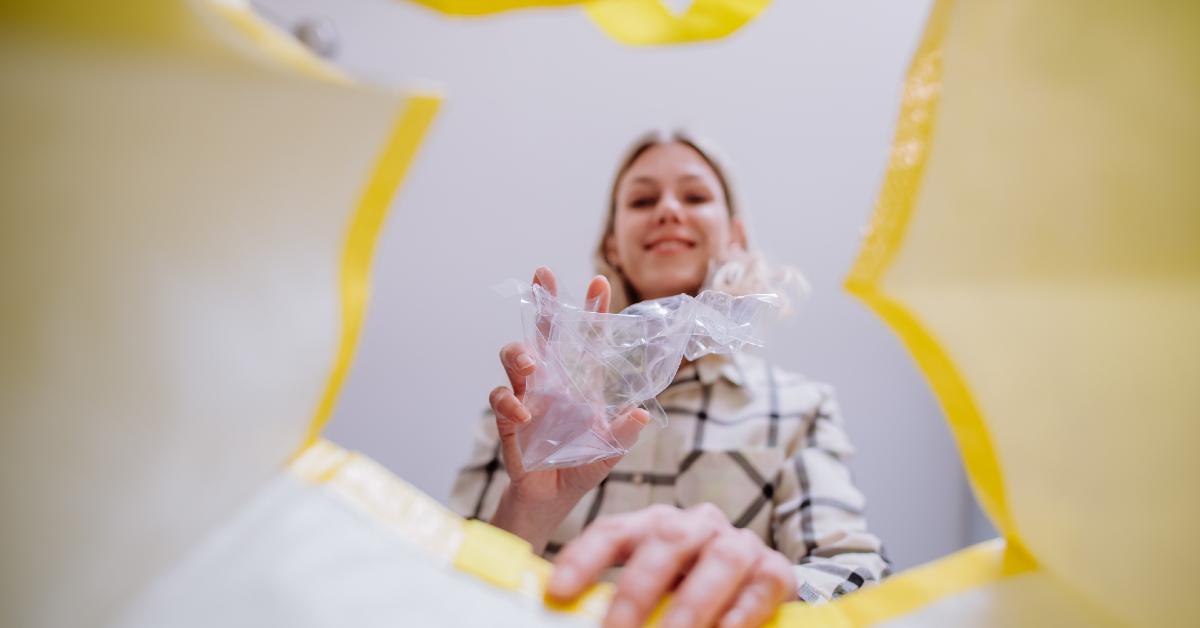 There's no shortage of "hacks" on the internet that promise to revolutionize our daily lives. Whether it's great meal ideas, or just general life hacks, a few truly blow our mind but many ultimately seem like more trouble than they're worth.
Article continues below advertisement
The older you get, the more you probably see younger folks becoming absolutely flabbergasted when they come across a piece of knowledge you thought was common wisdom.
Every once in a while, though, there's a "hack" that promises you've been doing something wrong your entire life and it dawns on you that they're completely right.
A TikTok user by the name of Chaser (@chaserbunker) expressed a similar lightbulb moment as he duets a video from the account @problemsolved. However, many people called the hack unnecessary and useless.
In the video Chaser's reacting to, a woman demonstrates how to properly use kitchen trash bags, claiming they are actually packaged inside out.
Article continues below advertisement
She points to the "outer seam" as proof of this, then demonstrates how to install one on a common type of trashcan. As Chaser watches, his face trembles as if to connote how shocking he finds this revelation.
Article continues below advertisement

The woman says in the clip, "How old were you when you found out you were using your trash bags wrong? I'm gonna show you some trash bag secrets. Now it'll work either way, but your trash bags actually come inside out. This seam should be on the inside." The video then cuts to a close-up of the seam.
Article continues below advertisement

Then the video cuts to her standing by an open kitchen trash can, holding the bag in her hand. "We're gonna grab our trash bag and fit it around the rim like a hat." She then proceeds to put the trash bag into the can upside down, covering it so that the open ends of the bag are tucked into the can's rim, like she said.
Article continues below advertisement

She then presses the bag into the can, "Gently push down and now you'll notice that the seam is on the inside." TikTokers had a variety of reactions. Some were shocked that they hadn't heard of this method previously. Others said all the "hacks" they've seen on the internet over the years have them questioning whether they've been doing anything correctly in their lives up to this point.
Article continues below advertisement

"At this point I'm not even sure if I'm breathing correctly," one user joked.
But plenty were skeptical. "If the box doesn't say it I don't believe it," one wrote. Another called it "Another conspiracy to add to the history books."
Others had the attitude that if it's not broke, why fix it? "I'm cool with the wrong way. Your way is too much work," one viewer remarked.
Many said it doesn't make a difference which way the bag's inserted, since it fulfills the same purpose either way.
Article continues below advertisement

The @problemsolved account has tons of other little hacks, like how to make your own Uncrustables peanut butter and jelly sandwiches, touting them as not only more cost-effective, but more customizable since you get to pick your own ingredients in the process.
Article continues below advertisement
And if you're tired of freezer-burnt ice cream, they've also come up with some inventive ways to prevent that from happening, like adding parchment paper to the top of the tub and storing it towards the back of the freezer where temperatures are least likely to fluctuate.
Article continues below advertisement
Of course plenty of life hacks are utterly useless, and in some cases they can even be dangerous. TikTok sta, Khaby Lame gained popularity for pointing out just how ineffectual a lot of these hacks are.