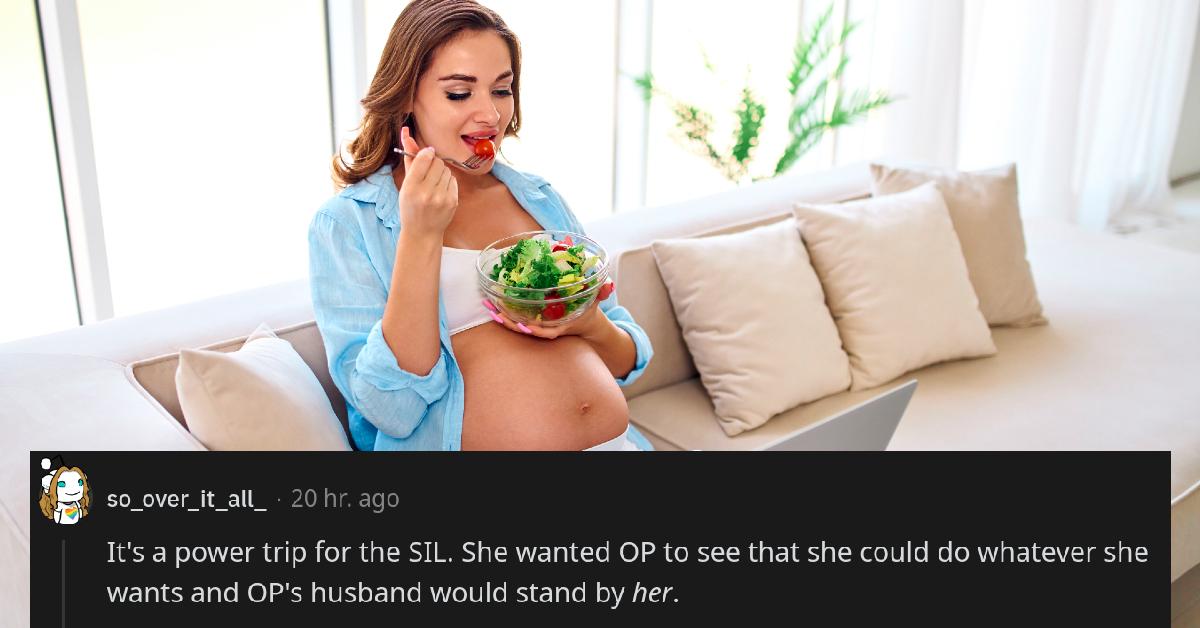 Woman Kicks Pregnant Sister-In-Law Out of Their House for Eating Their Take-Out Order
A Redditor wanted to know if she was in the wrong for kicking out her husband's pregnant sister for eating her take out meal.
It's never fun when you have to make special concessions for people who are all of a sudden living in your space, even if it is a family member.
Sure, it's fine when the individual in question has a certain amount of class and wherewithal to know how to take care of themselves and not get all up in your business or be a burden.
Article continues below advertisement
The worst, however, is when they are a burden and because there's a family member, you're just expected to put up with it. And for Redditor @Sal9653133 that problem was further compounded by the fact that their house guest was pregnant. And not only pregnant but going through a rough patch with the father of her child.
Apparently, the woman and her significant other had gotten into a spat over what the baby's name would be (great tidings for what the child's going to experience at the hands of their parents when they're born) and she couldn't stand to live with the guy over the disagreement.
So she moved into the same living space as her brother and OP, and that's when problems started occurring, mainly when it came to food.
Article continues below advertisement

The Redditor's sister-in-law was "picky" with her meal choices, which meant that OP's husband and his sibling would cook meals that only they could usually eat. You, the reader, may be wondering to yourself: "Well, why doesn't OP just bite the bullet and eat the meals that their husband and SIL are chowing down on?"
Article continues below advertisement

Presumably, they would, however, have specific food allergies that prevented them from having the meals that their pregnant SIL was constantly craving.
According to OP, this was a persistent problem that culminated in them kicking the pregnant woman out of their home.
Article continues below advertisement

On one particular evening, OP's husband reneged on their plans to cook a dinner that they had previously agreed upon because their house guest had a hankering for something in particular. And that particular meal was, as per usual, one that the Redditor's food allergies prevented them from eating.
Article continues below advertisement

So instead of making a big deal about it, they just opted to order some take out for themselves that they could have. Instead of eating right away, they decided to take a shower and then get some work done on their laptop for a bit until they were ready to enjoy their dinner.
Article continues below advertisement

When they went into the kitchen to grab their food, they found the container of the food they ordered opened up and clear evidence that "someone ate the majority of it."
That's when OP found their brother's sister "standing saying she woke up hungry and couldn't 'resist' the smell that was coming out of the box."
Article continues below advertisement

This infuriated OP who asked their SIL what their problem was. The pregnant woman's rejoinder was that she had left some of the food for the Redditor to eat, but according to the post, it was "only some rice and dressings."
That's when an argument between the two of them broke out and OP's husband tried to intervene.
Article continues below advertisement

He suggested that they just take some food from out of the refrigerator and prepare another meal and that them telling his sister to up and leave the house wasn't a cool thing to do. This didn't go over too well with OP, who then took the argument to their husband. They asked other Redditors if they were in the wrong to kick out their SIL, but a number of folks responded that it was perfectly fine for them to do so.
Article continues below advertisement

User @macladybulldog wrote: "you don't have a SIL problem. You have a husband problem. Don't get me wrong: your SIL sounds like a spoiled, selfish, and entitled piece of work, pregnant or not. But your problem is that your husband is more concerned with her health and happiness than yours. He needs to get his priorities in the right place."
Article continues below advertisement

What do you think? Should OP have been more considerate of a pregnant woman's food cravings? Or do you think that it was lame of both their husband and his sister to put OP in that position?