On Tuesday, June 30, Colorado Rockies outfielder, Ian Desmond, officially announced that he would not be returning for the upcoming baseball season, according to TODAY. He said he wanted to stay home to avoid potentially spreading COVID-19 to his pregnant wife and four kids, and he wants to be present to answer any questions his kids may have regarding the Black Lives Matter movement.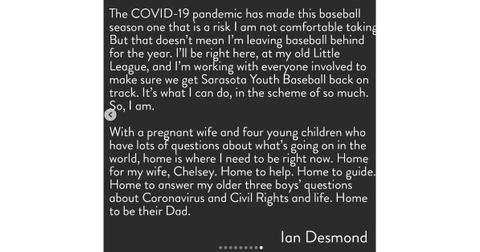 Ian started "dating" his wife, Chelsey, in fifth grade.
Chelsey and Ian are basically elementary school sweethearts. They met in grade school in Sarasota, Fla., "dated" in fifth grade, and liked each other through high school, according to Player Wives. Chelsey was incredibly athletic, and played soccer, volleyball, and softball. She ended up getting a scholarship to Lynn University, but ultimately didn't take it because she was so attached to her hometown.
Chelsey and Ian started dating (again) in 2005, immediately after Ian's first season playing Major League Baseball ended, and they got married five years later in 2010. These days, Chelsey is a full-time mom to four adorable kids, and is currently pregnant again, so it seems like she definitely doesn't have too much time on her hands.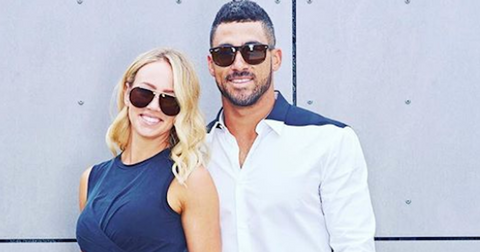 Together, Chelsey and Ian have four amazing kids.
The Desmonds are a pretty massive clan. According to MLB, Chelsey and Ian have three boys named Grayson, Cruz and Ashton, as well as an adorable baby girl named Dakota, who was born recently in October 2018. It doesn't seem as though Ian and Chelsey know the gender of their upcoming baby, but it goes without saying Dakota is probably jonesing for a sister.
As a family, Chelsey, Ian and the four kids seem to enjoy going to the beach together, playing baseball (because, duh!), and traveling to watch their dad play baseball. Although they won't get to do the latter this year, it seems as though he's planning on doing some community service, and hopefully, he can get the family involved, too.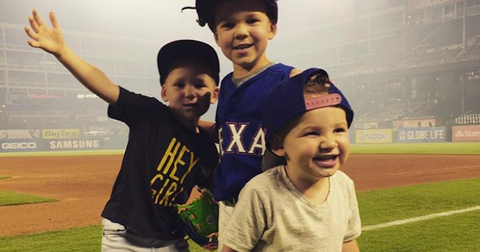 This would have been Ian's 12th season playing Major League Baseball.
Ian will certainly be missed this upcoming baseball season, as he's a two-time All-Star and three-time Silver Slugger, according to NBC Sports. This would have been his 12th season playing Major League Baseball, and it would have been his fourth season with the Colorado Rockies. He only has one more year on his contract, and will be earning $8 million in 2021.
Aside from being an all-star baseball player, Ian is a total family man. With his pregnant wife and super mom, Chelsey, and their four (soon to be five!) kids, it seems as though the Desmonds are an unstoppable force tearing it up in Florida.