"There's Still Ice" — Woman Shares the Aftermath of Her Stanley Mug That Was in a Car Fire
A woman's Stanley mug not only survived a car fire that destroyed her vehicle, but it also still kept the ice in her cup frozen amidst the flames.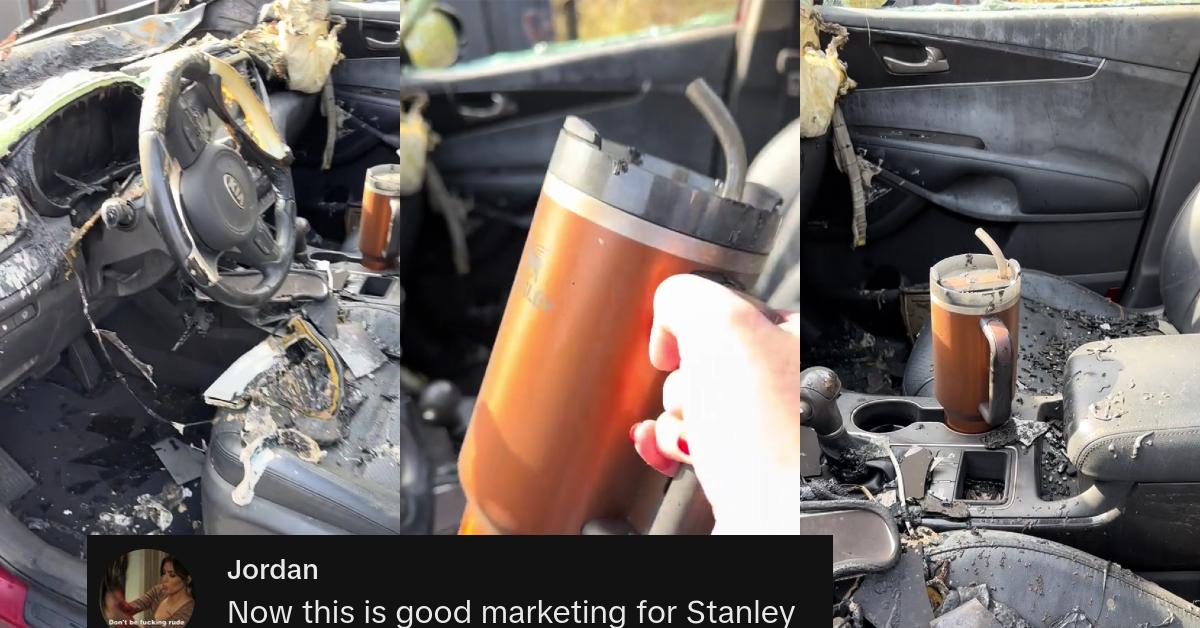 Article continues below advertisement
It's seeing consumer goods withstand extreme survival scenarios such as these that makes one shake their head in disappointment and say, "they just don't make them like they used to."
And while there are plenty of products vying for your market dollar using slick marketing that doesn't always deliver on their promises, it seems like there's one viral beloved must-have everyday item that certainly appears like it could take a licking and keep on ticking: Stanley mugs.
Article continues below advertisement
Article continues below advertisement
However, among the wreckage left behind from the flames that swallowed Danielle's vehicle and rendered it a damaged husk of its previous commuter glory, ready to be written off as a total loss, was a solitary Stanley mug, in a cup holder, that didn't appear all that worse for wear.
"Everybody's so concerned about if the Stanley spills. But what about if it melts? It was in a fire yesterday and it still has ice in it," she says after prying the cup free from what sounds like plastic that has partially melted to the mug.
Article continues below advertisement
She shakes the mug around, sounding off a chorus of ice cubes that are still presumably frozen inside of the mug, demonstrating just how effective Stanley's insulation technology in its cups is.

Article continues below advertisement
Danielle's video went rapidly viral, accruing a whopping 80.9 million views on TikTok with 53.7 comments appended to the clip and over 8.2 million likes. With all of the exposure Danielle's Stanley mug win was getting, it was only a matter of time before the company caught notice of her unfortunate circumstance.
And a of the company decided to hop online themselves to let Danielle though that they since she didn't have to replace her Stanley cup in the fire, then they would go ahead and get her a new car, as that clearly needed to be swapped out.
Article continues below advertisement
The rep says in the clip, "Hey Danielle, my name is Terence Reilly I'm the president of Stanley," he says, pointing to a shelf behind him showing off a variety of the different cups the manufacturer produces. "We've all seen your video, wow what an ordeal, and we're all really glad you're safe."
Article continues below advertisement
Terence continued, "Thanks for sharing the video because wow, it really shows how Stanley, our Stanleys are built for life, because what it went through with you I couldn't think of a better example of our product's quality. But anyway we're glad you're safe."

Article continues below advertisement
The President of the insulated mug producer went on to reference the swarm of comments people left in response to her mega-viral video: "I've seen a lot of comments that we should send you some Stanleys, well we're gonna send you some Stanleys but there's one more thing."
He continued, "We've never done this before and we'll probably never do it again, but we'd love to replace your vehicle. Yeah, all of us at Stanley we'd really like to replace your vehicle so check your DMs for details. Thanks. Be safe, cheers.
Article continues below advertisement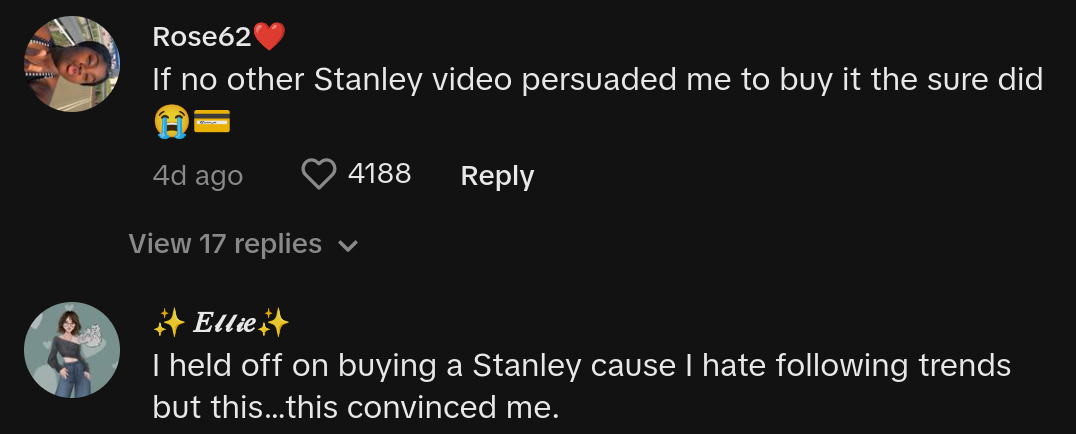 It's not hard to imagine that Terence must've seen the numerous comments left by other users on the platform who were urging the Stanley brand to sponsor her:
"Stanley better cut you a check after this advertisement"
"Now this is good marketing for Stanley"
"Stanley, SPONSOR HER"