This Woman Found an Earwig Inside Her Stanley Straw — Does the Brand Have a Bug Issue?
One woman to TikTok to share how she found an earwig in her Stanley drinkware straw. Apparently, she's not the only one who has experienced this.
Article continues below advertisement
Woman almost swallows an earwig after taking a sip of water from her Stanley tumbler.
A woman named Rylee Peterson (@ryleepetersenn) took to TikTok to debrief us on her awful experience drinking water — a sentence that I never thought I'd be writing.
In her video, she's sitting in her car and begins to hold up her tumbler made by Stanley, a popular brand of insulated stainless steel drinkware.
Article continues below advertisement
"I go to take a drink from my Stanley. The first time this morning and I take a sip and there's something like plastic-y so I spit it out," Rylee says while making a gagging motion.
"It was literally an earwig in my straw," she exclaims.
Article continues below advertisement
In the video's text, Rylee writes, "My worst nightmare just came true."
She further explains that she doesn't know if she'll ever be able to use her Stanley again. "That was so disgusting," she says as she ends her video.
In the comment section, users expressed many different thoughts.
First, were the folks who were unfamiliar with what an earwig is.
"I had to google what an earwig is … this is traumatizing," penned one person. Another said: "IDK what an earwig is and I don't think I wanna find out."
Article continues below advertisement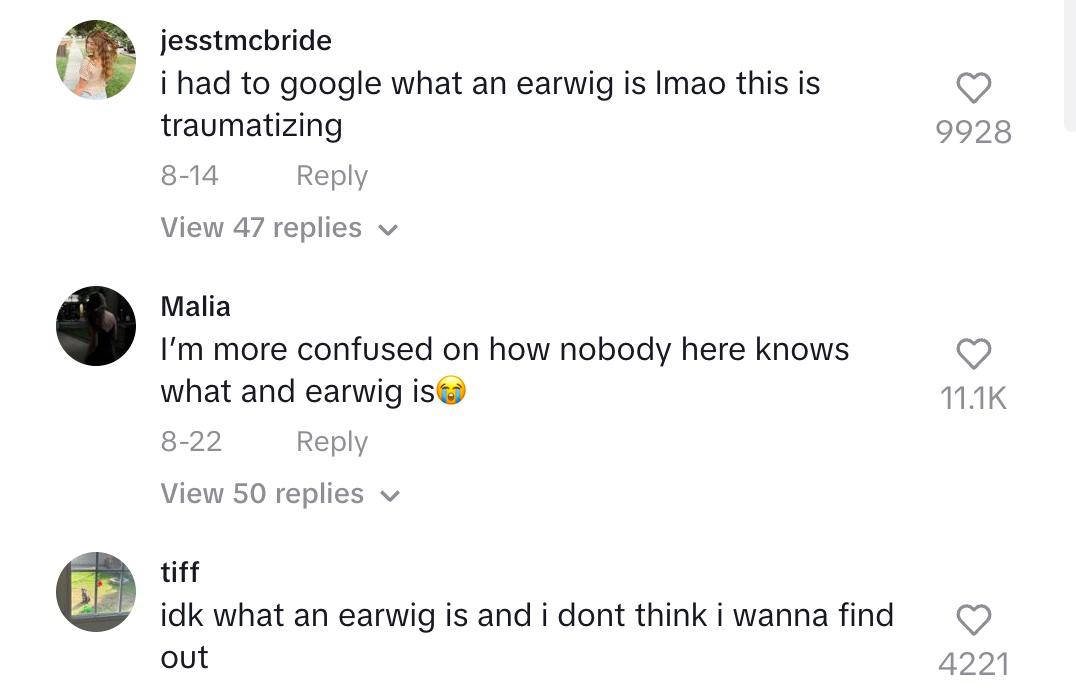 For reference, an earwig is an insect with a pair of forceps at the end of its abdomen. Nicknamed pincher bugs, they are nocturnal and typically reside in dark, moist places, which as we've just learned, may include a Stanley insulated mug.
Article continues below advertisement
Then, there were the folks who had their own earwig horror stories. "I had an earwig inside of my sock once. Didn't know until [I was] on my way to work and OML my shoe and sock flew off so fast," shared one woman.
Another user wrote: "Earwigs love to cause trauma bro. I still lift the bottom lid of the toilet to check for bugs bc an earwig crawled onto my leg from under it once."
A third claimed that this happened to her co-worker. "She's traumatized. She took a sip and got an earwig. She spat puked it out. Lol," read her comment.
Article continues below advertisement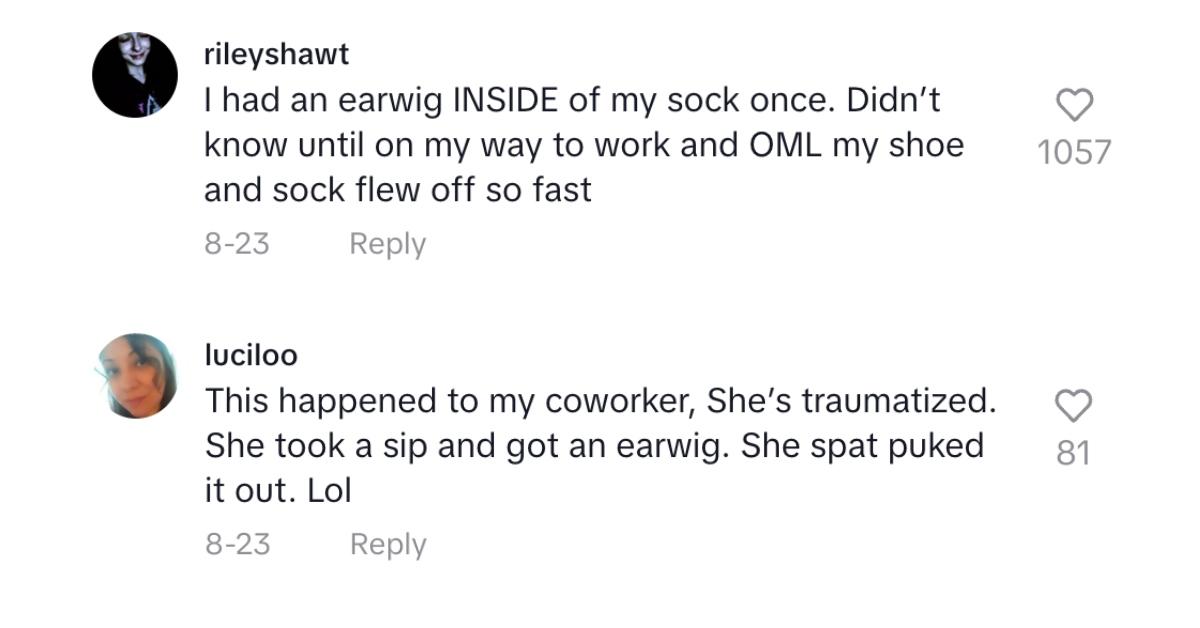 Bugs getting stuck inside Stanley straws is actually more common than you think.

While Kylee's situation may seem rare, one person in her comment section claimed that her video was the second TikTok she had seen that day about someone finding a bug inside of a Stanley straw.
Article continues below advertisement
Article continues below advertisement
Other TikTok users have also shared disturbing videos of them discovering various insects inside their Stanley straws.
Article continues below advertisement
Fortunately, there's an easy way to protect your Stanley straw from any creepy crawlers. TikTok creator Claudia Walsh showed users that there are straw covers designed specifically for Stanley straws for this reason that can be purchased on Amazon. The best part? They're actually really cute and according to the reviews, very effective.
That said, hopefully, Stanley can find a way to eradicate this problem so users don't have to spend extra money on what seems to be a pretty important accessory. It's not too much to ask for drinkware that's bug-proof, right?