Woman Accidentally Swallowed an AirPod After Getting Distracted Talking to Friend
In a viral video, one woman shared how she accidentally swallowed an AirPod instead of vitamins. She and everyone online are waiting for it to pass.
We've all been there. We get distracted and we end up doing something silly. Maybe we're walking outside while looking at our phones and bump into someone. Or maybe we're listening to an excellent podcast (perhaps the Mean Girl podcast?) while on the road and end up cruising right by our exit. It happens to the best of us.
Article continues below advertisement
But one woman on TikTok just set a new record for what she did while distracted. And now the internet is invested as she tries to remedy the situation.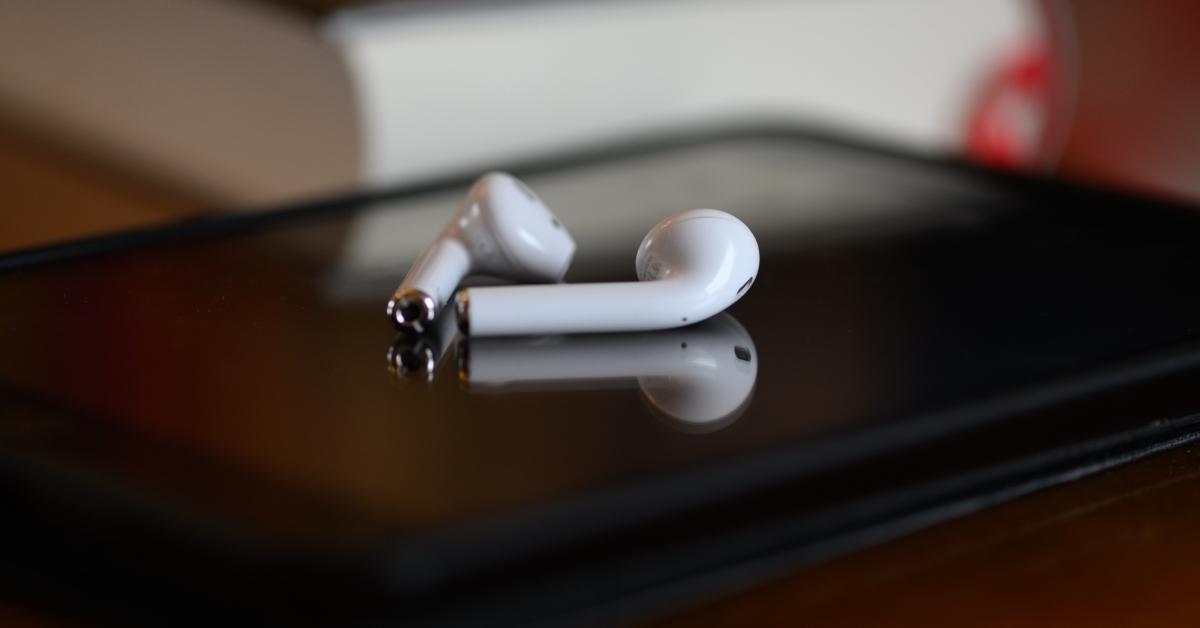 Article continues below advertisement
A woman says she accidentally swallowed her AirPod instead of her vitamins.
"So this morning I was on my walk and ran into a friend of mine and I haven't seen her for a year. She was filling me in on her life and it's been very busy and full and a lot went on actually," said TikTok creator @tannahsellsutah.
But this was more than a happy story about two friends reuniting. "Halfway through my walk I decided to take my vitamins," @tannahsellsutah explained. "So I put my vitamins in and took a drink and I was like 'man those are stuck.' So I guzzled my water. Kept on going. Said goodbye to Kathleen and went to go get my AirPod and my pills were in my hand."
As @tannahsellsutah emphasized, "I swallowed my AirPod!"
Article continues below advertisement
@tannahsellsutah found the situation funny. She noted that she received medical advice from friends and medical professionals and she would be following it.
In the comment section, users were fascinated by her tale.
Article continues below advertisement
"The way my jaw dropped when you said the pills were in your hand," wrote one user.
But others had jokes. "When you listen to your gut and now your gut listens to your favorite podcast," read one comment. A second comment read: "Did your friend just watch you eat an AirPod?"

Article continues below advertisement
@tannahsellsutah continued to update her followers on her mishap. In a follow-up video, she clarified that the professional advice she was given was to let it pass.
And she wasn't going to let a foreign object slow her down from living her life.
"So I'm going about my day, doing what I need to do. I hosted a baby shower," @tannahsellsutah explained, adding that she would also be going to a birthday party for her grandson and would be making a Costco run.
She also revealed that she had been using her husband's AirPods that day, so it was indeed his AirPod that she swallowed.
Article continues below advertisement
TikTok viewers continued to be amazed by how well she was going about this. "Unbothered queen lol I have a panic attack if I have a lil indigestion," said one person.
Another said: "The fact that they are his AirPods makes this 10x funnier."
Article continues below advertisement
In another follow-up video — now two days after the incident — @tannahsellsutah informed users that the AirPod was still lost inside her somewhere. In this video, she also was on a walk.
"I am having a little bit of PTSD right now. I am on my walk. This is where I normally take my vitamins," she said.
@tannasellsutah continued: "I got my pills and my drink and yes, I wanted to have my witness that I do not have my AirPod in my hand."
Article continues below advertisement
After watching this video, it became clear to users that her taking her vitamins while going for her walk was actually something she did regularly — and this wasn't just a freak accident.
"I'm confused. Why do you take them on your walk and not before you leave the house?" asked one user. Others echoed that question..
Unfortunately, @tannasellsutah has yet to respond to any of these inquiries. She also hasn't gotten the AirPod out of her system. We'll have to stay tuned for her next update!