Somebody Grab the Popcorn! The 'Mean Girl' Podcast Drama Is at Its Peak
What's going on with 'The Mean Girl' podcast drama? There's been some heat between Barstool co-workers and even "El Presidente" Dave Portnoy.
Just the Gist:
'Mean Girl' podcast hosts Jordyn Woodruff and Alex Bennett posted an insensitive video after Barstool layoffs.
Several Barstool employees criticized the video, including Chris Klemmer.
Barstool "El Presidente" Dave Portnoy threatened to fire Chris on Barstool Radio.
Barstool Sports has dropped the 'Mean Girl' podcast, forcing Jordyn and Alex out of the company.
Article continues below advertisement
There's never a shortage of drama at the Barstool HQ, and thanks to Mean Girl podcast hosts Jordyn Woodruff and Alex Bennett, we got some never-ending drama to sip on with our tea. Although they have a pod literally called "Mean Girl," Jordyn and Alex are totally lovable to their listeners.
But when they went back to the office on Tuesday, Sept. 5, they decided to stir up drama with a controversial tweet after a series of layoffs. Although the tweet has since been removed, Barstool employee Jack Mac has filled us in on all the drama, from the OG tweet to Dave Portnoy almost firing a blogger on the air.
And now, after Jordyn and Alex's week in the spotlight, Barstool decided to drop the podcast from their catalog.
Article continues below advertisement
The 'Mean Girl' podcast drama started with a tweet they posted after Barstool's layoffs.
In order to understand the scope and background of the original tweet, we need to understand a bit of Barstool's more recent history. In early 2020, Penn Entertainment spent $527 million to acquire Barstool Sports as part of their casino and betting business. However, when Penn partnered with ESPN, they had to unload Barstool back to its founder, Dave Portnoy.
Article continues below advertisement
But Dave has a *tricky* past. He filed for bankruptcy protection in 2004, had a tax lien filed against him in 2020, was in a leaked sex tape, has been caught saying the N-word and joking about blackface, has been detained on NFL-related incidents, and has been the subject of sexual misconduct allegations. All of this caused Barstool to lose gaming licenses in different states after the company was handed back to Dave.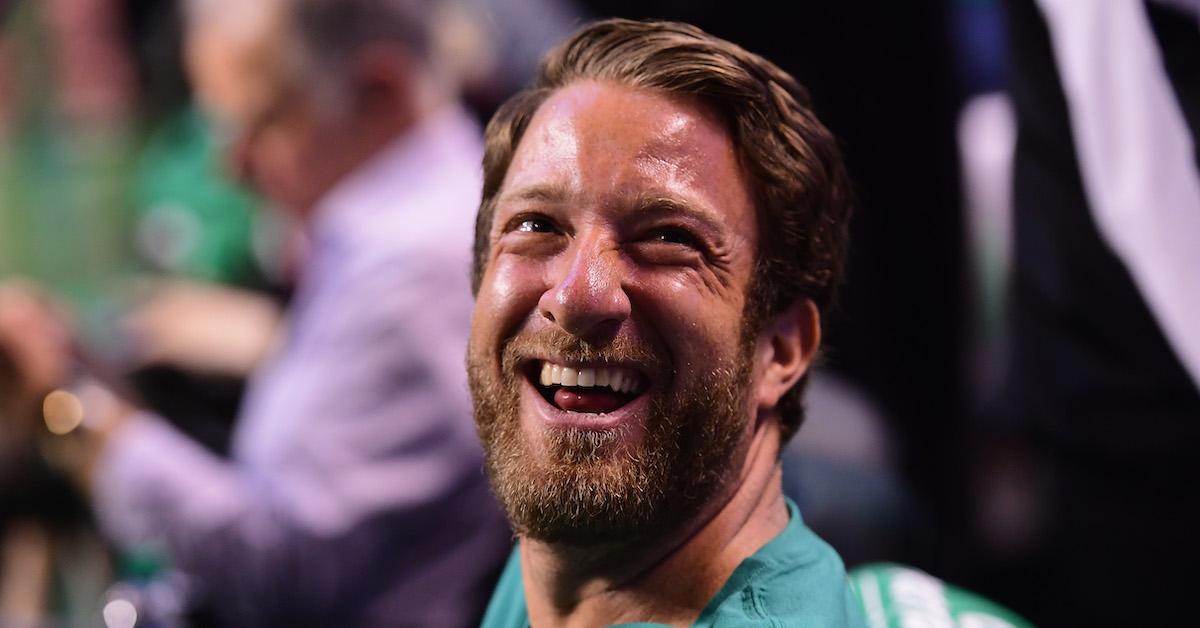 Article continues below advertisement
Because of that, Barstool lost several brick-and-mortar sportsbooks, which had been converted into now unusable sports betting lounges. This all led to losses for Barstool, which has had to lay off many of its 300 employees. As of early September 2023, 100 people had already been laid off. Upon hearing about the layoffs, many people commented that they wanted Jordyn and Alex to lose their jobs.
So when Jordyn and Alex went to work on Sept. 5, they made a video with the caption, "When you show up to work Monday not fired even though all the Stoolies wish you were," as they smiled and walked through the door triumphantly. However, many of the laid-off employees saw their video as insensitive. Jordyn quickly removed the video and apologized, but that didn't stop other Barstool employees from sharing their opinions.
Article continues below advertisement
Barstool blogger Chris Klemmer was almost fired by Dave Portnoy for his reaction.
Several Barstool current and former employees voiced their discontent with the Mean Girl' tweet. But no one came under more scrutiny than sports blogger Chris Klemmer. Chris retweeted the original tweet and said, "This is such a sh--ty and tone-deaf tweet. Also, it's Tuesday."
Article continues below advertisement
In all fairness, when Jordyn realized how tone-deaf it was, she removed the video and apologized. Even "El Presidente" Dave admitted that it was tone-deaf at the start of the Barstool Radio recording. Despite this, Dave's tweet back at Chris is what really brought the heat to the fire.
Article continues below advertisement
"You know what is tone deaf to me," Dave tweeted. "An easily expendable person like yourself not writing 1 blog over weekend after layoffs. I'm not defending their tweet. I just don't think tone-deaf people should chirp tone-deaf people. If you didn't work at all I was paying close attention." Naturally, this stirred up a storm between Dave and Chris, so they decided to address it on Barstool Radio.
"Why do you care? Why don't you mind your own business?" Dave said to Chris on the radio show. "I thought it was a sh--ty tweet and I called it out," Chris responded. "I'm not going to stick to some hierarchy of who I can and cannot go after. I'm not gonna do that." Dave compares Chris to "the last guy on the roster" of a sports team, hinting that he's expendable and replaceable.
Article continues below advertisement
"You won't last long here," Dave said, threatening to fire Chris on the air. "I'm 43 years old, I'm not going to sit there and be a b--ch," Chris touted. "But you're going to be jobless," Dave retorted. The fun of this for us viewers is that it's like watching a sparring battle between two men that we know was partly crafted for our entertainment, especially since Chris still has his job.
Article continues below advertisement
Chris may have his job, but the 'Mean Girl' podcast hosts lost theirs after the drama.
On Sept. 12, the news went viral that Barstool would be dropping Mean Girl from their podcast roster. Whether it's related to the drama or not is still to be seen, but it actually seems like there are no hard feelings all around. Both Alex and Jordyn shared posts commemorating their time at Barstool in light of the news.
Dave said on Barstool Radio, "[Alex's] contract was up, so it was in the midst of whether we were going to renew it," he said. "I was not happy with everything going on around here with layoffs and the speeches I've given ... When I heard that story, it was not what I wanted to hear. I do like Alex a lot. I don't know Jordyn nearly as well as I do Alex ... maybe they weren't planning on staying anyways."
The Mean Girl drama might be over, but Barstool's drama is neverending.