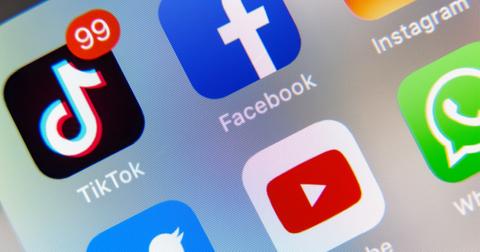 No, You Can't "Unsend" a Message on TikTok
By Abi Travis

Updated
There's nothing more embarrassing than sending an accidental message to someone — whether that's via text, email, or DM. Most of us have done it once or twice and instantly wished we could just melt into the floor and stop existing for a little bit.
There's a rumor going around that if you want to "unsend" a message on TikTok, you can simply delete the message on your end. That kind of hack could definitely save you from some uncomfortable scrapes, but is it true? Here's what we know.

If you delete a message on TikTok, does it "unsend" it?
There are plenty of reasons why someone would want to "unsend" a message on TikTok. If you're lucky, maybe you just sent a typo and want to re-send the corrected message. But we know that's most likely not the case. Maybe you decided to shoot your shot and instantly regretted it. Maybe you were a little meaner than you should have been. Maybe you accidentally messaged the wrong person!
We're not going to beat around the bush with this one. Unfortunately, there is no way to "unsend" a message on TikTok. If you delete a message on your end, it will be deleted from your phone's memory, but the person you sent it to will still see it in their inbox. Sorry to be the bearers of bad news! You can always hope that they simply don't see the message, right?
You've probably already noticed that TikTok has some limitations on who can send and receive DMs (direct messages). First of all, anyone under the age of 16 is not allowed to either send or receive DMs. The popular video-sharing app announced a change to their DM policy in April of 2020, as well as a new rule stating that virtual gifts can no longer be bought, sent, or received by anyone under the age of 18.
Also, you can only send DMs to (or receive DMs from) your TikTok friends — that means the two of you have to follow each other, regardless of whether you have a private or public profile. The default setting allows any of your friends to DM you, but if you want to, you can turn this setting off. Do this by going into your profile settings, tapping "Privacy and Safety," then "Who Can Send You Messages," and choosing between "Friends" (meaning all friends can DM you) or "Off" (meaning no one can).
You *can* delete your comments, though!
Although DMs are forever (so be careful what you send!), there is some wiggle room when it comes to comments you've left on other people's videos — or even on your own. In order to delete a TikTok comment, simply scroll to the comment, tap and hold it, and select "Delete." This probably goes without saying, but you can only delete comments you yourself have made, not comments from other people.
However, TikTok does offer a little bit of control when it comes to who can comment on your videos, as well as what they can comment. First of all, you can restrict comments to your friends only, leave the comment section open to everyone, or turn comments off for everyone. This option is also in the "Privacy and Safety" settings.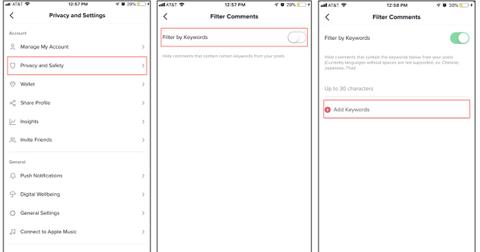 You can also use the Filter Comments tool which allows you to make a custom list of keywords that will automatically be blocked from any comments on your videos. This feature is also located in the "Privacy and Safety" settings, under "Filter Comments." Tap the toggle to enable it, then tap "Add Keywords" and make your list. Any comments that include those keywords won't be seen by you or anyone else on TikTok.
It's worth saying that even if you could unsend a TikTok message, you can't delete it from someone's memory. Obviously, it's probably best not to send any messages — or even write any comments — unless you're absolutely sure that it's a good idea.