"I'm Not Tipping Anymore" — Man Says Restaurants Should Include Server Salaries in Food Price
A man tired of giving percentage-based gratuities to servers explains why he won't be doing it any longer.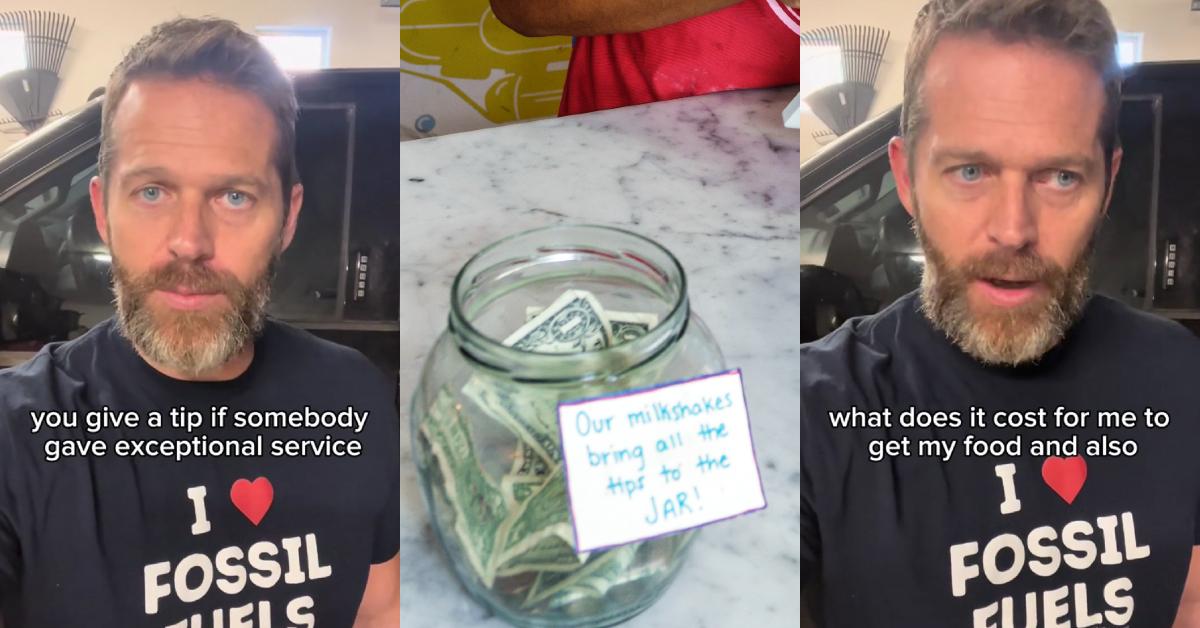 Dustin Anderson (@therealdustinanderson) does not like tipping servers at restaurants. In fact, he avers in a caption for a video delineating why he thinks the act of serving up gratuities to servers is sheer insanity that "#tips are for cows and canoes"
Article continues below advertisement
In a viral TikTok that's accrued over 2.9 million views on the video-sharing application, Dustin appears tired over the act of tipping and pretending that giving a server 20-25% of one's total bill is normal.
According to him, it's not, as tips should be reserved for individuals who provide "exceptional service," which he says, rarely happens in the food service industry.
Article continues below advertisement
Dustin goes on to say that folks are being rewarded fat percentages of total bills simply because they're doing their jobs, i.e., bringing out plates of food that someone else cooked up and filling up the occasional beverage.
He believes that there's a better way to ensure servers are making a living: and it lies with restaurant management.
Article continues below advertisement
He says in his video that the days of tipping are behind him, along with his first reason why this is the case: "So I'm not tipping anymore I'm done. I'm out. Used to be you give a tip if somebody gave exceptional service when was the last time you got exceptional service anywhere?"
Dustin also has a gripe with the expectation that such high percentages for simply doing one's job have somehow become the norm: "And it's just expected they bring you the bill at the end and they're like here just fill this out 20 percent, 25 percent."
Article continues below advertisement

He goes on to say: "No you did your job. They made food, you carried it to my table. You got me a diet coke thank you that was your job you don't get 24% cause you did your job."
Article continues below advertisement
The TikToker also preempts any ire throwing his way by arguing he isn't the villain in this narrative: "And I'm not the bad guy here I'm not."
Dustin explains that he would much rather cover the cost of the server's wages with the cost of the food that he's being served.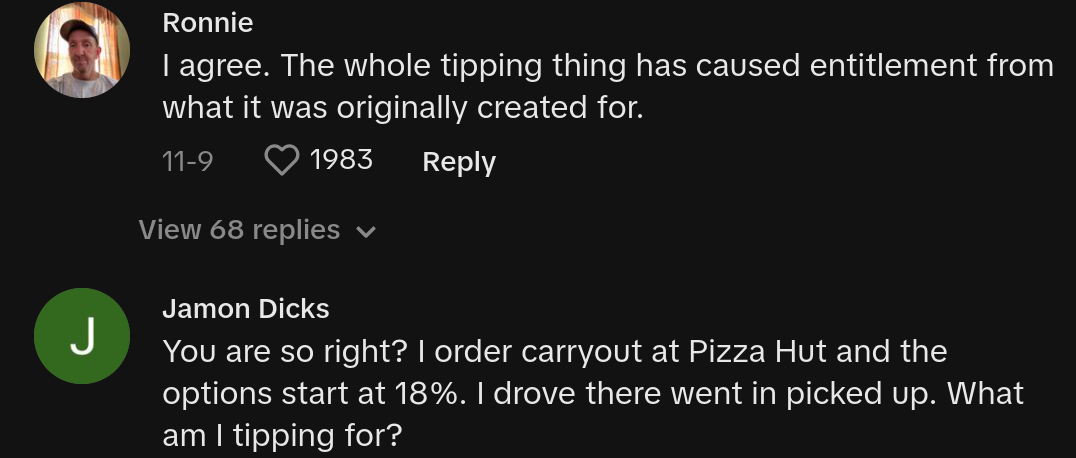 Article continues below advertisement
Restaurant owners, the TikToker argues, could very well jack up the prices of the foods to incorporate the cost of labor for their wait staff.
"If you own a restaurant, just tell me what it costs. I don't want people to go hungry. What does it cost for me to get my food and also so that the wait staff doesn't have to join the cartel do some Lord of the Flies, Oliver Twist, like I want people to be taken care of. Just tell me what it costs."
Article continues below advertisement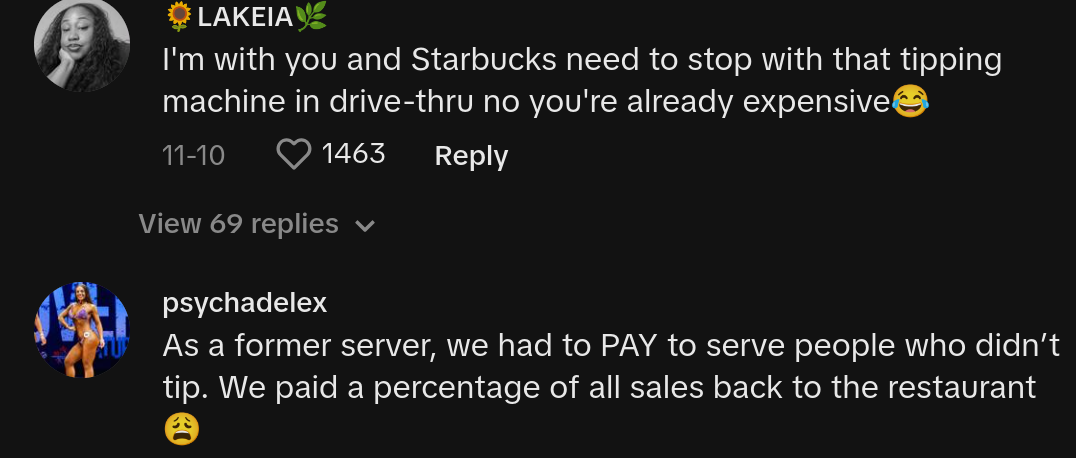 Article continues below advertisement
That's because, for the most part, servers preferred working at establishments that provided gratuity-based salaries because they would often earn more money as a result than compared to the set hourly wages of other restaurants.

Article continues below advertisement
In essence, while the idea of set tipping for a livable wage sounded good on paper, servers embraced the idea of being able to possibly make more money in a set amount of time while relying on the generosity of restaurant patrons when it came to leaving gratuities.
Several commenters who responded to Dustin's video seemed to agree with his sentiments and that "tipping culture" in the United States has gotten out of hand.
However, there were many folks who said that while they don't have a problem with forking over gratuities to food servers, there are other instances where they feel tipping is a bit of a stretch.
Article continues below advertisement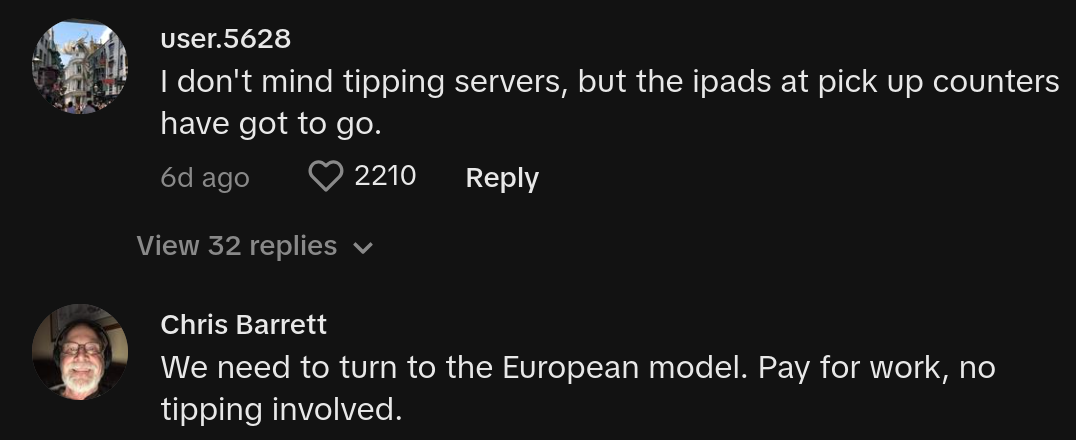 Folks seemed to have big problems with "iPad" style tips or the expectation of gratuities at nail salons or coffee shops when they're just picking up a can of pre-made muffin or bagel.
As one user wrote: "I will tip bartenders, wait staff, drivers, cosmetologists for good service...but no more counter clerk tipping"