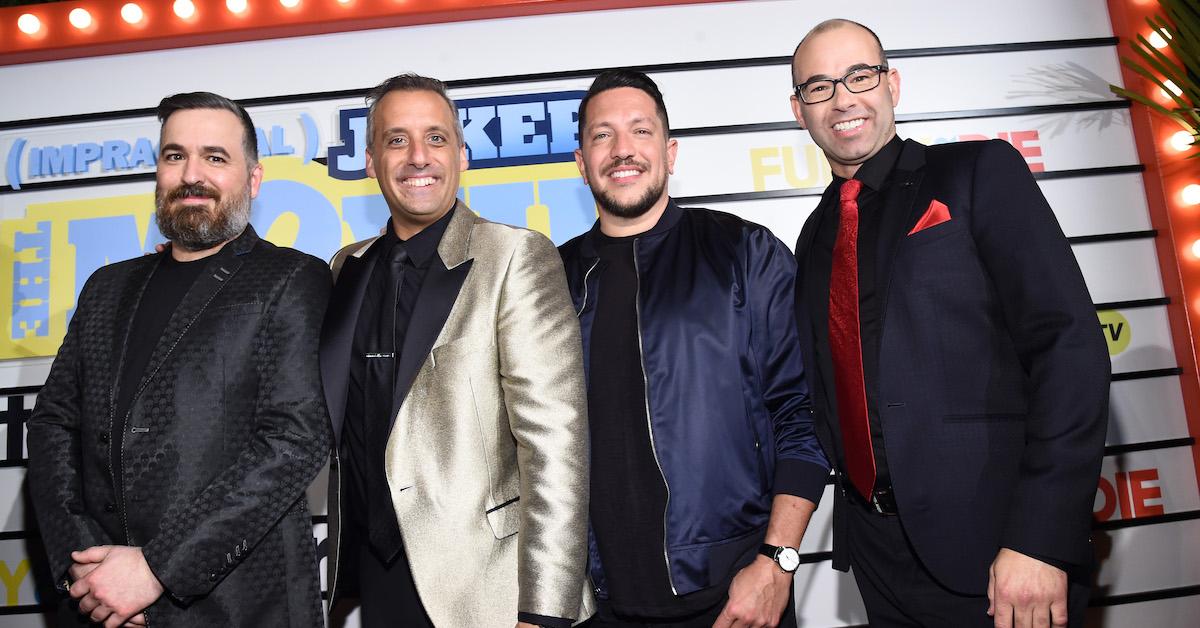 The Men of 'Impractical Jokers' Are on Instagram –– Here's Where to Follow Them
There's another way to keep up with the cast of Impractical Jokers aside from their reality TV show. The hit series has been airing since 2011 as a hidden camera series featuring real-life best friends.
Article continues below advertisement
The buddies on this show met as teenagers at their Staten Island high school and realized they shared one major thing in common … their senses of humor. Over the years, they've performed as a comedy group known as the Tenderloins. And on their smash truTV series Impractical Jokers, they challenge each other in a series of dares, typically involving the unsuspecting general public. The guys have also starred on the game show The Misery Index.
Here's where you can find and follow all of the Impractical Jokers on Instagram.
Joe Gatto's Instagram is @Joe_Gatto
Although Joe Gatto decided to retire from the show in December 2021 for personal reasons, fans across the board will forever consider him an integral part of the Jokers. According to his Instagram, he lives to make people laugh and is the proud dad to his kids and many dogs. He also performs stand-up comedy.
Article continues below advertisement
He's got 1.9 million followers keeping up with him these days. His Instagram includes information and links about tickets to his stand-up comedy shows, his Cameo account for personalized videos, and his merchandise.
Brian "Q" Quinn's Instagram is @BQquinn
These days, Brian "Q" Quinn has 1.6 million followers on Instagram. His bio says, "Impractical joker. Dancing monkey. Beer Baron." A quick scroll through his feed reveals the fact that he is a huge fan of animals (fans know he loves his cats!), beer, and social experiences with his buddies. You might notice him promoting Rubsam & Horrmann Brewing Co. on his page — and that's because in 2019, he launched his revival of this Staten Island beer brand.
Article continues below advertisement
Sal Vulcano's Instagram is @SalVulcano
The hilarious Sal Vulcano currently has over 1.7 million followers on Instagram, where he promotes Impractical Jokers, his stand-up comedy, and his two podcasts — Taste Buds and Hey Babe.
Taste Buds is a podcast where comedians argue about food-related content. For example, they'll have discussions about what the best dessert is between cookies, cake, and ice cream. The Hey Babe podcast is a place where Sal is comfortable sharing some of the funny life stories he's experienced.
The link in Sal's bio allows fans to check out his tour dates, his merchandise, and more.
Article continues below advertisement
James "Murr" Murray's Instagram is @TheRealMurr
As of now, James "Murr" Murray has 1.6 million followers on Instagram. His bio says, "Hey it's Murr from the TV show Impractical Jokers and The Misery Index. Check out my new kids' book Area 51 Interns!" Being the author of kids' books certainly makes him stand out among his Impractical Jokers co-stars. Murr's Instagram feed is filled with tons of different content in addition to promoting his book, TV show, stand-up comedy, and other projects.
The premiere of Impractical Jokers Season 10 premieres on June 16, 2022, at 10 p.m. EST on truTV.