There's a TikTok Store in Indianapolis for All Your Impulse Shopping Needs
Made a purchase from something you saw on TikTok? You may need to make a trip to Indiana because they have a store dedicated to all things TikTok.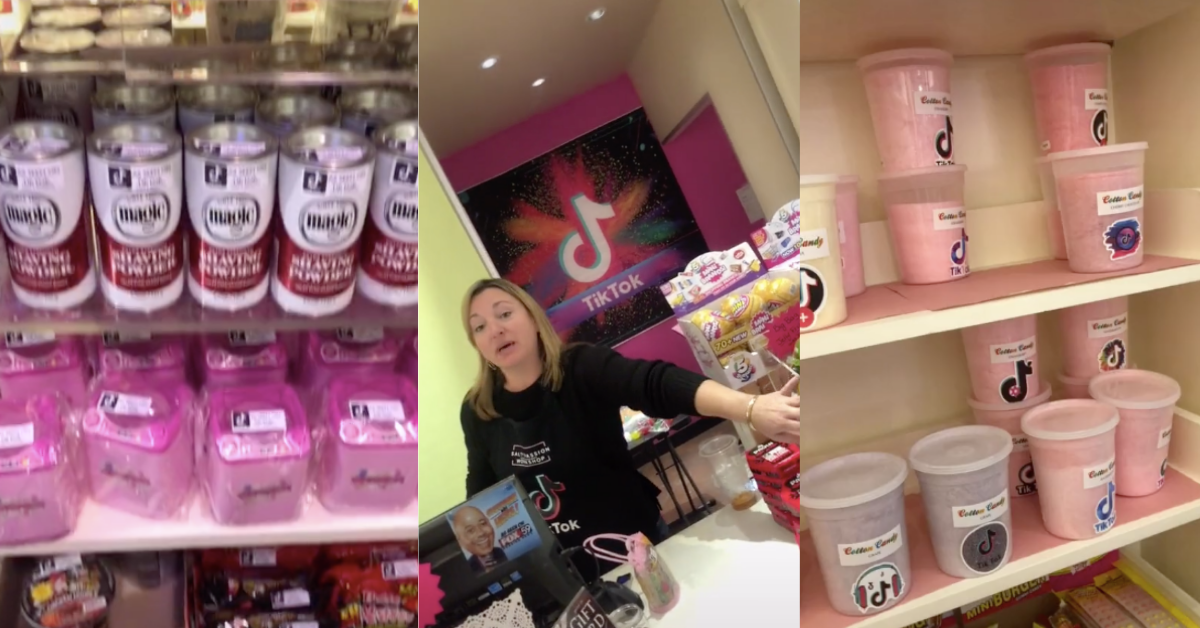 Has TikTok driven you to impulse purchase many items that you didn't even know you needed? From star lights to shaving powder to apple juice, so many products from Amazon and other stores have gone viral due to just one video recommending the item.
Article continues below advertisement
The TikTok store is located in Indianapolis.
Article continues below advertisement
In @richarh.brittani's clip, which now has over 300k views and over 62k likes, showcases the store's interior. In the video, you can see many items that have recently gone viral on TikTok, ranging from the Paqui #OneChipChallenge tortilla chips to the fad "magic shaving powder" to the infamous "crunch" Martinelli's apple juice. While walking along the glitter-infested carpet, a worker at the store says, "We also have the money soap!" which is a nod to the viral soap that has actual money in it that appears when you use it.
Article continues below advertisement
The store is *really* leaning into the TikTok gimmick.
While Salty Passion existed well before TikTok was the phenomenon it is now, the store has really outdone themselves with the TikTok merchandise and content. For example, if you listen closely to the video posted by user @richarh.brittani, you can hear the viral TikTok sound, "Mi Pan" playing in the background. The song actually originated from a 2010 Kellogs commercial in Russia, which advertises a cereal product called "Miel Pops." It went viral on TikTok and the rest is history.
Article continues below advertisement
You can also hear the mega hit "Roses" by SAINt JHN, which became a Billboard chart topper after it went viral as a meme on TikTok.
On the Salty Passion website, they also sell a "TikTok Mystery Box" for $50.00. "BOOM YA'LL WE GOT IT!!!! TikTok mystery box is full of surprise TikTok merchandise...Pick your series in the drop box 1, 2 or 3 or we will send you a random series. Each box contains at least $50.00 in value of as seen on TikTok items," the website reads.
Article continues below advertisement
Now TikTok users want to travel to the magical store.
The shop, which is a haven for anyone who is addicted to the social media app, has garnered a good amount of hype with many users expressing their sudden desire to travel to Indiana. "I would [spend] all my money at that store," one user wrote. "I'm shocked they don't have this in LA, would be packed," said another.
Article continues below advertisement
While most of the responses were filled with excitement and interest, there were a few users who didn't see the intrigue, especially the costs and the fact that it seems the store worker is not wearing a mask. "They want $50 for a bag of fruit jelly things. Umm. I think not! Went there the other day and was excited until I saw the prices."
"WTF. They probably overcharging on jelly bars which was like $3 for me when I was a kid," another user echoed.