'Wife Swap' Contestant Says Show Was "Worst Mistake" of Her Life, Producers Weaponized Trauma
In addition to having a large TikTok following, Heidi Mae was also featured on the reality series 'Wife Swap,' which she labeled a nightmare.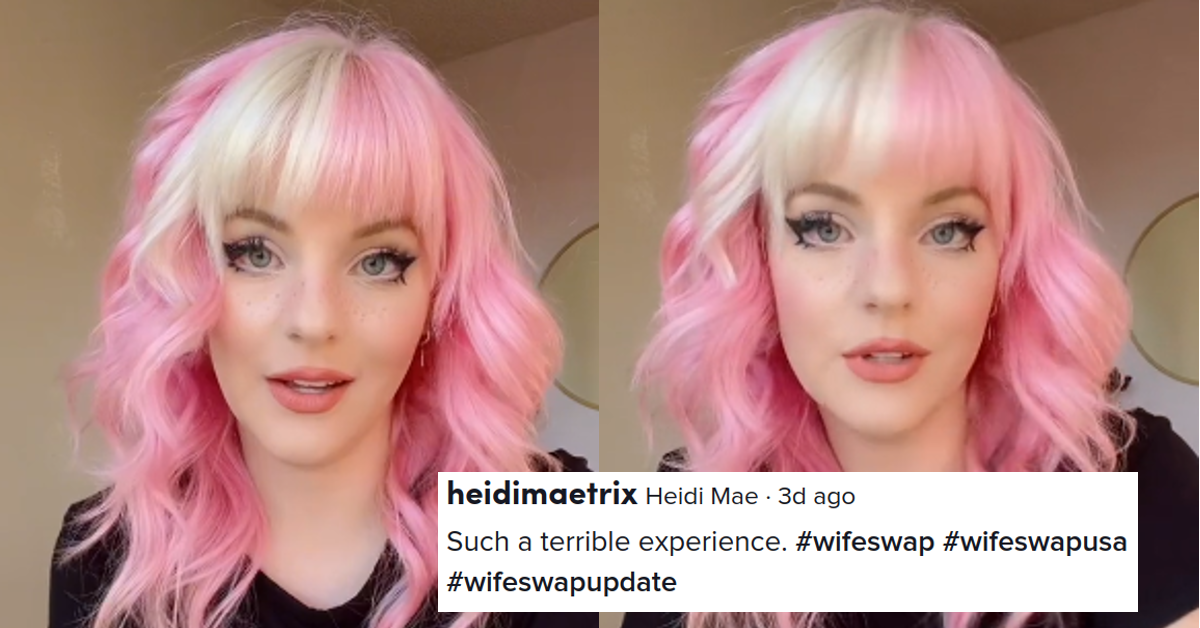 It seems like there's a reality TV series for everything, which is pretty strange when you think about it. If actual reality was that intriguing to so many people, then you would figure there would be less reality television being produced because people would be spending more time, well, enjoying reality.
Article continues below advertisement
The truth is that reality shows are almost always over-produced. Now, there are some showrunners who do a better job of either being upfront with the segments that they're producing or are just more deft at seamlessly intertwining their "staged" bits with the more real aspects of a series to create organic, yet intriguing premises for viewers at home.
And then there are shows that are either completely scripted, despite pretending like they're real, like The Hills. And then you've got production teams that are reportedly conniving and prey upon people's emotional weaknesses in a bid to elicit visceral reactions from their on-camera subjects.
Which is something TikTok user Heidi Mae said the team behind Wife Swap did during her family's stint on the show.
Article continues below advertisement
If you aren't familiar with Wife Swap, don't worry, the show is about the hidden swinger scene in Rancho Cucamunga, it's actually about two families who swap out their moms to see if they can learn something new from having another matriarch "at the helm" for a set period of time.
Article continues below advertisement
The hook is that the families featured on the program are usually very, very different. Heidi appeared in an episode on the series' sixth season, and if you watched enough television, then you know producers tend to get very, very desperate multiple seasons into up the ante and keep viewers invested in a series. "Jumping the shark" unfortunately is a very, very real phenomenon.
Article continues below advertisement
According to Heidi, appearing on the show was "the worst mistake of our lives." She was 20 years old at the time of filming and was participating in her family's traveling theater show, The Caboodlestoppers. Heidi's family was presented as a bunch of "clean-cut" folks, while the other group was depicted as a "rule-free family of low-riders."
Where things got a little shady, according to Heidi, is how she believes that the production company utilized a 700-question psychiatric evaluation test in order to push cast members' buttons.
It's not uncommon for many shows to implement psych evals (heck I had to do one prior to signing on for Ghost Hunters), but what is uncommon is to share information from those tests with others.
This is exactly what the Wife Swap producers did in a roundabout way, Heidi claims.
Article continues below advertisement
She said that all of her different traumatic experiences and fears were given to the other mother. "Growing up traveling full-time, I get really lonely sometimes, so when I feel alone, it makes me cry, it makes me really sad. And I kid you not, the first, the first conversation with the 'other mother,' she … looks me dead in the f------ eyes and she says, 'You are alone. Nobody cares about you. You have no friends. I don't care about you.' And I just f------ broke down," Heidi said, according to Daily Dot.
Article continues below advertisement
Heidi went on to tell the outlet that she believed that her temporary mom "was just as manipulated as we were."
"Before every scene the producer would take her into a back room and talk to her, then would she came out it would be a fight. It wasn't until she broke the rule of never talking to us when the cameras stopped rolling that we found out the producers were telling her lies about my mom and what was happening to her family. They wanted her angry and they knew that triggering her protective nature would do the trick," she said.
Article continues below advertisement
Heidi says that she regrets "ever having done it" and that "to this day [she] still deal[s] with the after-effects of it.
Wife Swap has been the subject of controversy in the past. A NY Post article claims that there was a lawsuit waged by a teenage participant in the show who claimed producers, "purposefully, intentionally and knowingly caused severe emotional and psychological harm for their own profit."
Heidi's previously hinted at her Wife Swap experience in a 2019 article, stating she "learned the hard way that reality TV is a story that the producers want to tell. And they will 'accomplish' that story by whatever means necessary."
Wife Swap originally aired on ABC from 2004-2010 but was revived multiple times.