Starbucks Employee Calls out Holiday Customers for "Empty Gestures"
A Starbucks employee has a bone to pick with a common thing many food service and retail workers hear during the holidays.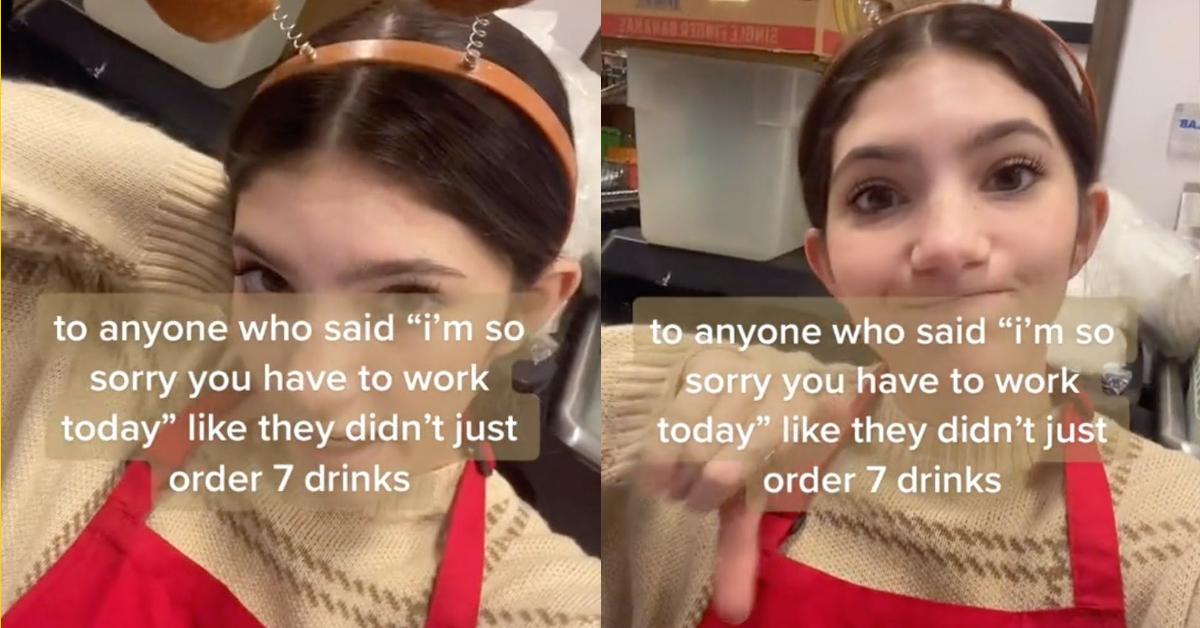 There are some people that use all of the right words. They're super polite and courteous, say all of the right things, maybe even post the most progressive, heartwarming, and accepting dialogue on the internet. On Instagram, they're top-level athletes, thoughtful healthy cooks, and are tirelessly supportive and understanding of the plights of others.
Article continues below advertisement
But the second you take a walk in their actual life and look at their actions, what they do ultimately doesn't reflect what their dialogue indicates. There's hardly ever any follow-through, and there's usually a litany of unassailable justifications as to why they can only talk/post pictures of all the ingredients they claim to possess as a human being, instead of, you know, actually doing it.
And these faux-great folks tend to be the biggest bullies of them all because their speech and mannerisms on a surface level are great and technically correct, so when you call them out on, you know, not actually practicing what they preach, you're attacked as being too harsh, prejudiced, or judgmental.
while there are tons of examples of this (and plenty that would probably be very controversial to tackle) there's one that almost everyone can understand: the plight of the foodservice employee.
Article continues below advertisement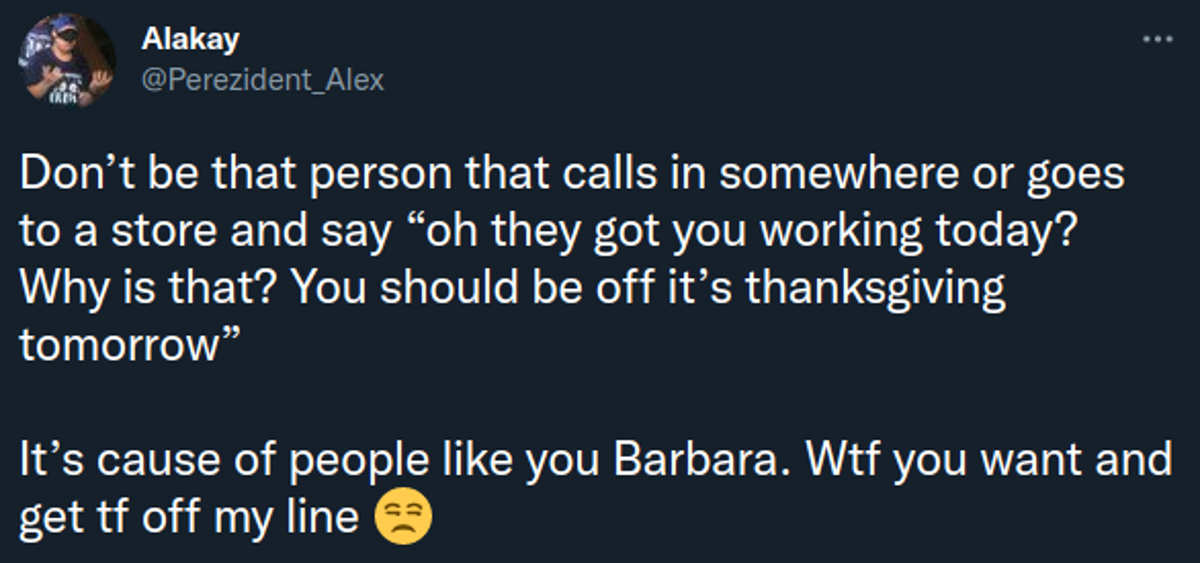 Working for a majorly successful chain certainly has its perks: a relative sense of job security and a well-established system of operations across multiple locations are great. Then there are employee discounts that can be used at any of their locations, usually worldwide if it's a global company, which can be a real treat for when you're traveling to help save some buckaroos while enjoying a bit of familiarity if you're out of your element.
Article continues below advertisement
But there are also major downsides, too, like the fact that these chains tend to stay open no matter what (Waffle House is the G.O.A.T. of that) including holidays.
And a common platitude that foodservice employees and retail workers hear on a holiday like Thanksgiving is, "OMG, I can't believe they have you working today!"
This is a pretty silly thing to say, as TikTok user @kaitlynsantiago22 (Kait), pointed out in a now-deleted viral TikTok.
Article continues below advertisement
In the clip, Kait uploads a video of her face as she was working a Thanksgiving shift at Starbucks with a text overlay that reads, "anyone who said 'I'm so sorry you have to work today' like they didn't just order 7 drinks, and if you wonder if I hate you - I do."
Her post resonated with tons of other users on the platform, who highlighted the fact that their lip service was probably inauthentic. One commenter wrote: "not sorry enough to drink coffee at home today."
Article continues below advertisement
There were some folks who lambasted Kait for ire towards customers who shop during the Holidays. And in high margin businesses like coffee shops, there probably won't be an end to Holiday openings any time soon. Unless everyone en masse decides that they won't go out to purchase anything on Thanksgiving, that'll probably force businesses to close their doors.
Article continues below advertisement
But since that's probably not going to happen, there were other commenters who pointed out the best way to really make someone's Holiday shift more bearable: leaving a larger than usual tip. Which will probably be much more appreciated than a meek, "Oh I'm so sorry you're working," comment.