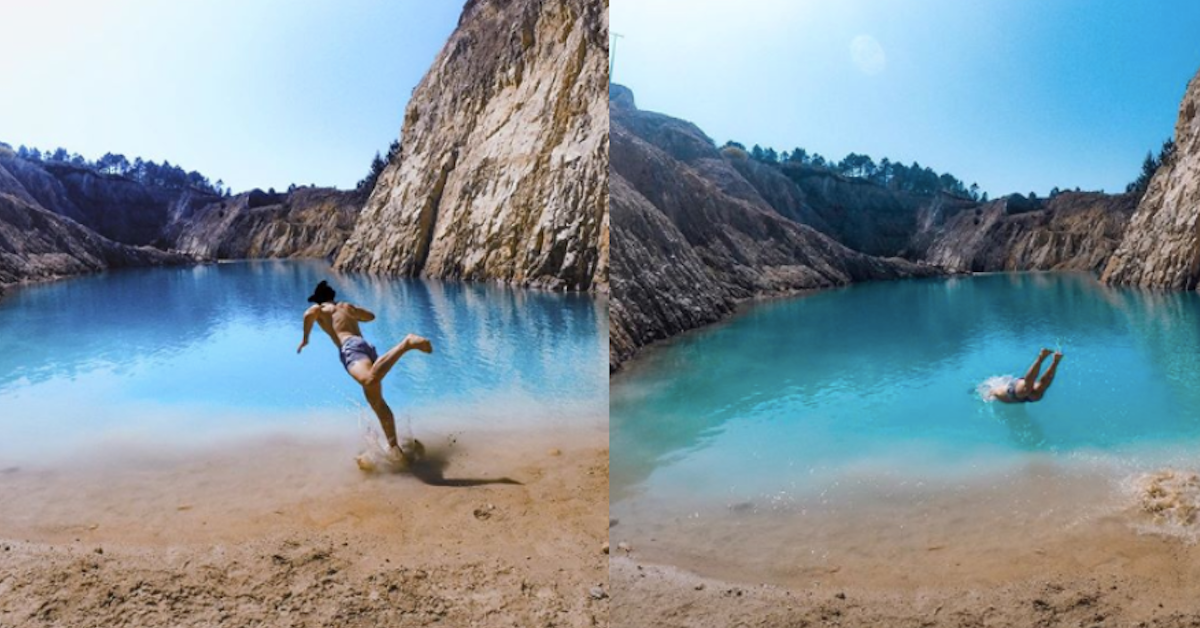 Influencers Are Getting Sick After Swimming in a Toxic Lake for the 'Gram
Anything for the 'gram, right? That's the #influencerlife. I've seen influencers peddling clearly disgusting health food products, wearing ridiculous, impractical athleisure clothing, and generally orchestrating their entire lives to look good on Instagram. It's an epidemic! And it's getting serious because some of these influencers don't just stop at collagen peptides and summer sandals. Some of these influencers actually risk their lives.
Article continues below advertisement
Monte Neme in Galicia, Spain is a new hotspot for Insta influencers to take photos. The bright blue lake probably looks extra insane with the Clarendon filter, am I right? The problem is that some of these influencers are diving into the lake to capture the best photo possible, and the lake is actually a toxic waste dump.
Article continues below advertisement
The lake is a tourist attraction, and it is famous for its turquoise water, but it got that way because it's a former open-pit mine, according to SFGate. Tungsten, tin, and quartz used to be extracted from the mine, which was abandoned in the 1980s. But the water is still super contaminated; the lake has been dubbed "Galician Chernobyl" by locals.
So of course several Instagrammers who've traveled to the spot have dived in, ignoring numerous warnings not to enter the water. Spanish news outlet Publico said several influencers were hospitalized directly because of their contact with the water in the lake.
Article continues below advertisement
Contact with the water can cause rashes and digestive issues. One influencer told Publico that after getting into the water to take a photo, they began vomiting and got a rash that lasted for two weeks. Another said there was "damage to the skin and digestive system." A third claimed that despite getting a horrible rash, "the picture was worth it."
Article continues below advertisement
I hope it was. Of course, the people swimming in toxic sludge for the 'gram aren't the first to endanger their lives in the name of social media. How far should you go for the perfect Instagram shot? It has become increasingly clear that some of these influencers are willing to push the limit.
Article continues below advertisement
Swimming in toxic water isn't the first instance of influencers performing death-defying stunts to snap a pic. Instagram couple Kelly and Kody were criticized for their dangerous photo showing Kelly dangling over the side of an infinity pool with only Kody saving her from certain death. The caption reads, "Our greatest strength in life, our most important principle, is discernment. Only you can know your body, feel the space around you and understand your capabilities. We would all do well to remember this, knowing that not every action, style or path we witness through others is or should be, replicated. At the end of the day, we are to hold ourselves accountable for the decisions that we make."
I personally think it's an incredibly dumb photo, but check it out yourself.
Article continues below advertisement
Some people found the photo touching and cool and indicative of their trust in each other or whatever, but most people genuinely thought it was a terrible idea. "Proper stupidity right here... Who cares if you know what your limits are, one wrong move and she's dead mate, dead forever," one commenter wrote. Sure, it has a lot of likes (more than 42,000), but what do likes even mean? And you certainly couldn't enjoy them if you were dead, so, do I believe this photo was worth it? Probably not.
That's just the thing about influencers. Their literal job is to, for lack of a better word, influence people whether it's to buy things, be things, or do things. And so when influencers do things like dive into toxic waste or hang over the side of a moving train (see below), they are maybe unwittingly putting other (also dumb) people in danger.
Article continues below advertisement
When Belgian influencer couple Camille and Jean started making out while hanging off the side of a moving train in Sri Lanka, they immediately garnered criticism for the impact that photo could have on other people. "Lots of people are going to try this and injure themselves or worse," one commenter wrote.
Article continues below advertisement
Camille and Jean defended the stunt, saying the train was moving at a walking speed and the edge wasn't that deep. They researched the train and the route and surprise, surprise, found that it's a very popular picture for Instagrammers to take. So they picked a moment where the view would be best and the train was moving at a snail's pace to take a photo that makes it look like they have a death wish.
The problem is, not everyone who strives to take this photo will do the research they did, and nowhere in their caption do they mention what went in to pulling off a photo like this in a safe, controlled manner.
Another Instagram couple, Vishnu and Meenakshi Moorthy, posted the following photo of Meenakshi sitting with her feet dangling over the edge of the Grand Canyon. "A lot of us including yours truly is a fan of daredevilry attempts of standing at the edge of cliffs and skyscrapers," they wrote, "but did you know that wind gusts can be FATAL??? Is our life just worth one photo?"
Article continues below advertisement
Just a few months after this photo was posted, Vishnu and Meenakshi died after falling 800 feet at Yosemite National Park, "an accident that occurred while they were on the edge of a cliff and probably taking pictures for Instagram," according to Fast Company.
Let me be the millionth person to say Instagram is not worth losing your life over. It's not worth ending up in the hospital for. It's not even worth being mildly inconvenienced for, in my opinion. There is no denying that social media is important in society today. But you know what more important than social media? Your life.