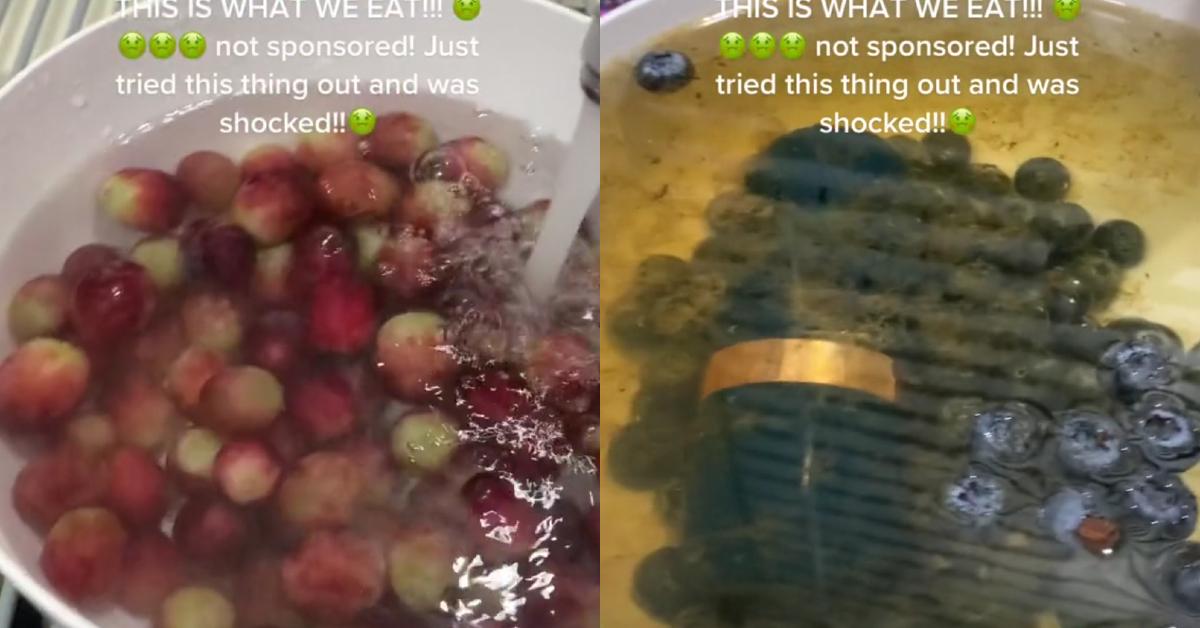 Woman Creates Stir After Removing "Dirt" from Grocery Store Fruit Using Ultrasonic Cleanser
An Influencer shared what happened when she used a special fruit cleaning device on her produce, and was grossed out by the results.
The internet is full of "shocking" videos that reveal some truth or uncomfortable reality you may not be privy to before. Maybe you've uploaded your own crazy discovery...only to learn that a number of people knew this revelatory bit of information well before you did.
Article continues below advertisement
And judging from many of the comments left by TikTok viewers on this viral clip uploaded by user @amyhitch2, it would seem that many people think this video is a prime example of this very phenomenon.
In the clip, Amy shows off some grapes she says she just purchased from the supermarket. She places it inside a white bowl, which she fills with water, and then puts a speaker-looking device inside it.
Article continues below advertisement
Amy stresses that the post isn't a sponsored one for the item she places inside of the bowl, which looks like one of those fruit-washing devices you can find on the internet. They're supposedly specifically designed to rid fruits and vegetables of pesticides and other dirt/pollen that accumulate on produce.
Article continues below advertisement
Amy is horrified by the results of her fruit-washing experiment: she sees that there's a massive build-up of grime on the plastic-wrap she placed over the bowl she washed her grapes in.
She writes in a text overlay of the post: "THIS IS WHAT WE EAT!!! not sponsored! Just tried this thing out and was shocked!!" and says in the video, "You guys I'm so sorry but I have to share this, this is so freaking crazy."
Article continues below advertisement
Amy continues: "This is a white bowl I'm filling it with clear water this is how I always clean my fruits and vegetables and I bought one of those machines that can clean your fruits and vegetables for your. So I put them into a clear bowl with the machine..."

Article continues below advertisement
The clip then transitions to the saran wrap in the clear bowl (not the white one she started the video with) "....and look at the this" she begins to make gagging noises off camera.
The plastic-wrap is littered with what looks like bits of dirt and grime, "Like what in the hell is all of that?! This is freaking nasty..." the video then cuts to another bowl of blueberries that were also cleaned with the fruit washing device: "and look at my blueberries you guys this is - I'm not sponsored but y'all we need to watch out what we eat."
Article continues below advertisement

The second bowl of fruit looked just as gnarly, with the color of the water severely discolored. While there were a number of people who said that it's normal for fruit to have dirt on it, something that the TikToker said she agrees with, and mainly washes her fruits and vegetables to rid them of wax and pesticides, she did try a few intriguing experiments at the behest of one other user on the platform.
Article continues below advertisement

One commenter suggested that she try submerging the fruit cleanser in water without fruit and see the results, so Amy did just that.
Article continues below advertisement
In a follow-up clip, she first leaves the device in filtered water for a few minutes, which yields no change in the appearance of the water. There's no gunk, no grime.
However, upon leaving it inside some tap water for a few minutes, she was shocked to see that it was rife with gunk and grime.
Article continues below advertisement
However, there were some people who said that this is a known "scam" where the tap water has a reaction to corroded metal in the unit which makes it look like it's filtering out gunk and grime from your produce, or even your water.
"My mom sells this scam! it's actually from the corroded metal in the unit. The water reacts to the ionization process the machine puts it through!!!
According to Science Daily, ultrasonic fruit and vegetable cleaners, like the one Amy posted about on TikTok, have been proven effective in cleaning produce.
Have you ever used one? What's your opinion of it?