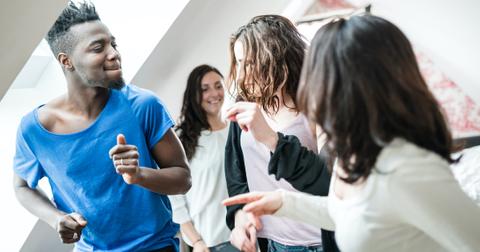 Your Quarantine Concert Schedule Is Here! 9 Must-Watch Instagram Live Concerts
By Lizzy Rosenberg

Updated
There's a likely chance you had something to do that was canceled due to the coronavirus pandemic, whether it was a friend's birthday party, a vacation, or a live concert.
These Instagram Live concerts will keep morale up during self-isolation.
And despite the fact that there is truly nothing better than going to see a live concert, a number of artists are hosting Instagram Live concerts to brighten up people's homes amidst the pandemic. Here are a few that you definitely won't want to miss.
Chloe x Halle — March 24
Beyoncé's all-time favorite R&B duo, Chloe X Halle, is going to host an Instagram Live concert at 4 p.m. on Tuesday, March 24. Be there or be square, and make sure you're ready to dance the night away.
Phish — every Tuesday
Burlington, Vermont-based jam band, Phish, will be performing live shows on their website, LivePhish, every Tuesday evening for the foreseeable future. On Tuesday, March 24, they will be playing at 8:30 p.m. ET, and they'll be recreating their August 31, 2012 show. Get ready for a seriously wild trip back in time.
Diplo (every night)
Every night since the quarantine officially began, esteemed DJ and songwriter, Diplo, has been livestreaming two hour DJ sets every single night. Tune in tonight, tomorrow, and hopefully every night for the foreseeable future at 10 p.m. ET on YouTube, Twitch, or Instagram. I'll be there.
99 Neighbors — March 25
Hip-hop collaborative, 99 Neighbors, is going live on Arizona Iced Tea's Instagram at 9 p.m. ET on Wednesday, March 25. Make sure to bring your dancing shoes (er, slippers!) because they are guaranteed to bring the funk to your living room.
Diet Cig — March 26
Since we're all feeling angsty AF right now, you'll be happy to know that indie rock duo, Diet Cig, is going live on IG on Thursday, March 26 at 2 p.m. ET. They'll be playing songs, chit-chatting, and answering FAQs. If we're being totally honest I'm really just hoping they play their rendition of "Aaron's Party."
Chris Staples — March 26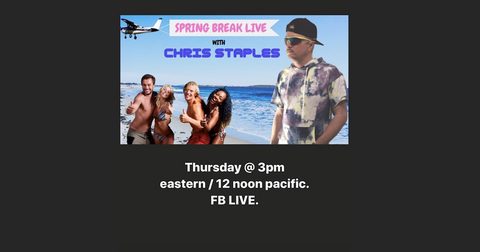 "Golden Age" singer and songwriter, Chris Staples, will be taking to Facebook Live on Thursday, March 26 at 3 p.m. ET to fill the void in all our hearts with Spring Break Live. Grab your sunnies and mentally prepare to chill the f--k out, and maybe crack open a cold one. Sounds like my kind of afternoon.
Vanessa Carlton — everyday until Thursday, March 27
"A Thousand Miles" singer and songwriter, Vanessa Carlton, will be hosting an Instagram Live performance every day at 6 p.m. ET from through Thursday, March 27, which is the official release date for her sixth album, "Love Is An Art." That's right — Vanessa is releasing new music, so we can all sing through the pain of this pandemic.
Gavin Turek — March 27
Disco pop kween and professional dancer, Gavin Turek, will be playing a live concert during a workout led by IG fitness instructor, @JadaKellyFit, called Booty Burn Workout. Tune in on March 27 at 10 a.m. ET on Instagram Live for some live music and — of course – a totally killer workout. You'll kill two birds (and two cheeks) with one stone.
Although getting out to a live show would be seriously spectacular right now, the quarantine isn't making that possible. So make the most of it and tune into your favorite artists' Instagram Live concerts — I see a living room dance party in your future.