Woman Reveals "Secret Button" on iPhones That People Had No Idea Even Existed
If you're an iPhone user, you may not be aware of an extra "button" that you could be using for shortcut commands on your device.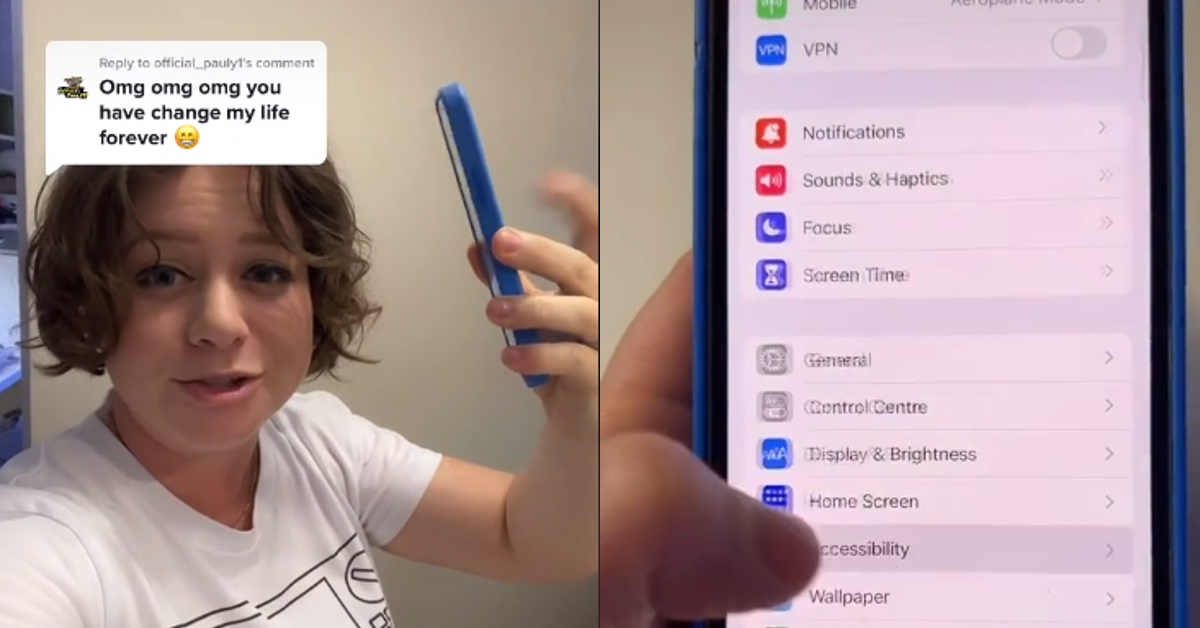 The smartphone industry just keeps becoming more and more profitable with each passing year, even if tech hardware manufacturers are getting decidedly "boring" with the designs of their devices.
Before the introduction of capacitive touch screens on smartphones, companies like Sony Ericsson, Nokia, LG, Samsung, Motorola, etc. were constantly debuting interesting new designs.
Article continues below advertisement
Sliders, flips, bars, full QWERTY keyboards, swivels, even phones that looked like lipstick, the mobile landscape was a very different place prior to 2007.
However, after the introduction of the iPhone, it was clear that folks were into fewer buttons, and that they just wanted a touchscreen slab to perform all of their tasks.
But there are some advantages to just having a hardware button that can't be replicated or topped by a touchscreen. The immediate ability to perform a function by just physically touching something, like the silence switch on the iPhone, is extremely convenient.
It's why some Pixel users lamented when Big G decided to ditch the back-of-the-phone fingerprint sensor, but as it turns out, Apple's also packed a similar functionality on its phones.
Article continues below advertisement
In a now-viral TikTok uploaded by @ellyawesometech, Apple's Accessibility "Back Tap" feature is highlighted, and for many iPhone users, it's a complete game-changer.
Article continues below advertisement
How it works is pretty simple: all you need to do is dig through your accessibility settings and enable "Back Tap." By tapping the Apple logo on the back of your phone, users can pre-set any application they want to launch upon tapping it.

Article continues below advertisement

Want a fast way to launch your camera? Maybe you want to kick-start TikTok without having to dig through your menu? Maybe you use your smartphone as a flashlight a lot, well, you could set Back Tap to do that. The possibilities are only limited by the apps you have installed, and there are tons of TikTokers who had no idea that their phone was capable of this.
Article continues below advertisement

Of course, depending on the type of case you have on your phone, you might not be able to use the feature as you'll need to make contact with the back of the phone. There are cases that leave that area "bare" for users, however, so if you're interested in using it while making sure your iPhone is protected, you could scoop up one of those case designs.
Article continues below advertisement

And while it's possible that one can accidentally activate the "back tap" feature, Apple does let users customize the nature of the back taps themselves: you can hit it once, twice, or three times to launch the application. The more presses, the less of a chance that you're going to launch an app accidentally.
Article continues below advertisement

It didn't take long for the TikTok post to quickly go viral, and there were throngs of commenters who remarked that they hadn't heard of the feature before, but it has been available since iOS 14. So if you're reluctant to upgrade and have been rocking an older version of the mobile operating system, then it might be in your best interest to dig into the settings and finally get to upgrading.
Article continues below advertisement

Have you tried using the Back Tap feature? Are you a fan? Or are you fine with the way you have your home screen set up and can navigate your phone's menus fairly easily?