The 'Iron Flame' Book Release Is Being Plagued by Some Egregious Misprints
The November 2023 release of 'Iron Flame' of the 'Empyrean' book series has been plagued by severe misprints that differ wildly from each other.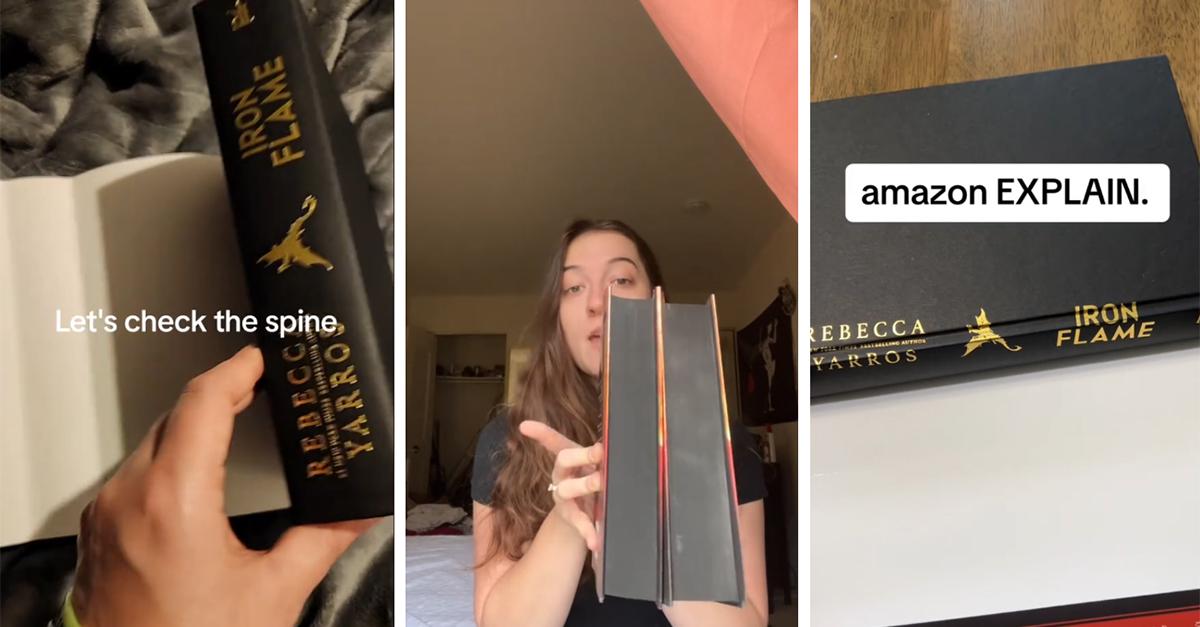 The Gist:
Iron Flame from the Empyrean book series was released in early November 2023.
Fans of the series have been sharing egregious misprints of their copies.
The misprints range from faulty printing to incorrect page orders.
Article continues below advertisement
If you've been keeping up with the latest book releases, you've probably heard about the Empyrean series by Rebecca Yarros catching fire with readers. The series, which published its first installment in May 2023, follows Violet Sorrengail as she reluctantly trains to become an elite dragon rider of Navarre. The series is projected to last for five books, with two of them having been released as of November 2023.
Article continues below advertisement
Fourth Wing all but solidified the series' popularity with readers, having made it on Amazon's Top 10 Selling books after it was released on May 2, 2023. As you might expect, fans were eagerly looking forward to the second book in the series, titled Iron Flame. Unfortunately, its November release has been plagued by some egregious misprints with its hardcover copies. Here's what readers have shared on TikTok.
The misprints for 'Iron Flame' copies are appalling, to say the least.
If you're reading a novel, you might expect one or two typos within the prose. Editors and quality assurance specialists typically due their due diligence in making sure copies of a given book have as few mistakes as humanly possible, but a misplaced comma here or a misspelled word there is easily forgivable. However, the level of misprints with which the First Edition publications of Iron Flame were released is utterly shocking.
Article continues below advertisement
Readers who were eagerly anticipating their copies of Iron Flame have opened their books to be greeted with erroneous page counts and printing errors so utterly wrong that it's a wonder that they got past quality assurance in the first place. To make matters worse, no two misprints are quite the same.
Many have posted their findings on TikTok.
Article continues below advertisement
Some are relatively minor. One TikToker reported that between a copy purchased from Amazon and a copy bought in-person at Barnes and Noble, the thickness of the books was different from each other due to different binding. The copyright page from the Amazon copy also had a typo and was reportedly printed in Italy. Otherwise, the contents of the book were identical.
However, there are even worse misprints out there. Some readers received copies of Iron Flame that have Fourth Wing printed on the spine. In some cases, the spine printing is completely upside down or even off from the spine itself and even spills over to the front cover. One person even had their dust jacket come with a faulty doubled-over print job.
Some have even reported that the page order is completely wrong. One reader had their Iron Flame copy skip from Page 82 all the way to Page 131.
Article continues below advertisement
Newly-released special editions of Fourth Wing haven't fared much better, with chapters having been printed in the wrong order.
Many fans call these errors the consequence of a rush job on the publishing end, claiming that folks have found more misprints than normal copies out in the wild.
As of this writing, no statements have been made regarding the state of the book's release.