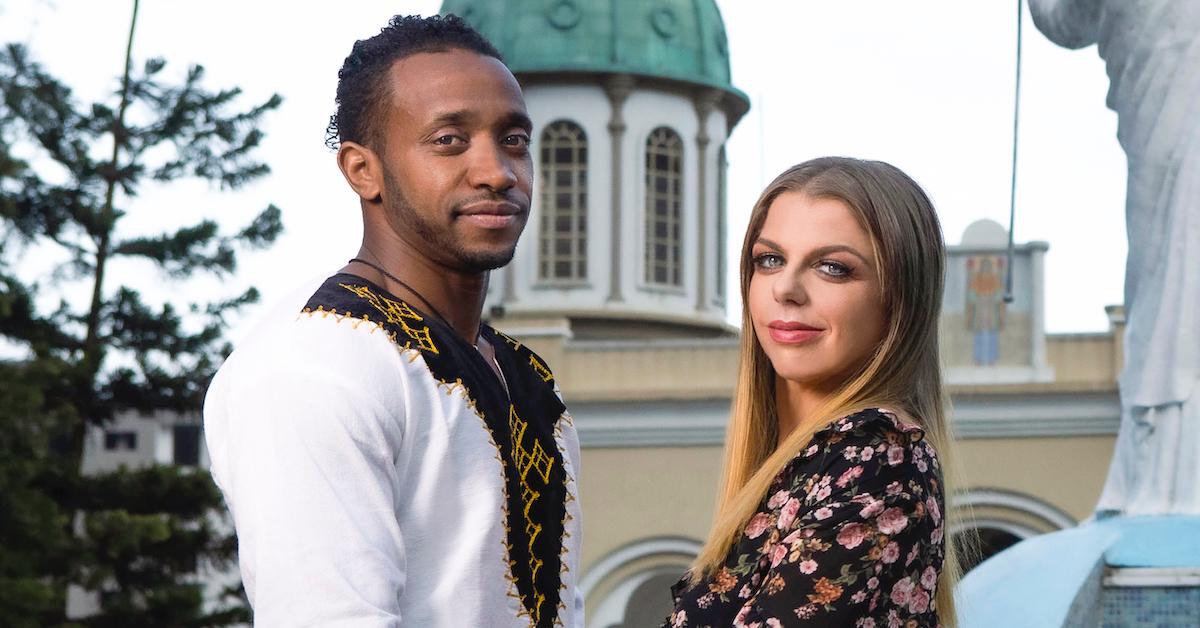 Eagle-Eyed '90 Day Fiancé' Fans Are Convinced Ariela Weinberg Is Pregnant Again
After having watched the teaser trailer ahead of Sunday, July 3's 90 Day Fiancé episode, fans are convinced that Ariela Weinberg is pregnant with her second child. The explosive clip sees Ari confessing to her husband-to-be, Biniyam Shibre, and ex-husband, Leandro Fosque, that she's "a little nauseous" and "really not feeling well."
Article continues below advertisement
But some eagle-eyed fans have found even more evidence to support the theory that she is indeed expecting. So, is Ari from 90 Day Fiancé pregnant or not? Here's everything we know.
Article continues below advertisement
Is Ari from '90 Day Fiancé' pregnant again?
Let's rewind just a little bit for anyone uninitiated in the ups and downs of Ari and Bini's relationship history. Before the two met, Ari was in a 10-year marriage to Leandro, whom she met in Argentina. She was living in New Jersey, unwilling to move to the middle of the country where Leandro had gotten into a Ph.D. program. In a soul-seeking solo journey, Ari took a trip to Ethiopia, which is where she met and fell in love with Bini.
Three months later, Bini and Ari were expecting their first child. Ari divorced Leandro, though they remain good friends to this day, and 90 Day Fiancé: The Other Way viewers watched Ari as she moved to Addis Ababa to give birth to baby Aviel.
But then Avi needed surgery, and Ariel moved back to the States, trying to make a long-distance relationship work with Bini until he eventually joined her in New Jersey. This brings us to where we are now: in a room with Leandro, Bini, and Ari, where Leandro is asking Ari about the last time she got her period.
Article continues below advertisement
"Oh my God," she says after hearing his question, sinking her head in her arms. "I can't be pregnant. I'm not ready to have another baby."
The men ask Ari if they can get her a pregnancy test, and the teaser clip ends before we get an answer. "All right then," she concedes. "My future husband and my ex-husband are gonna buy me the pregnancy test. I think I'm just gonna go back to bed because I lose at life."
Article continues below advertisement
There's another reason fans think Ari might be pregnant.
While we won't know for sure whether Ari and Bini are expecting another child together until the July 3 episode premieres, some internet sleuths have added fuel to the fire. In a June 30 Reddit post that seems almost too perfectly timed, Redditor u/The_Chuckness88 shared a photo captioned, "My friend ran into Ari and Bini last night in Vegas.... pregnant??" The photo is of Ari standing between Bini and the user's friend, wearing a poncho that — as some comments have pointed out — suggest she might be hiding a baby bump.
As is customary for internet forums, fans have gotten very heated about their opinions despite there not being any verifiable way to know the truth just yet. "She definitely looks pregnant," said one user. "Would they have done those butt injections if she was pregnant?" replied another, referring to an Instagram post Ari made on June 26. "Pregnant or not, she needs a serious wardrobe makeover," quipped someone else. "Nothing in this pic makes me think she's pregnant unless I'm missing something," wrote another.
Perhaps the most incendiary rumor to come out of this thread comes from a few highly upvoted comments that suggest that Ari is indeed with child — but that it might be her ex Leandro's. "Ohhhh is she finally getting a baby with Leandro... How sweet," wrote one user, while another responded, "Plot twist." Meanwhile, someone else simply wrote, "Congrats to Leandro & Ari."
Tune in to 90 Day Fiancé on Sunday, July 3 at 8 p.m. EST on TLC to find out whats going on with Ari.