Well y'all, it's that time of year again: Shark Week. The 31st season of the annual program kicked off on Discovery Channel on Sunday at 8 p.m. ET. And while the live footage is usually what I anticipate most, one TV movie, Capsized: Blood in the Water, has caught my attention.
Most of the TV movies during Shark Week tend to be far-fetched, but this one seems particularly realistic. So in case you're wondering if Capsized: Blood in the Water is a true story, brace yourself — it's based on real-life events.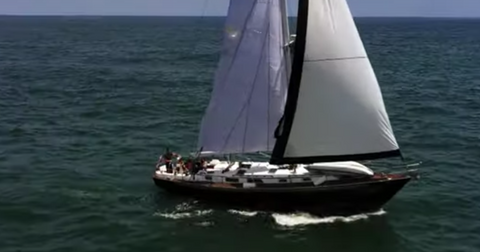 What is the true story behind Capsized: Blood in the Water?
Capsized: Blood in the Water happens to be Discovery's first full feature film to debut during the intriguing (yet completely terrifying) week-long program, according to NBC.
And despite the fact the movie screams Hollywood (I mean — really — it stars Josh Duhamel), the film was apparently based on some seriously wild real-life events.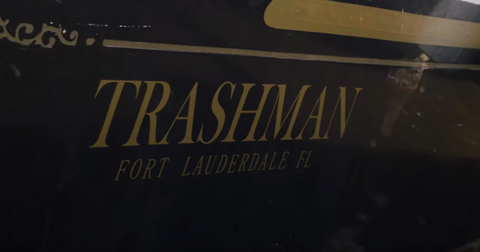 The movie is based on a tragedy that occurred in 1982. According to National Post, it all started when a boat owner hired a crew to bring his yacht, 'Trashman' to his home in Fort Lauderdale, Fla. from Portland, Maine. However, it capsized during a storm and sunk off the coast of North Carolina by Morehead City.
The area is an infamous home to sharks, and though the crew crammed into a lifeboat, many were bleeding from injuries incurred from the storm. The lifeboat was soon surrounded by tiger sharks.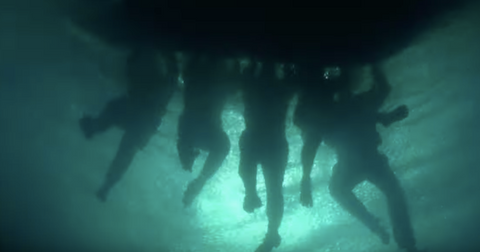 The crew was stranded for a total of 18 hours, according to Popular Mechanics, Two crew members, Captain John Lippoth and his friend, Mark Adams, had been consistently drunk during the excursion.
They drank seawater and soon became incoherent and went overboard. The captain's girlfriend ended up dying from blood poisoning, and had to be thrown overboard.
In the end, only two crew members, Deborah Scaling Kiley and Brad Cavanagh, survived. They were eventually rescued by a Soviet cargo freighter.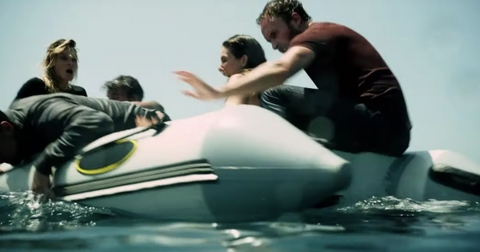 According to Popular Mechanics, Deborah and Brad were unable to do much after the storm. They lost most of their food, water, and supplies.
Plus, seeing as the captain was consistently drunk and apparently afraid of the ocean, he wasn't an incredibly helpful asset.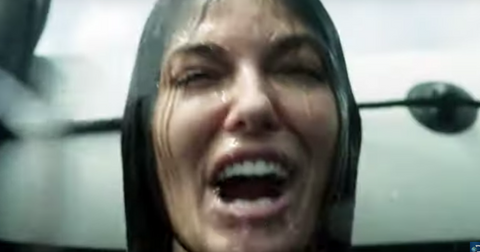 The Capsized: Blood in the Water trailer was officially released on Shark Week's Twitter account last week. It depicts the story of the stranded crew, and how they tried their best to survive in a lifeboat without supplies, while being hunted by tiger sharks.
Definitely watch it if you haven't already, below.
Like I said, the Shark Week feature film stars Josh Duhamel (so it's bound to be a beautiful time), as well as Tyler Blackburn, and Beau Garrett.
You will officially be able to watch it as of July 31 at 9 p.m. ET on the Discovery Channel. Oh, and don't worry — it's a no-life-jacket-required viewing party... just make sure you remember to keep all of your emotions in check. Sharks can smell fear, you know.