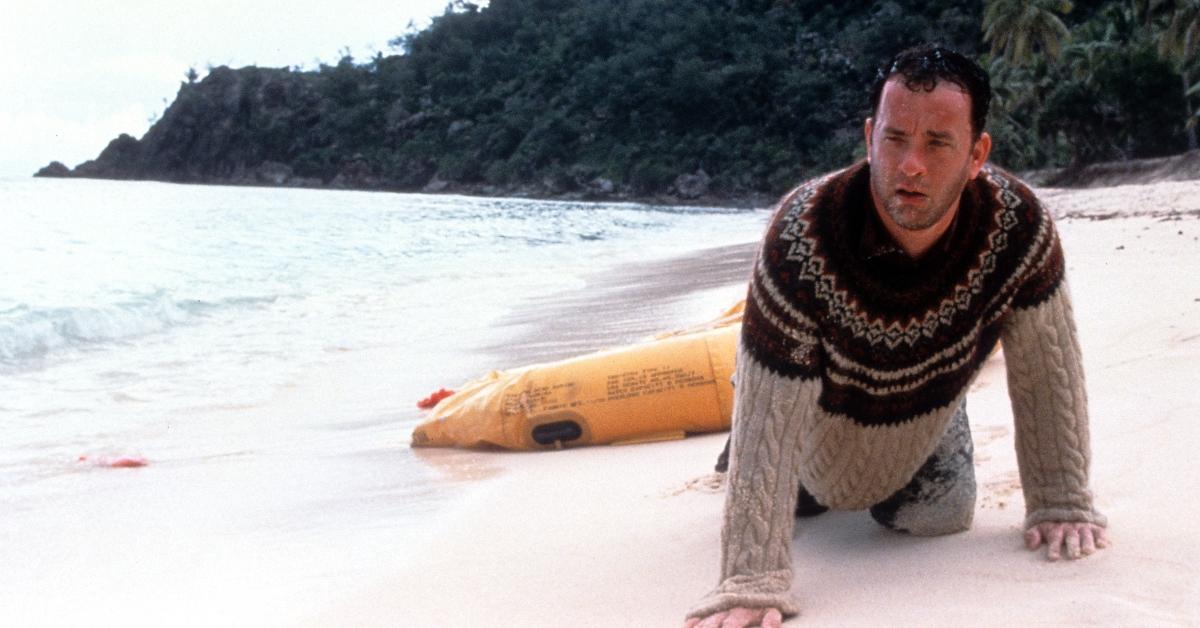 Sorry Everyone, 'Cast Away' Isn't Based on a True Story
What would you do if you found yourself stranded in a tropical island with nothing but a volleyball named Wilson to tend to?
This is the strange premise of Cast Away, the cult-classic movie featuring Tom Hanks as the deeply misfortunate everyman determined to make it work despite the most hideous of circumstances.
The movie left a big impression on generations of viewers, with many wondering: is Cast Away based on a true story?
Article continues below advertisement
So, is 'Cast Away' really based on a true story?
Cast Away chronicles the unusual adventures of Chuck Noland, a FedEx executive who survives a deadly plane crash only to find himself in a deserted island without a single soul in sight.
He spends four years on the island, during which time he tries to sustain himself by creating a calendar to forecast the weather with. He also develops an extraordinary interest in DIY dental hygiene methods. To get food, he goes fishing.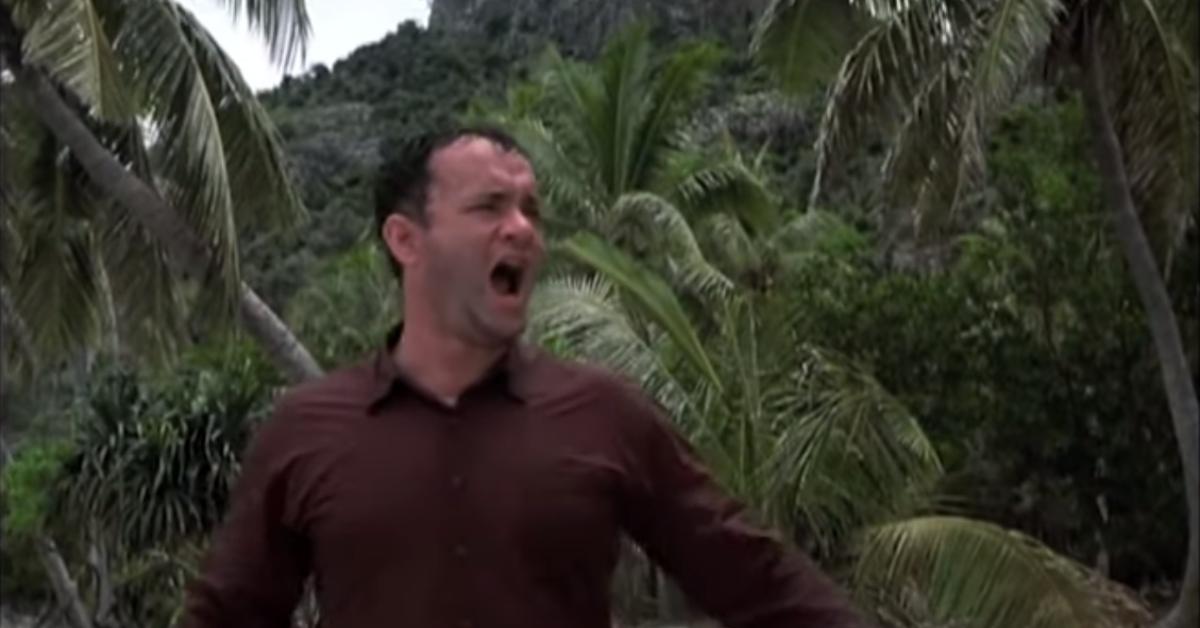 Article continues below advertisement
He also learns to appreciate the small things he never had time for in his old, ever-so-busy life.
By occasionally looking at the heirloom pocket watch — with his girlfriend, Kelly's photo in it — he tries to remind himself of the happiness he felt in the company of others.
Eventually, he even succumbs to opening the valuable FedEx packages, where he finds the iconic volleyball he paints a face on before naming him Wilson.
Cast Away charts Chuck's mental and physical transformation, capturing every moment of his excruciatingly slow-paced downfall.
Article continues below advertisement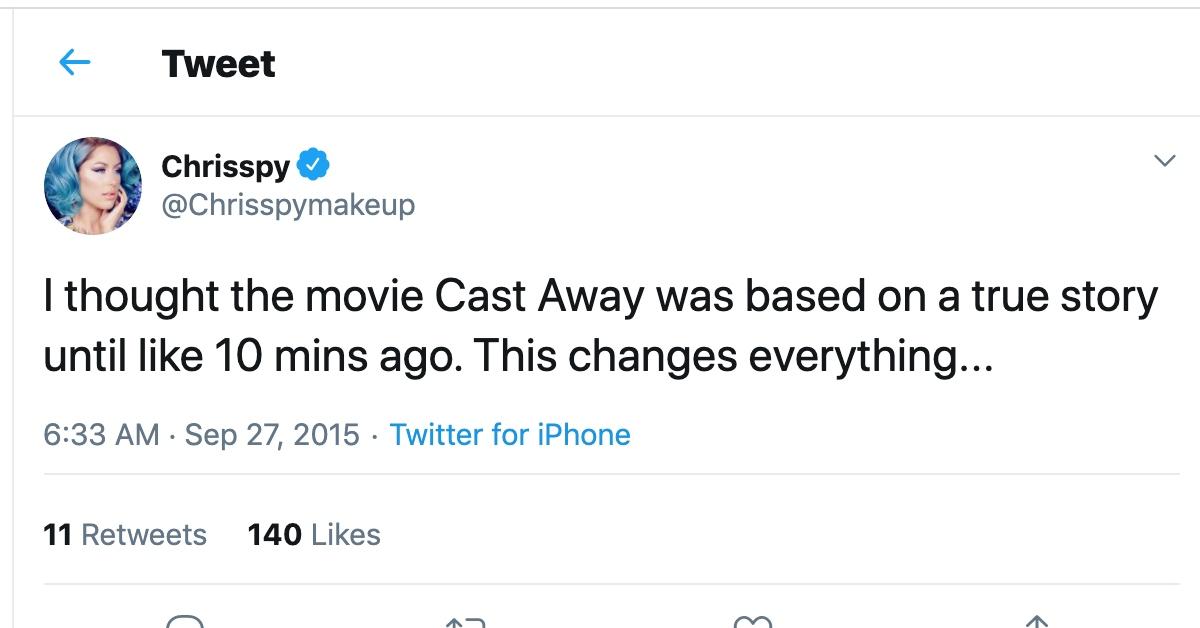 The movie raises philosophical questions about the limits of one's humanity. However, it isn't based on a true story.
Chuck Noland might seem like a person who could have existed at some point in history, but there is no written record of a FedEx executive who got stranded on an island in the middle of the Pacific Ocean.
Article continues below advertisement
There are plenty of real-life stories about recluses akin to Chuck Noland, however.
According to The Daily Mirror, several people have had to endure the same fate as Chuck.
As the outlet reveals, one of the first stories about a woman who got stranded in the middle of nowhere had emerged as early as the 15th century.
19-year-old Marguerite de La Rocque was on a voyage to Newfoundland with her uncle when she made the deadly mistake of falling in love with a fellow passenger.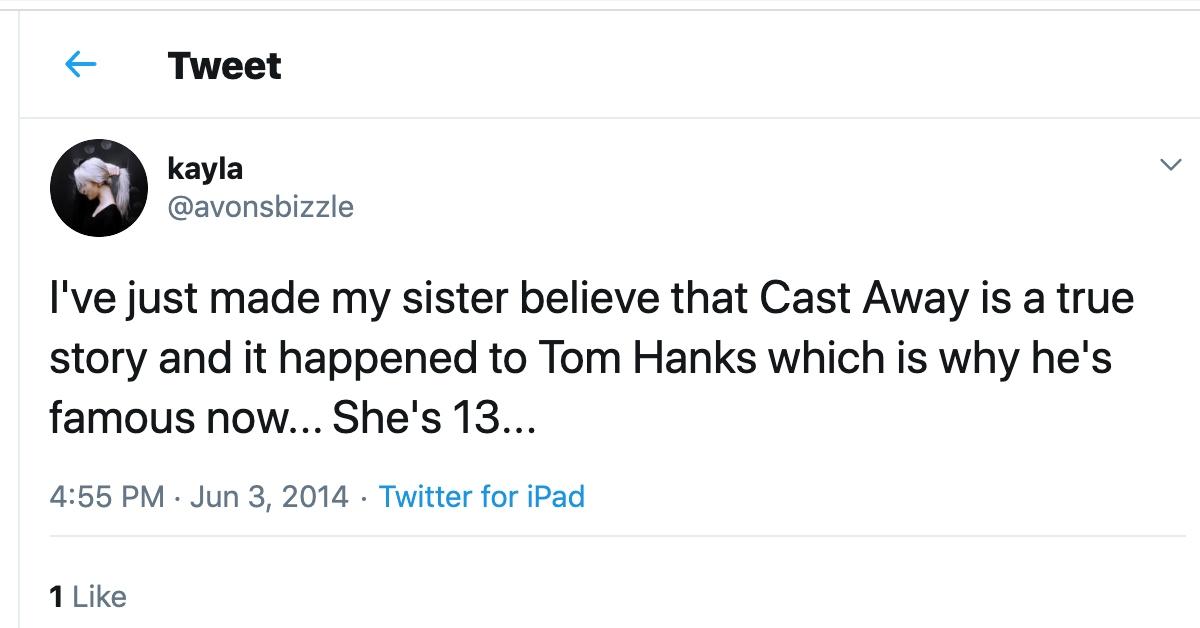 Article continues below advertisement
She and her lover had to disembark at the nearest port, the Isle of Demons near the Saint-Paul River in Quebec. She had her first baby there.
However, the story doesn't end on a positive note. After two years, Marguerite's lover and her child died, leaving her on her own.
Unlike Marguerite, Alexander Selkirk volunteered to leave what he thought to be a faulty ship — choosing to spend some time on the archipelago of Juan Fernandez, Chile, instead.
Little did he know that he would have to wait four years for the arrival of the next ship that was able to take him home.