DaniLeigh Revealed Her Pregnancy on Social Media Following Months of Rumors
Is DaniLeigh pregnant? After being spotted on video at Timbaland's house with a seemingly big bump, she decided to share news regarding the rumor.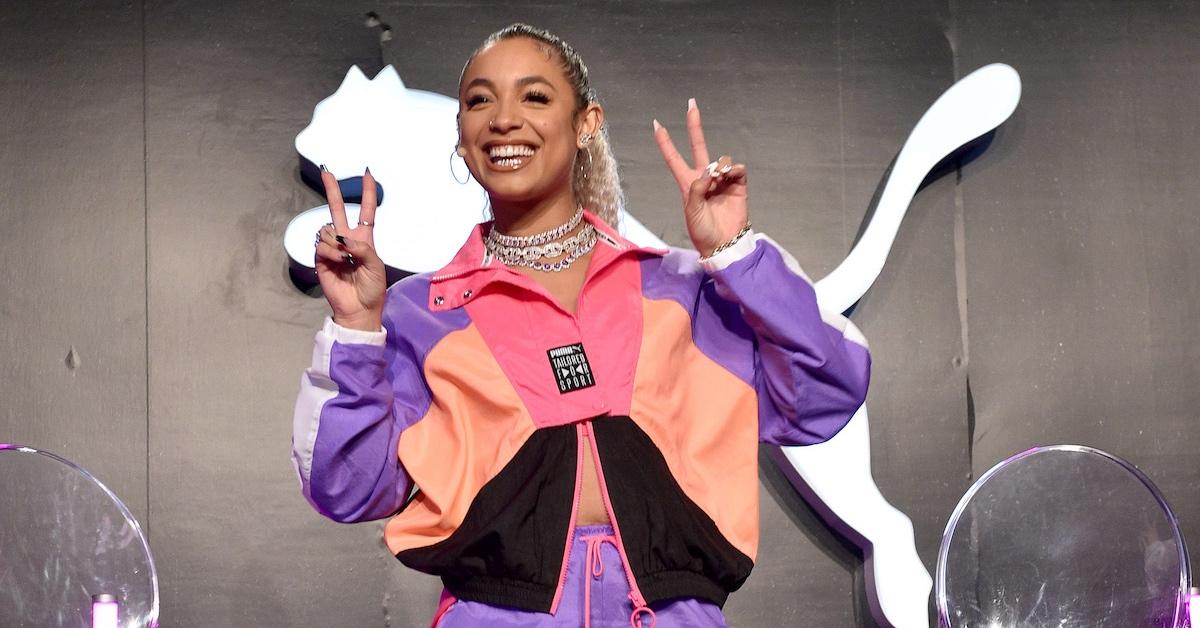 Another day, another celebrity on baby watch. We can all agree that celebrities have it tough when it comes to dealing with pregnancy. For starters, many women in Hollywood prefer to keep their baby news on the down-low until the right time. Others are constantly the center of baby rumors after a picture or video of them looking a bit more round comes to light.
Article continues below advertisement
Singer DaniLeigh is the latest celebrity who was pulled into the pregnancy rumor mill. She and rapper Da Baby split before Valentine's Day, but the pregnancy rumors started flying anyway. Since she was clearly head over heels for the star, it's not far-fetched for people to believe that she would want to have a family with him.
Keep reading to learn if DaniLeigh is actually expecting and what social media users have to say about it.
Article continues below advertisement
People initially believed that DaniLeigh was pregnant after pictures and videos of her at a meet and greet surfaced online.
There's no denying that DaniLeigh has been a hot topic in the media over the past few months. After her controversial relationship with the "Masterpiece" rapper and social media users blasting her for the insensitive song, "Yellow Bone," the singer has had a lot to deal with. Beyond those already cumbersome rumors, the notion of her possibly having a bun in the oven also took over the social media world.
Many were certain that she was with child because of an appearance at a meet and greet back in March 2021. DaniLeigh attended the event wearing a red slip dress, sneakers, and an overcoat. Outfit aside, fans couldn't help but notice that she looked a little more round in the stomach area.
Article continues below advertisement
So naturally, her appearance led many people to believe that she is expecting. And of course, social media had a lot to say — especially since fans believe that she was and is still obsessed with Da Baby.
Article continues below advertisement
Some users shared that they're not surprised since that she was so obsessed with the rapper; they think she got pregnant to trap him. Many people pointed out that Da Baby's ex-girlfriend MeMe, the mother of his daughter, will have a lot to say if it's true.
After all, it's not news that MeMe and DaniLeigh have had words with one another. And while MeMe and Da Baby are not back together, the news could impact their relationship.
Article continues below advertisement
The rumors went into overdrive after DaniLeigh was spotted on video looking bigger than before.
Almost every female celeb finds themselves in the midst of pregnancy talk — unfortunately it comes with the territory. But many people were convinced that DaniLeigh is pregnant because of a certain video that has gone viral.
Article continues below advertisement
In the video, the singer was seen attending a dinner at producer Timbaland's house in Miami. And she happened to look much bigger than the first video at her meet and greet. Naturally, many believed that there was no way she couldn't be pregnant.
Article continues below advertisement
She used to always wear crop tops and form-fitting clothes, but lately, she's wearing baggy clothes and posing toward the back in photos — which people believed was an attempt to hide her stomach. Turns out fans knew what they were talking about!
Article continues below advertisement
DaniLeigh revealed the news that she is pregnant through a social media post on July 16, 2021.
The rumors have finally been settled as DaniLeigh took to Instagram on the morning of July 16, 2021, to confirm that she is indeed pregnant. Posing nude next to a waterfall with only a white cloth covering her front side, the singer captioned the set of photos, "As you grow so does my love, discipline, and focus."
She still hasn't confirmed who the father of the child is, but fans didn't pay any mind to that as they flooded her comment section with congratulatory wishes.
Article continues below advertisement
Given the news that she is indeed pregnant, her career could take another hit if the father is Da Baby. She is still in hot water with many for the "Yellow Bone" song and her lack of understanding about colorism. And since her child with Da Baby would be part Black, it would be interesting to see how things would play out.
Plus, it seems as if Da Baby is completely over her and focused on his career and family. So, adding a baby into the equation would only complicate the status of their non-relationship.
Article continues below advertisement
Article continues below advertisement
Even though the father of DaniLeigh's baby hasn't been revealed, fans are excited for the star! Though they are still clamoring for more details and ready for the drama if it does end up being Da Baby. Only time will tell if we will learn more.