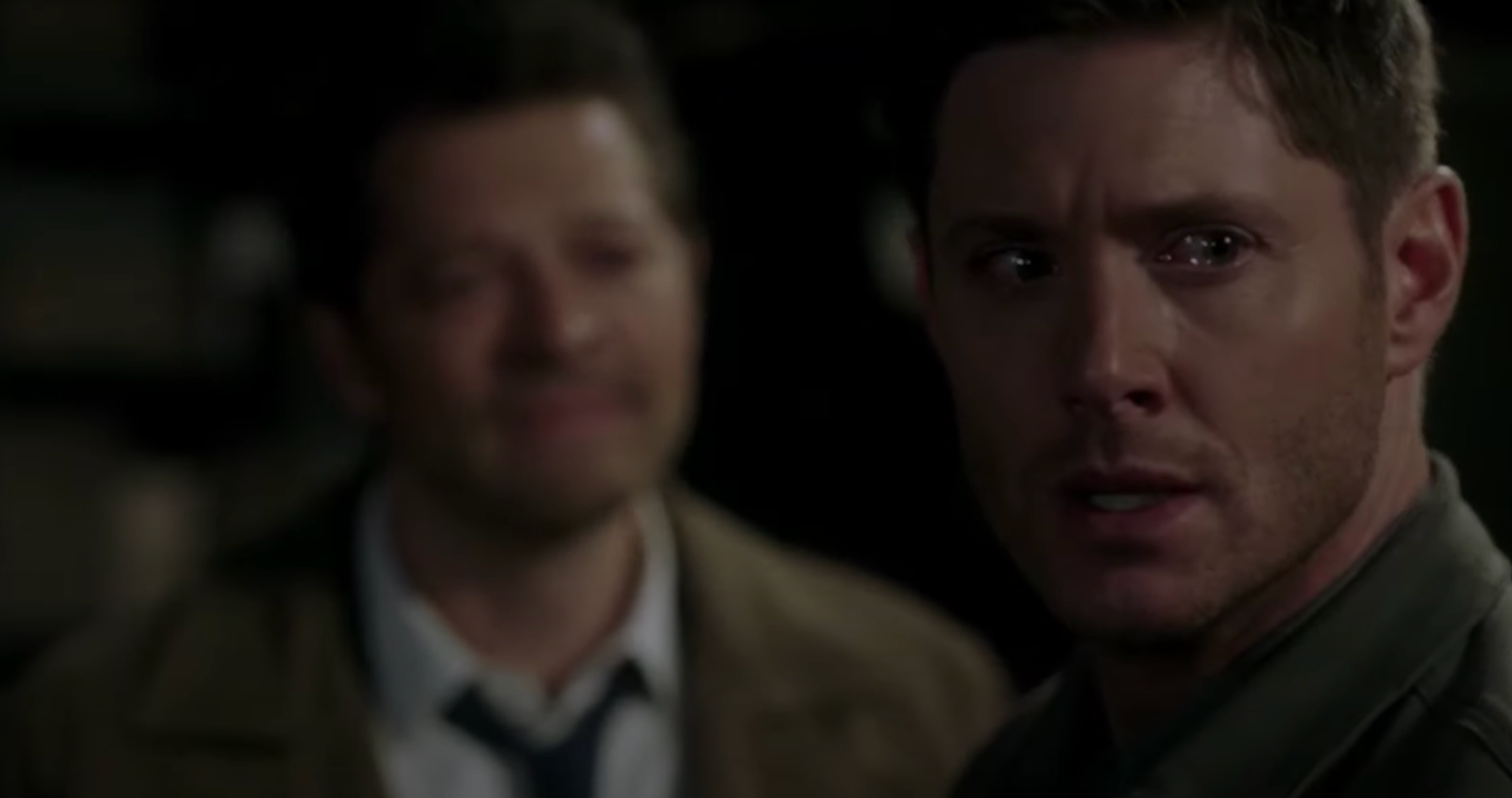 Is Destiel Canon? It Seems to Be Canon in Spanish
Warning: Major Supernatural spoilers ahead!
Supernatural fans are pretty upset about the Season 15 episode titled "Despair." A key character died, but it's not his death that's bothering people, per se — it's the intent behind his death that's frustrating. Castiel sacrificed himself for Dean, and gets absorbed by The Empty. Why did he sacrifice himself? Because Castiel was in love with Dean and that was part of the deal with the Entity. The moment he confesses how he feels, he gets killed off.
Article continues below advertisement
What happens is: Billie ends up knocking on the bunker door, threatening to kill Cas and Dean. Cas figured he can stop this from happening by essentially taking his own life. Previously Cas made a deal with the Entity: Cas lets the Entity take Jack's place only if Cas agrees to live his life until the very moment he's truly happy. And the moment Cas realizes he's truly happy is when he realizes and admits he's in love with Dean.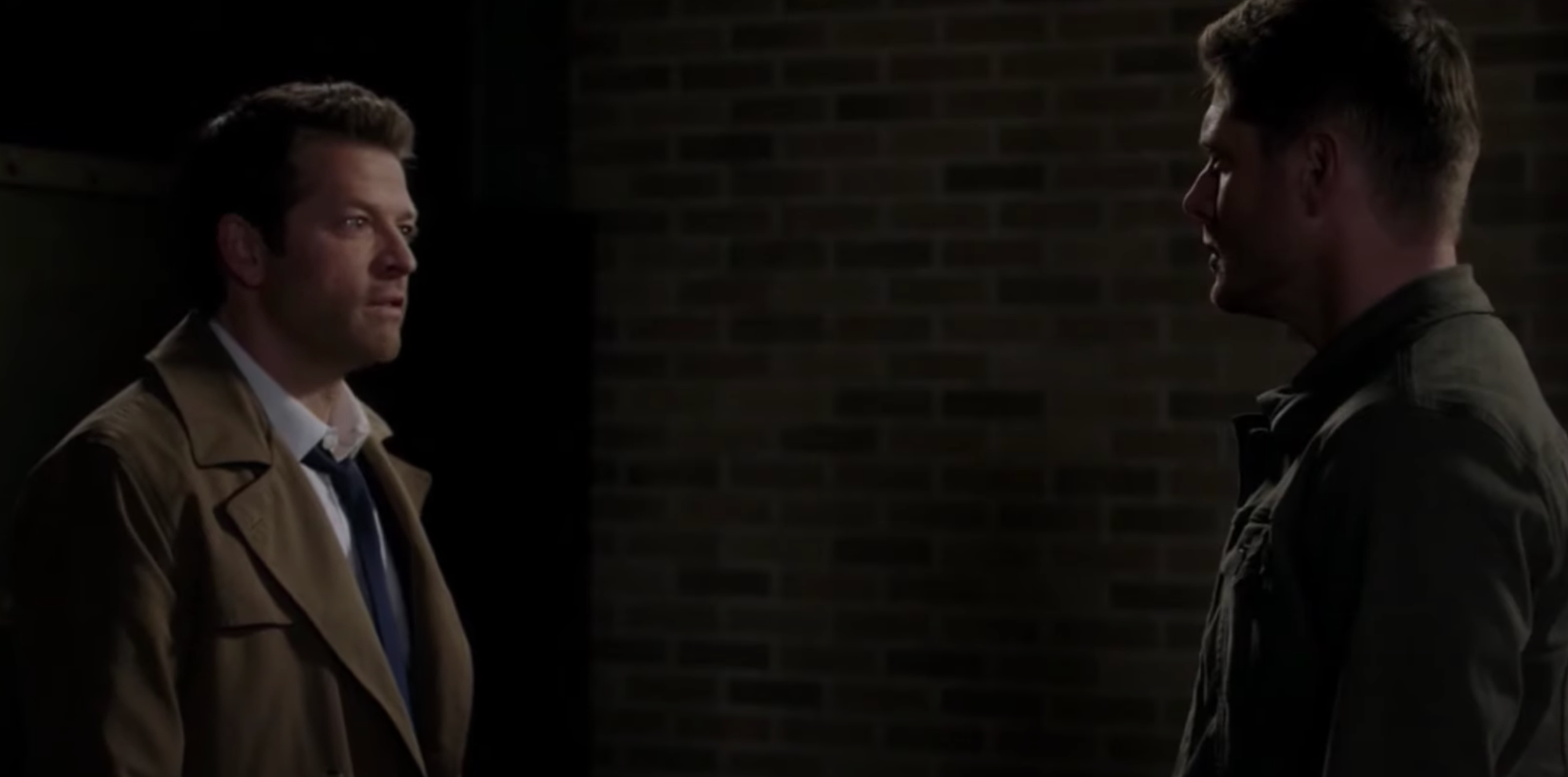 Article continues below advertisement
"I never found an answer because the one thing I want is something I know I can't have. But I think I know now happiness isn't in the having. It's in just being," Cas tells Dean. "Knowing you has changed me. Because you cared, I cared. I cared about the whole world because of you. You changed me, Dean." After Dean asks him why this sounds like a goodbye, Cas responds, "It is. I love you. Goodbye, Dean." Cas halfheartedly pushes Dean out of the way so he can get swallowed by the Empty and Dean just watches and does nothing. And ... then Cas is gone.
This is frustrating because this entire time, Cas loves Dean, but the romance is never played out — and many feel like this is queerbaiting. What's worse, though, is that it appears that not all viewers saw the same show.
Article continues below advertisement
Is Destiel canon? Apparently, not for English viewers.
When Episode 18 of Season 15 aired, there was a great deal of confusion over what had occured. When Cas said he loved Dean, was it romantic? It's hard to tell. Plus, Dean doesn't say it back, making Destiel impossible because you can't have a one-sided relationship.
Article continues below advertisement
However, due to the popularity of Supernatural, it's dubbed in several languages. In late November, after the series finale of the show had already aired in the U.S., the Spanish-dubbed version of "Despair" was aired on the Warner Channel in Latin America, and it sounded a little different. In the English version, we hear Cas say, "I love you," and Dean say, "Don't do this, Cas." But that's not what Spanish-speaking viewers heard.
Article continues below advertisement
Instead, Cas says, "Te amo," a clearly romantic declaration of love. And Dean? He says, "Y yo a ti, Cas," which translates to, "And I you, Cas."
So, why did the script change? Some fans are claiming that those who dubbed the episode were given an earlier script, before the line became, "Don't do this, Cas."
Others, however, believe that the dubbers simply went rogue to change the script for Latin America. That being said, one fan, who claims to be an "ex-dubbing translator," says that's not possible. "Translators CAN'T change the script they're given. We usually can adapt (and like, a TON of 'I love you' become 'te quiero' or 'I care for you' not, 'te amo' which is like, 100% romantic. So that 'And I you, Cas'? (Y yo a ti, cas) is legal."
Article continues below advertisement
The writers of Supernatural, as well as The CW, have not addressed the discrepancy. However fans are speaking out on Twitter under the hashtag #TheySilencedThem.
When Castiel died, many fans tweeted their displeasure at Supernatural partaking in the "bury your gays" trope, which essentially means making a character canonically queer and then killing them off. The CW has previously taken heat in engaging in this trope on other shows including The 100.
Article continues below advertisement
Now fans are accusing The CW of silencing bisexual characters as well, as, if Dean had actually said that he loved Castiel romantically, he could have canonically been bisexual or perhaps pansexual.
The #TheySilencedThem hashtag is also causing fans to bring up other queer relationships that The CW didn't allow on Supernatural and its attempted spinoff, Wayward Sisters.
Charlie Bradbury (Felicia Day) was canonically a lesbian and killed in Season 10. A deleted scene would have also confirmed that Rowena (Ruth Connell) was not straight, as it is confirmed that she was romantically involved with Charlie. Wayward Sisters had set up a queer love story between Kaia Nieves (Yadira Guevara-Prip) and Claire Novak (Kathryn Newton). The CW canceled the show following its Season 13 backdoor pilot.
Article continues below advertisement
It remains unknown how or why the Spanish dub happened. It's up to The CW to set the record straight next.