Are Emmanuel and Deion Sanders Related? Inside the NFL Stars' Relationship
San Francisco 49ers Emmanuel Sanders is one talented player. Does that talent run in the family and come from former player Deion Sanders?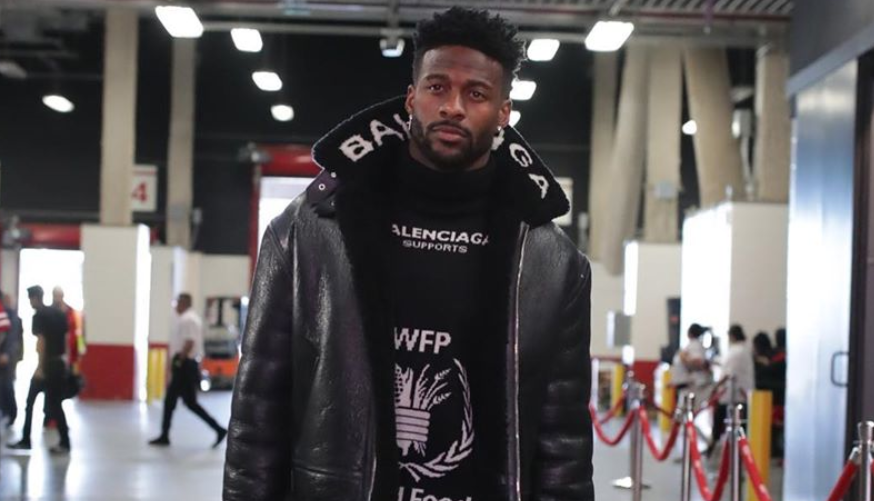 Emmanuel Sanders played on the Pittsburgh Steelers for four seasons and on the Denver Broncos for five and a half seasons before moving over to the San Francisco 49ers mid-2019 season.
Now that the NFL wide receiver is headed to the Super Bowl with his new team on Sunday, Feb. 2, fans are curious to know more about his personal life. Specifically, whether or not Emmanuel is related to former NFL and MLB star Deion Sanders.
Article continues below advertisement
Is Emmanuel Sanders related to Deion Sanders?
So it turns out, Emmanuel and Deion Sanders are not related... they just have the same last name! In fact, during a previous interview, Emmanuel revealed that he spent a lot of his childhood impersonating athletes with the same surname as him, including Deion, former Detroit Lions running back Barry Sanders, and former Indianapolis Colts and San Diego Chargers safety Bob Sanders. How sweet!
Even though they are not related, Emmanuel and Deion do know each other and seem to be good friends. After the Denver Bronco's win against the Steelers during week 12 of the 2018 season, Deion called Emmanuel to congratulate him on the victory. He reached out to him again in December 2019 after the big 49ers win during week 14.
Article continues below advertisement
In the 2018 clip, Deion and Emmanuel bonded over the power of the name Sanders in the game. "History shows in the NFL that big plays happen with the last name Sanders," Deion said, to which Emmanuel responded, "You know it, baby, we've been doing it our whole life."
Article continues below advertisement
In the 2019 clip, Deion joked that he expects Emmanuel to put up big numbers with the last name Sanders. He even revealed that he's known Emmanuel since college (he played at SMU from 2006 until 2009), and claimed he "loves him to life."
Deion, like Emmanuel, had a very successful stint in the NFL before retiring. During his 16 years in the league, he played for the Atlanta Falcons from 1989–1993, the San Francisco 49ers in 1994, Dallas Cowboys from 1995–1999, the Washington Redskins in 2000, and the Baltimore Ravens from 2004 to 2006, after he briefly retired in 2001. That said, they've both played for the San Francisco 49ers, so they have that bond!
Article continues below advertisement
During his time in the NFL, he was also in the MLB part-time and played for the New York Yankees from 1989–1990, the Atlanta Braves from 1991–1994, the Cincinnati Reds from 1994–1995, the San Francisco Giants in 1995, and the Cincinnati Reds in 1997 and 2001.
Article continues below advertisement
Although Emmanuel isn't related to Deion, he does have a loving family. His mother's name is Stephanie Sanders, and he has two sisters named Precious and LaSabria Sanders.
He's also been hitched to his wife, Gabriella Waheed, since 2013, and the two are parents to an adorable son, Princeton, and a cute daughter, Zoie. His crew always supports him at his games, and it's so nice to see the star getting so much love from both them and his pal Deion!