'Jerry Springer' Might Be More Legitimate Than You Think It Is
Is 'Jerry Springer' scripted, or is it authentic? The reality series is far more real than you think it is — here's what we know about the series.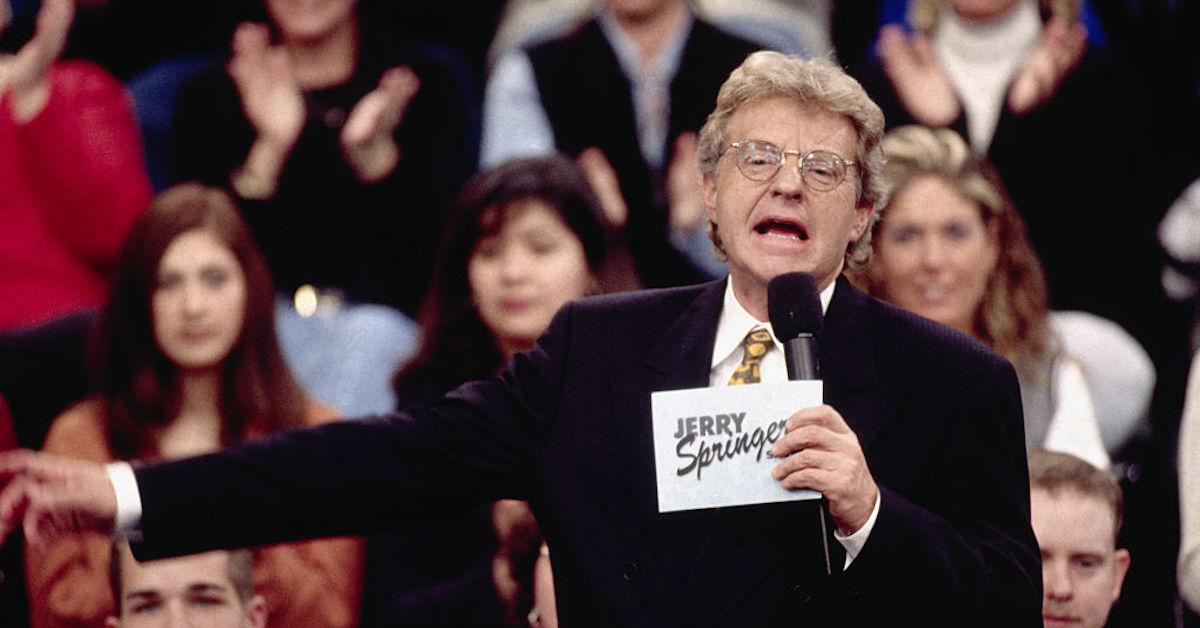 Watching an hour (or three) of daytime TV is practically inevitable amid the seemingly endless coronavirus quarantine, and while there are a few soap operas and court shows that are truly addicting, one of the greatest daytime series out there is — without a doubt — Jerry Springer. The talk show brings on some of the most interesting people, giving an inside look at their tumultuous (and seriously enthralling) lives.
Article continues below advertisement
Many question the authenticity of Jerry Springer, and assume that it might be scripted, but the reality series is slightly more authentic than you probably thought it was... stay tuned for everything we know regarding the series' production process.
Article continues below advertisement
Is 'Jerry Springer' scripted? The answer lies in the guest selection process.
Jerry and his crew make an effort to find the most outlandish stories possible, and by doing so, they seek out dramatic people. Quora user Rachel Leduc recalled working at a strip club, and receiving a call from producers asking if anyone would be willing to discuss love triangles from personal experience. Rachel attributed this to them wanting to find (stereotypically) dramatic, attractive women, deeming it "manipulated," but alas, not scripted.
Apparently candidates can call in and tell their stories, and if it's interesting (aka raunchy), the show will most likely be interested in booking you. According to Reel Rundown, producers claim that each guest undergoes some sort of screening process to ensure their stories and reasons for being there are legitimate.
Article continues below advertisement
Based on some firsthand experience from an author at VICE, however, it's apparently quite easy to call in, make up a really outlandish story, have them approve of it, and make it even more dramatic for TV. So maybe it isn't scripted, per se, but it sounds like the storylines definitely undergo a special reality TV makeover.
Article continues below advertisement
Are the fights featured on 'Jerry Springer' real?
One of the most exciting parts of Jerry Springer is watching the guests fight. In almost every episode, the feuding partners, family members, or former BFFs get into some sort of physical altercation, tackling each other, and even sometimes pulling hair. But we can't help but wonder: are the fights real, or are they more like WWE matches (sorry, Ronda Rousey fans).
That's right — according to Quora user Amanda Rotimi, guests do — in fact — lay their hands on each other in almost every single episode, and they usually throw punches, lunge at each other, and maybe even attempt to scratch. However, she believes that the fights are almost comparable to stage fights. They're attacking each other for the camera, but not so much to actually hurt each other.
Article continues below advertisement
So, how real is Jerry Springer? We would guess around 50 percent. Producers seek out drama and supposedly "screen" candidates, but proceed to add fuel to the flames, encouraging guests to get into what looks like a physical altercation, without looking to cause physical pain. Regardless of how authentic it is, though, it's entertaining nonetheless.