Lady Gaga Accused of Witchcraft and Satanism After Campaigning for Biden
Rumors have begun circulating in Conservative circles that Lady Gaga is a witch, and while she isn't one, that hasn't stopped it from spreading.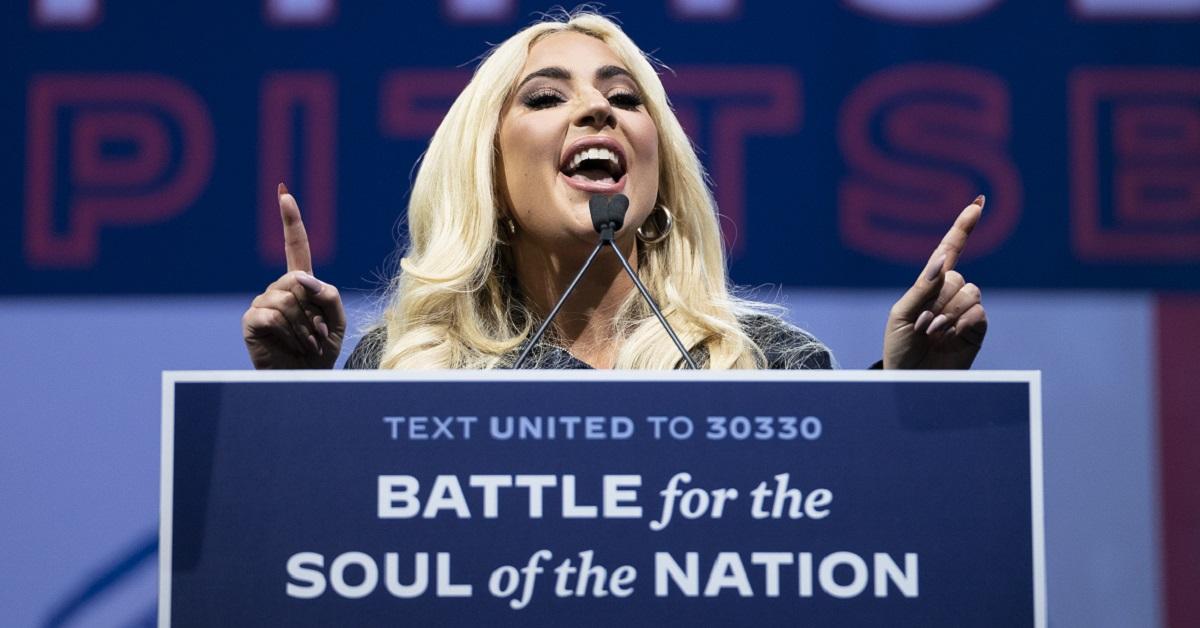 In the days leading up to an election, the news can sometimes get kind of strange. Quite suddenly, Lady Gaga, who campaigned for Joe Biden and Kamala Harris in the final stretch of the campaign, became a figure of some controversy and derision among Conservatives. There was even some suggestion that Gaga was in some way malicious, and not just because of her progressive views.
Article continues below advertisement
Is Lady Gaga a witch?
After Gaga took the stage at a Biden rally to encourage his supporters to vote, conspiracy theories quickly emerged online that seemed to suggest that she was actually a witch. Some users on Facebook called her "a high ranking witch in the music industry," noting her connection to Serbian performance artist Marina Abramovic. The post also made reference to Biden campaign slogans, suggesting they were a cover for satanism.
Article continues below advertisement
Specifically, the user suggested that Biden's claim that the election was "a battle for the soul of the nation" suggested something sinister that Gaga was somehow involved in. The Biden campaign has been using that slogan for months, though, and there's nothing to suggest that Gaga had any role in crafting it, or that she's in any way affiliated with satanism.
The Lady Gaga conspiracy theories are related to QAnon.
Although Gaga is a fairly new target for these conspiracy theories, she's hardly the first celebrity or public figure to be accused of practicing witchcraft. Marina, who the Facebook user cited as an affiliate of Gaga's, has faced these allegations since 2016, when Hillary Clinton's campaign manager John Podesta had a trove of personal emails released by WikiLeaks, and they've only heightened as QAnon becomes more mainstream.
Article continues below advertisement
One email in particular between Marina and John's brother Tony Podesta raised suspicions among some conspiracy theorists.
"I am so looking forward to the Spirit Cooking dinner at my place. Do you think you will be able to let me know if your brother is joining?" Marina wrote in the email. Proponents of the conspiracy theory suggest that this email is evidence that both John Podesta and the Clinton campaign were involved in witchcraft and satanism.
Article continues below advertisement
Lady Gaga was photographed with Marina at a 2013 art event.
Gaga became a target of witchcraft accusations thanks in large part to photos that were taken at a 2013 art event she attended with Marina. The photos feature Gaga with Marina and a body-painted model that conspiracy theorists falsely claim is Ryan Singleton, who was found dead in September of 2013.
The model in the photos is not actually Ryan, but the claim has led some to believe that Gaga and Marina took part in a "satanic spirit cooking hunt and party." Although the makeup artist who painted the model has tried to dissuade people from the conspiracy theory, it still persists. In reality, though, there is virtually no evidence that Lady Gaga is a witch or is affiliated with satanism in any way. The same is true for Marina.
Other than supporting Biden and Harris, Lady Gaga is an obvious target for conspiracy theories in part because of her public persona. Wearing a meat dress doesn't make you a satanist, though.