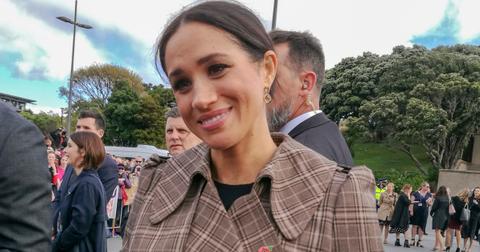 Is Meghan Markle Still the Duchess of Sussex? What to Know About Her Title
By Gabrielle Bernardini

Updated
In January, Prince Harry and Meghan Markle shocked the world when the couple announced they would be stepping back from their roles as senior members of the royal family.
"After many months of reflection and internal discussions, we have chosen to make a transition this year in starting to carve out a progressive new role within this institution," the royal couple shared via a statement on social media.
Their statement continued, "We now plan to balance our time between the United Kingdom and North America, continuing to honour our duty to The Queen, the Commonwealth, and our patronages. This geographic balance will enable us to raise our son with an appreciation for the royal tradition into which he was born, while also providing our family with the space to focus on the next chapter, including the launch of our new charitable entity."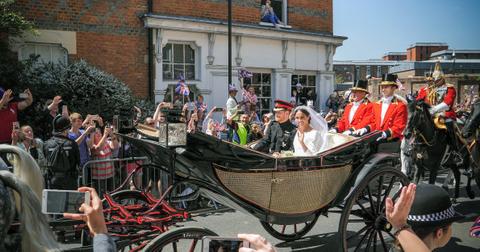 As Prince Harry has made it clear that he would prefer to be called simply "Harry," what about his wife's title? Is Meghan still the Duchess of Sussex?
So, is Meghan Markle still a duchess?
The royal couple officially ended their duties on March 31, so how do we now refer to the Duke and Duchess of Sussex? According to numerous reports, the former Suits star will keep her title as a duchess.
Though the couple will retain their title of HRH (His or Her Royal Highness) the monarchs have agreed to not actively use it.
"As agreed and set out in January, The Duke and Duchess of Sussex will retain their 'HRH' prefix, thereby formally remaining known as His Royal Highness The Duke of Sussex and Her Royal Highness The Duchess of Sussex," the couple stated on their website.
Additionally, "The Duke and Duchess of Sussex will no longer actively use their HRH titles as they will no longer be working members of the family as of Spring 2020."
Basically, they will have to drop the "Royal" from their social media platforms, business ventures, and etc.
"Given the specific UK government rules surrounding use of the word 'Royal', it has been therefore agreed that their non-profit organisation will not utilise the name 'Sussex Royal' or any other iteration of 'Royal,'" a statement on their website read.
"While there is not any jurisdiction by The Monarchy or Cabinet Office over the use of the word 'Royal' overseas, The Duke and Duchess of Sussex do not intend to use 'Sussex Royal' or any iteration of the word 'Royal' in any territory (either within the UK or otherwise) when the transition occurs Spring 2020."
At this time, the Duke and Duchess still maintain "Sussex Royal" as their Instagram handle and website name.